2020 - 2021 Scuba Diving Holidays, Liveaboards and Learn to Dive Courses to the Maldives, Red Sea, Canary Islands, Far East, Caribbean and the Pacific.
Alam Anda Dive and Spa Resort

Bali, Far East & Australia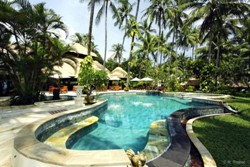 For your diving holiday to Bali, Indonesia Alam Anda Dive Resort & Spa offer a high standard of accommodation with 27 Balinese style bungalows, air conditioned suites and villas with the dive centre located only 50m from the beach. The transfer to the resort takes you past rice terraces, temples and small villages, it is an ideal opportunity to receive a first impression of the beautiful landscape and the diverse culture of Bali.

Location
Located on the north west coast, the transfer from the airport in Denpasar to Alam Anda is approximately 3.5 to 4 hours.

Accommodation
Alam Anda offers a high standard of accommodation. 27 stunning Balinese style bungalows: air conditioned suites and villas. The Lumba Lumba and Villa Purnama featuring private gardens and swimming pools. The hotel consists of nine seafront bungalows, twelve deluxe garden bungalows, two losmen, bungalows, ambu, junior suites and villas. The seaview and garden view bungalows are air-conditioned with en-suite facilities, a shower and a minibar. The three rearmost bungalows have an additional bed couch for a third person. 2 bedded villas can connect with bungalow ensuite rooms and are air-conditioned with open air living area and garden. A group or family is well accommodated in the 3 en-suite double bedded rooms with air conditioning, satellite TV & DVD, kitchen and diving areas with private pool.

Facilities
The intimate resort set in a tropical garden features a swimming pool, a restaurant with a stunning ocean view, spa with main massage house and 3 treatment pavilions which are surrounded by lovely decorated gardens and watercourses. WIFI is available for a fee.
The hotel offers individual trips going as far as the centre of the island. Away from the bustling roads in the south you will travel in small busses through dreamy landscapes and sleepy villages. Ubud, Lovina, Candi-Dasa, Tenganan, Besakih, Bedugul, Bratan or Batur are some of the easily reached destinations. There are often chances to personally take part in village life. Experience close up events such as temple dances, shadow games, weddings and other traditional Balinese ceremonies.
Apart from the cultural highlights, adventure tours are also offered. Whether you prefer exploring the heart of Bali by quad bike, facing rapids while wild water rafting on the Ayung stream or climbing one of Bali's mountains: one thing is guaranteed: you will have a lot of fun!
Diving
PADI, SSI & CMAS instructed diving centre run by Werner Lau and is located only 50m from the beach. More >

Our Opinion
An excellent quality dive resort with both traditional and luxury accommodation options, first class dining, spa and dive facilities on site are perfect for non divers. The house reef offers endless diving and snorkelling opportunities.


Gallery





Fact File
Best Time: April - October with peak season June - September.

Average Air temps: 30°C

Average Water temps: 27-28°C

Visibility: 15-30m

Top Dive Sites: Angels Canyon, Kubu, Nusa Penida, Secret Garden, Menjangan Mar, Coral Stairs, Batu Karang, Oasis, Out of Eden, Les Paradise, Tembok Reef, Benben Garden, Kubu Drop Off and Coral Garden, Tulamben wreck (SS Liberty).

Great Reasons to Dive in Bali

Fantastic diving experience for all levels of diver.
Luxury dive resorts.
USS 'Liberty' Wreck in Tulamben.
Walls, reefs, caves.
Large pelagics, Mola Mola & whale shark in season.
World Class critter diving.
Excellent photography conditions.
Balinese cultural experience.