2019 - 2020 Scuba Diving Holidays, Liveaboards and Learn to Dive Courses to the Maldives, Red Sea, Canary Islands, Far East, Caribbean and the Pacific.
Red Sea and Middle East - Liveaboards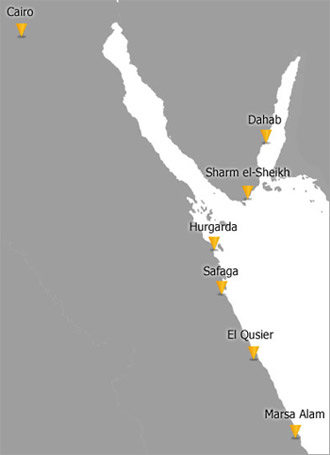 A Red Sea scuba diving holiday offers some of the most amazing dive conditions year round for all types of diving - both shore based, boat diving or on one of our specially selected liveaboards. Red Sea dive holidays offer the best value and are perfect for non-divers too.
Egypt is the Land of the Pharaohs, with abundant historical sites to visit and is the perfect paradise for year round diving holidays. The choice of hotels is vast and there is something to suit all tastes and budgets. Why not explore some of the ancient sites with an excursion to see the Pyramids or Tuthankhaun's tomb in the Valley of the Kings.
The crystal clear warm water and some of the best and most established dive centres in the world to choose from, make Egypt a wonderful experience for both first timers and annual 'pilgrims' alike. Each destination offers it own special character and variety of diving.

Reefs and Wrecks Cruise - Red Sea Liveaboards, Red Sea and Middle East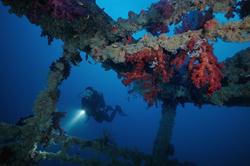 For your liveaboard diving holiday to the Red Sea & Egypt, the Reefs and Wrecks Cruise is the perfect combination of diving sights. You will get to experience the best of both worlds, visiting famous wrecks in the northern Red Sea along with some stunning reef diving.
The famous horseshoe shaped reef of Shaab El Erg is a perfect example of the reefs on offer on this cruise, with its beautiful hard coral garden and the chance to see dolphins.
Abu Nuhas has four well-known wrecks: Giannis D, Carnatic, the lentil wreck and the tile wreck, all offering spectacular dives and plenty of fish life.
Night dives can be superb as Gubal Island offers protected anchoring for the night. A small wreck at 8-10 metres makes for a spectacular night dive with lionfish, scorpion fish and its resident giant moray eel as well as the wreck of the Ulysses and the Rosalie Moller. Next onto the Kingston lying at Shag Rock; the Carina lying close to Sha'ab Ali and the Dunraven at Beacon Rock in Ras Mohamed National Park. And finally the most famous wreck in the Red Sea, the Thistlegorm, at Sha'ab Ali.

The SS Thistlegorm was sunk in 1941 after being bombed by the German Luftwaffe while on a mission to deliver a cargo of ammunition and other war materials to the British troops in North Africa. The Rosalie Moller, carrying a cargo of coal, suffered the same fate just two days later.
Whilst in Ras Mohamed, you may have the chance to do a dive at Shark Reef; a sheer wall falling into the blue. From here the boat heads back towards Hurghada.
In between wreck dives you will also visit the reefs of the Straits of Gubal, Gulf of Suez and those to the north of Hurghada. A variety of deep walls and hard coral gardens with an abundance of reef fish make them well worth a visit.
All wrecks are subject to divers' experience and weather conditions.

Note: You must be a PADI Open Water Diver or equivalent to do this cruise.
| | | |
| --- | --- | --- |
| Prices (7 nights) from: | Low | High |
| Reefs and Wrecks | £525 | £765 |
Red Sea Liveaboards, Red Sea & Egypt - here >

Fact File
Best Time: All year.

Average Air temps: 18-35°C

Average Water temps: 18-28°C

Visibility: 15-30m

Top Dive Sites:
North - Shaab El Erg, Abu Nuhas Wrecks (Giannis D, Carnatic, Lentil & Tile wrecks), Gubal Island, WWII British wreck Thistlegorm,Ras Mohamed National Park & Shark Reef. Rock & Zabargad Islands (Khanka wreck). South - Big and Little Brothers, Daedalus Reef and Elphinstone, St John's Fury Shoal's system.

Great Reasons to Dive on a Liveaboard in the Red Sea


Variety of itinearies to North and Southern Sites.
Departures from Hurghada, Marsa Alam & Hamata.
Perfect combination of reef & wreck diving.
Suites, shared or singles cabins.
FREE Nitrox Courses & FREE Nitrox fills on certain boats.
Sharks & large pelagics at southern sites.