2019 - 2020 Scuba Diving Holidays, Liveaboards and Learn to Dive Courses to the Maldives, Red Sea, Canary Islands, Far East, Caribbean and the Pacific.
Red Sea and Middle East - Liveaboards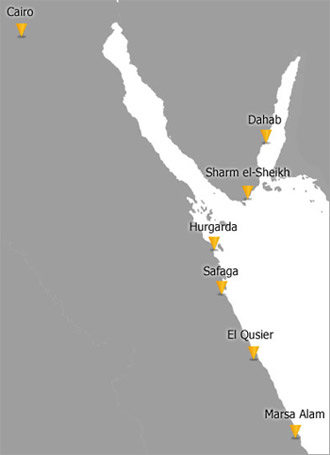 A Red Sea scuba diving holiday offers some of the most amazing dive conditions year round for all types of diving - both shore based, boat diving or on one of our specially selected liveaboards. Red Sea dive holidays offer the best value and are perfect for non-divers too.
Egypt is the Land of the Pharaohs, with abundant historical sites to visit and is the perfect paradise for year round diving holidays. The choice of hotels is vast and there is something to suit all tastes and budgets. Why not explore some of the ancient sites with an excursion to see the Pyramids or Tuthankhaun's tomb in the Valley of the Kings.
The crystal clear warm water and some of the best and most established dive centres in the world to choose from, make Egypt a wonderful experience for both first timers and annual 'pilgrims' alike. Each destination offers it own special character and variety of diving.

Sudan Liveaboard MY Andromeda - Red Sea Liveaboards, Red Sea and Middle East
For your diving & liveaboard holiday to Sudan - Red Sea & Egypt, M/Y Andromeda is a luxury 130ft steel yacht built in 2009 A powerful boat with stablisers to maximise your comfort, there are thirteen en-suite double cabins with twin and queen beds, air-conditioned, spacious salon, Arabian cafe & 100m2 sun deck.

Location
Operating out of Sudan, dive sites include Shaab Rumi, Umbria wreck, Angarosh, Sanganeb and Shaab Saudi.

| | |
| --- | --- |
| Capacity: | 26 persons |
| Length: | 40 metres / 130 feet |
| Beam: | 8 metres |
| Engine: | 2 x MAN diesel 1150HP each |
| Generator: | 2 x Mercedes 138Kw silent generators |
| Sweetwater: | 15 tons plus desalination device (2 tons/day) |
| Fuel: | 70 tons |
| Electricity: | 220v in every cabin and in the salon |
| Navigation: | Compass, GPS, depth sounder, VHF, radio, radar, EPIRB |
| Safety: | 2 x life rafts, 40 x life jackets, 2 x 50L emergency Oxygen, medic First Aid kit, 8 x fire extinguishers, satellite telephone, life bouys, SEA MARSHALL diver search and locate system. |
Accommodation
There are 13 en-suite double cabins with 10 twin and 3 queen-bed accommodations on the lower and main deck. The spacious, elegantly designed cabins are perfect for relaxing.

Facilities
The spacious lounge area is air-conditioned and well equipped with an LCD TV / VCR, DVD and CD player and furnished according to European style. The Arabian Cafe is a unique feature. Situated separate room on the upper desk with an original Oriental coffee shop design with shisha (waterpipe) smoking possibility, coffee, tea and original Arabic music. The comfortable 100m2 sun deck provides plenty of space for sun seekers, as well as shaded area. Comfortable deck chairs and cushioned seats make time more pleasant. There is a smaller sun deck in front of the captain's bridge. In front of the salon is a comfortable open but covered area for resting and chatting between dives and in the evening.

Diving
The large dive deck and dive platform area ensures a good amount of space for divers and groups who wish to enter the water at the same time. 2 hand-held showers on the platform allow for a rinse after diving or snorkeling. There is also storage for camera equipment. A bathroom with shower and marine head leads directly off the dive deck. The equipment on board includes 20 x 12lt and 10x15lt aluminum tanks, K valves, DIN and INT with international adaptors. Weights are provided at no charge on the boat. Zodiacs: 2, each equipped with a 40HP engine. There is plenty of storage space for all the equipment.Rental of diving equipment can be arranged but should be booked well in advance as rental gear is not kept on board.
Fact File
Best Time: All year.

Average Air temps: 18-35°C

Average Water temps: 18-28°C

Visibility: 15-30m

Top Dive Sites:
North - Shaab El Erg, Abu Nuhas Wrecks (Giannis D, Carnatic, Lentil & Tile wrecks), Gubal Island, WWII British wreck Thistlegorm,Ras Mohamed National Park & Shark Reef. Rock & Zabargad Islands (Khanka wreck). South - Big and Little Brothers, Daedalus Reef and Elphinstone, St John's Fury Shoal's system.

Great Reasons to Dive on a Liveaboard in the Red Sea


Variety of itinearies to North and Southern Sites.
Departures from Hurghada, Marsa Alam & Hamata.
Perfect combination of reef & wreck diving.
Suites, shared or singles cabins.
FREE Nitrox Courses & FREE Nitrox fills on certain boats.
Sharks & large pelagics at southern sites.