2019 - 2020 Scuba Diving Holidays, Liveaboards and Learn to Dive Courses to the Maldives, Red Sea, Canary Islands, Far East, Caribbean and the Pacific.
Lagoon Scuba Diving in Zanzibar
Article date : Jun 2, 2014
Diving in Zanzibar, Tanzania offers perfect learn to dive conditions as well as an amazing beach hoilday.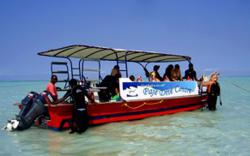 Diving in the Lagoon as Paje Beach offers a choice of easy dive sites from 6 to 18m, perfect for the first dive or your holiday or to try diving or get qualified as an open water diver. Some of the local marine life here includes nudibranches, leaf fish, snake eels, pipefish, big schools of bat fish, scorpion and lion fish, puffers and trumpet fish. Underwater photographers and videographers will enjoy the calm conditions.
Lagoon Mounding (6-16m) is an inner reef dive site with varied marine life and a stunning coral landscape, quite similar to Lagoon. There are regular night dives here with

high chances of spotting spectacular Spanish dancers as well as other nocturnal species, all the more dramatic in the glow of your torchlight.

Stingray City (18m) dive site is just along the wall inside the lagoon and culminates in Stingray city where chances are high to see dozens of Blue Spotted stingrays in addition to the same species found at the lagoon and lagoon mounding.

For more information on Zanzibar diving sites see here >