2020 - 2021 Scuba Diving Holidays, Liveaboards and Learn to Dive Courses to the Maldives, Red Sea, Canary Islands, Far East, Caribbean and the Pacific.
from £2195pp INCLUDING DIVING!
Dive Show SPECIAL OFFER to St Lucia in the Caribbean staying at the pictureque Marigot bay.

SPECIAL SPECIAL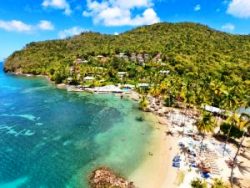 Marigot Beach Club and Dive Resort
7 nights FULL BOARD from £2,195pp SAVE £100

+ NO SINGLE SUPPLEMENT !

INCLUDING return flights and transfers
INCLUDING *diving t
(10 boat dives tank/weights )
Departs selected dates 2020 - 2022.

LIMITED AVAILABILITY
Price includes return flights from London UK airport (other airports may be available at a possible surcharge), return transfers in St Lucia, standard room on Half board, twin share basis and dive pack as specified for qualified divers only*.Subject to availability.

St Lucia, Caribbean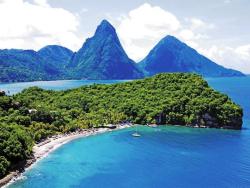 St Lucia offers scuba diving holidays with some of the best shore diving in the Caribbean and a choice of luxury and multi sport options with stunning landscapes and beautiful beaches. Located towards the centre of the Windward Islands chain at the eastern edge of the Caribbean Sea, the tear drop-shaped island is some 27 miles long. The south of the island is domininated by the majestic Piton twin volcanic peaks. Here you can stay in a local, boutique style or superb, top quality luxury hotels with diving on your doorstep.


Diving
The marine reserve at Anse Chastanet offers some of the best shore diving in the Caribbean and is located midway along the sheltered west coast. This is part of the government protected reserve, the Soufriere Marine Management Area and the twin peaks, the petit and Gros Pitons to the south. Varied dives are available from shallow coral spurs and sandy gullies to sudden, dramatic breaks down sheer walls. The reef starts just beyond the water's edge at Anse Chastenet, with a remarkable ecosystem offering an amazing profusion of unusual tropical marine life in 20 to 140 feet of calm, clear water. The reef is home to more than 150 different species of fish. In the shallow areas keep your eyes open for peacock flounders, octopus, needle fish and turtles. Or drop down a little deeper over dense coral growth to see puffers, moray eels, parrot fish, lobsters and even sea horses. The wreck of the Lesleen M is covered with sea fans and thousands of soldier fish. There is also excellent night diving.


Gallery
More information about Marigot Beach Club and Dive Resort in St Lucia, Caribbean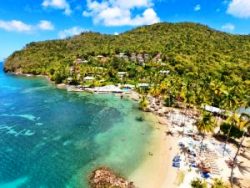 NEWLY FEATURED

Nestled in a lush, tropical rainforest overlooking a stunning surrounding bay, Marigot Beach Club and Dive Resort offers a holiday experiencing the local style of living, away from the crowds. With a PADI certified dive centre on site, a full range of dive courses and a wide variety of equipment to hire, Marigot Dive Resort is fully geared up to host divers of all abilities.


Location
The Marigot Beach Club and Dive Resort is uniquely only accessible by boat. Approximately an hour's drive away from Hewanorra international airport, the journey is completed by a short hop across the bay by ferry. with water taxis to the resort, a popular way to explore the unspoilt coasts of St Lucia.

Accommodation
The Marigot Beach Club and Dive Resort offers a choice of suites, villas and studios, with spectacular views of the bay and surrounding crystal clear waters. All rooms are air conditioned and come with a balcony or patio, as well as high speed wireless internet, television with cable, telephone and safe. En suite bathrooms include a full bath/shower, and come with a hair dryer, iron and ironing board. Extra bedding can be provided on request. Categories include:

Firefly Studios are perched on the hillside overlooking Marigot Bay and include a fully equipped kitchenette within the room with mini fridge, King-size, Queen-size or twin beds and can accommodate up to two people, with a third person accommodated on a rollaway bed on request.
Deluxe Beachfront Studios are just steps away from Marigot Bay's stunning white sand, palm-lined beach, and come with a luxurious four poster, queen-size bed. The room includes a kitchenette with hot plate, mini fridge, toaster, electric kettle and coffee maker.
Grande Studios are spacious one-bedroom villas with breathtaking views of the bay, best enjoyed from the attached airy veranda. Similarly with a luxurious four poster queen-size bed, the Grande Studio also features a full equipped kitchen.
Panorama Deluxe and Superior Deluxe Rooms are bright and spacious one bedroom accommodations situated on the ground floor, with a large bathroom and balcony area. Rooms sleep up to two people in existing bedding, and a third person can be added with a rollaway bed. Each room is equipped with a refrigerator, toaster, microwave, electric kettle and coffee maker. Superior Deluxe rooms are situated in a more elevated position overlooking Marigot Bay and the resort's beach.
The Sunset Villa Suite is an amazing three walled open concept area with panoramic views of the bay and its spectacular sunsets. Featuring a fully equipped kitchen, the suite can accommodate up to four people in its existing format, with a further two people able to be accommodated with rollaway bedding.
Two Bedroom Villas consist of two double bedrooms, each with individual walk-out balconies overlooking Marigot Bay. The villas sleep up to four people in airy, comfortable surroundings with a shared bathroom and range of amenities. Three Bedroom Villas have their own en-suite bathrooms, and separate bedroom entrances. All are equipped with a large living, dining and kitchen area.

Five Bedroom Villas For those requiring more space, or who like their privacy, consist of three bedrooms upstairs and two downstairs. The lower level bedrooms share a bathroom and kitchenette, whilst the upper level rooms each have their own entrances, with en-suite bathrooms and full kitchen.

Rose Cottage Family Villa An elegantly styled Villa a brand-new look for the property and is the first of many changes to come at this exotic beachfront resort. Undeniably the piece de resistance of the resort, this villa suite was luxuriously designed with a modern interpretation of pure Caribbean elegance. Featuring two tastefully designed double bedrooms, with subtle colours that complement Marigot Bay's natural beauty, and a stylish large en-suite bathroom with a luxurious rain shower. A full gourmet kitchen, designed for convenience, is fully equipped with stainless steel appliances, a gas stove, and granite countertops. The guidance of an in-house chef may also be arranged. Ideally located on the hillside, nestled within nature's lush tropical rain forest, Rose Cottage has a slight two floor elevation due to its location, which allows for sensational views and ultimate privacy. With an ingenious three wall open concept living area, guests will be able to enjoy the outdoors (and the amazing plunge pool) surrounded by the comforts of the alluring and sleek interior. Indeed, from the drapery to the artwork, this suite is filled with upscale Caribbean splendour.


Facilities
Guests have full access to the property and all its amenities, including the waterfront Doolittle's Restaurant and Bar, the Gourmet Pizza Parlour, Fresh Juice Bar, sports bar, business center, concierge desk and gym to name a few. Gourmet Pizza is a new pizza parlour where the thin-crust bases are freshly made and topped with a variety of delicious vegetables. Ingredients are locally-sourced, and organic where possible – and you can choose to eat in or take away, offering added flexibility to mealtimes. It's a real step away from the unhealthy pizza chains found in every town around the world… delicious, nutritious, simple meals that your body won't punish you for eating! The resort is also soon introducing a wider variety of raw food options to add to their tasty salads.

At DOOlittle's Restaurant and Bar, the award winning chef expertly prepares every dish using the finest, freshest local ingredients, creating a menu that combines delicious St Lucian cuisine - such as conch, king fish and creamy Caribbean curries - with favorite dishes from around the world, so there's something to satisfy every palate.
Sports, Activites, Spa and Relaxation
A variety of sport and fitness activities are offered at Marigot Beach Club Spa and Wellness Retreat. The invigorating Rainforest Power Walk through the surrounding hillside and lush rainforest reward you with stunning views of not just Marigot Bay but also neighbouring islands St Vincent and Martinique. Hatha Yoga, the most popular form of yoga, is taught on site. It balances the mind and body, using physical poses, breathing techniques and meditation, and helps improve the body's flexibility and strength. Pilates are also taught by an experienced and qualified instructor who will provide a workout perfect for your level of experience, from beginner to advanced. There are also aqua aerobics sessions, designed to provide a great workout while your body is supported by the water, reducing the risk of injury. This is particularly useful for those wary of aggravating old or existing injuries. In addition, off-side activities can be arranged through local providers, including horse riding, golf and tennis.

The resort features an in-house Soothing Touch Spa, offering a wide range of spa treatments to help you rediscover your inner tranquility, including full body massage, reflexology, facials, wraps and hair braiding. It's recommended to pre-book spa services.The resort has excellent facilities for health and relaxation, including a steam room and infra-red sauna, both fantastic for improving circulation and relieving respiratory complaints. An added bonus is weight loss - it's said that up to 600 calories can be burned during a 30-minute steam room session! There are also many meditation exercises taught on-site, including Sahaj Samadhi Meditation, Pranayama Breathing and Lymphatic Brushing.

Diving
PADI certified dive centre on site More >


Gallery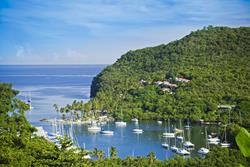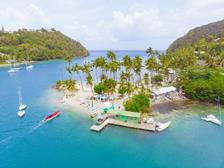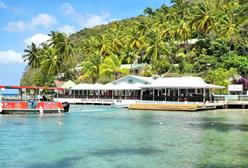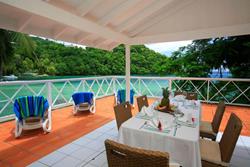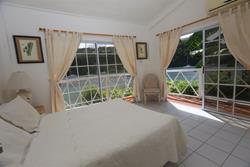 Fact File
Best Time: November to June

Average Air temps: 30°C

Average Water temps: 26-28°C (78-82°F)

Visibility: 5-100m (Jan-June)
Up to 200m (July - December)

Top Dive Sites: Anse Chastenet, Anse Le Raye, Fairy Land, Coral Gardens (at the base of Gros Piton), Superman's flight, a drift dive in the shadow of the Petit Piton, Jalousie under the Gros Piton, Piton Wall, the wreck of the "Lesleen M", Anse La Raye and Anse Cochon, Turtle Reef, the Pinnacles.

Great Reasons to Dive in St Lucia


Anse Chastenet Protected Marine Reserve
Ideal for learn to dive
Shallow coral spurs easily acessible for shore diving
Lesleen M wreck
Superb luxury resorts
Multi sport hotel options
Beautiful landscape with great eco & activiy excursion programmes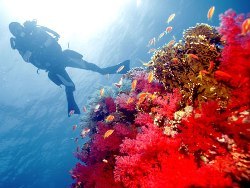 from £895pp ALL INCLUSIVE!
RED SEA - SAFAGA ALL INCLUSIVE Beach hotels.
7 nights Windsurf Kite SUP Dive Centres + Jetty on beach in front of your hotel! Choice of 3*, 4* and 5* beach hotels. Plus meet and greet VISA service. STAY 7 PAY 6!
Departs selected dates in 2021 - 2022.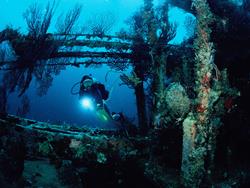 from £1250pp INC FLIGHTS!
CARIBBEAN - GRENADA 4* Boutique Hotel ALL INCLUSIVE
SAVE 30%!. On site PADI 5 Gold Palm Resort, SDI & TDI training facility. 40 dive sites with shallow water, reefs, wrecks and underwater sculpture park. Departs selected dates in 2021.