2020 - 2021 Scuba Diving Holidays, Liveaboards and Learn to Dive Courses to the Maldives, Red Sea, Canary Islands, Far East, Caribbean and the Pacific.
from £1950pp
Book your next Red Sea liveaboard diving trip aboard the luxury Red Sea Aggressor and dive the Northern Red Sea, Ras Mohamed and Straits of Tiran. Group discounts available.

Red Sea Aggressor Liveaboard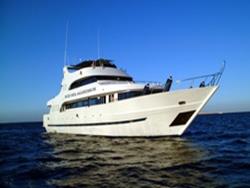 The luxury Red Sea liveaboard from Aggressor with choice of two itineraries to Brothers/Daeldalus/Elphinstone or Southern Sites. A luxury 120ft liveaboard with 10 en-suite AC cabins for 20 with 5 dives per day. free beer and wine and high standard of service you expect from Aggressor.
2021 - 2022 PROMOTION

7 Nights from £1950pp
Price includes: Full board accommodation (breakfast cooked to order, buffet lunch and dinner with table side service, mid-morning and mid-afternoon snacks, final evening cocktail party), beverages - alcoholic and non-alcoholic), 5 dives per day, 2 dives on final day (depending on itinerary), guide, 12l tanks and weights.

GROUP DISCOUNTS
7 pay full price - 2 free (9 in total)
9 pay full price - 3 free (12 in total)
16 pay full price - 6 free (22 in total)

Not included: Flights, transfers (if not arriving and departing from Hurghada Airport on the charter start / end dates - Saturday from Hurghada Marina, Marine Park fees & Port Fees (payable on board), Nitrox and final evening meal in Hurghada. The FREE places in the group discount are for the liveaboard package only. Fligth prices are per person and not included in the group discount.

Please contact us for a full package quote including flights and private transfers. Some itineraries will require overnight stay on arrival or departure to fit some flight schedules

Supplements:
Master Stateroom: from £80pp, Port Fee: $4pp/per trip, Marine Park Fees: $100pp (Ras Mohammad and Straits of Tiran)
Additional Fees: Per Person
All services below are bookable in advance to guarantee available, payable on arrival.
Full equipment rental (including computer & torch): $175 (7 night charter)
Nitrox: $100 for 7 night & $150 for 10 night trips for unlimited fills
Regulator: $60 (7 night charter), BCD: $60 (7 night charter), Dive Computer: $60 (7 night charter), Mask/Fins/Snorkel: $50 (7 night charter), Wetsuit: $50 (7 night charter), Torch: $8 per dive, U/W Photo Kits: please contact us for details and availability. Local tax for all local payments: surcharge of 14% on the above prices.


More information about Red Sea Aggressor Liveaboard in Red Sea Liveaboards, Red Sea and Middle East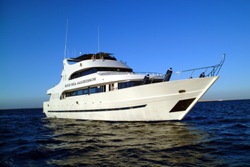 This luxury 5* Red Sea liveaboard from Aggressor provides some of the highest standards of service and comfort at your favourite diving spots in the Red Sea. Enjoy amazing visibility, soft corals that will take your breath away and over a 1000 species of fish with over 200 unique to the area. Also home to several WWI wrecks with many artifacts still onboard. Plus the eduring warm weather of the Red Sea makes for a perfect diving holiday.

Location
The liveaboard is moored at Port Ghalib just a short 10 minute transfer from Marsa Alam airport or 2 hours from Hurghada airport.

Accommodation
120' boat offering 10 en-suite deluxe and master staterooms. All staterooms are air-conditioned with ensuite WC, showers, sinks, bathrobes and hair dryer. Bed linen is changed as requested and fresh towels are placed in each stateroom as needed.
Deluxe Staterooms (1 - 8) each have two single beds measuring 32" x 78", a porthole view, mirrored wardrobe and private ensuite bath.
Master Staterooms (9 & 10)
One queen bed, 62" x 78" inches, port hole, mirrored wardrobe, bathrobes, hairdryer, fresh towels, AC units, private ensuite bath.
Meal plan: 7 nights on board including all meals and beverages. Breakfast (cooked to order), buffet lunch and dinner with table service are served daily. In addition, fresh mid-morning and mid-afternoon snacks, beverages (including soft drinks, local beer and wine) are complimentary on board.

Diving
Up to 5 dives per days and night diving when available. Filled tanks, weights and weight belts are included. All diving is from 2 skiffs that carry 10 divers on each for quick access to the dive sites. The water temperature is usually between 23 - 29C (74 - 84F) so a 3mm wetsuit is recommended in the summer months and 5mm in the winter. Equipment arranged in advance of your arrival onboard and is at an additional charge.
Brothers/Daeldalus/Elphinstone Head 9 hours aboard your luxury liveaboard to these iconic diving destinations. As pinnacle islands you can explore the plummeting walls heading down hundreds of feet. The open ocean attracts big fish such as rays, sharks and and other large pelagics including Grey Reef shark, Thresher and resident Hammerheads. At certain times of year you can spot Oceanic white tips. On Big Brother there are two wrecks, Aida and Numidia. One night dive is also offer on the itinerary but this is not possible to take it at the Brothers due to Egyptian Government regulations. As an alternative, an early dawn dive is offer each morning before breakfast.

Southern Route Itinerary Diving in the southern Red Sea off the Egyptian coast offers extensive reef and coral gardens such as Sha'ab Claudia plus interesting coral tunnels and caverns for exploration. Fury Shoal's offers some of the best exposed reef and wall dives well know for attracting large pelagics. Sha'ab Mansour and Sataya dives are often accompanies by schooling barracuda, big-eye travellay and sharks. Dolphin Reef at Sataya is a lovely coral lagoon where you can snorkel with the residen Spinner Dolphin Pods and is offers sheltered bay conditions for night diving.

Sample Itineraries
Two Itineraries are available, alternating weekly:

Itinerary 1 Brothers/Daeldalus/Elphinstone
Itinerary 2 Southern itinerary - including Ras Banas sampling lush walls at reefs at Fury Shoal, Sha'ab Mansour, Sha'ab Claude and Sataya. Saturday

Saturday
Arrival Marsa Alam or Hurghada, boarding approximately between 3:00pm to 6:00pm.

Sunday
Approximately 8:00 am, Port Authorities clearance and departure for 1st dive

Sunday to Friday Afternoon
Up to 5 dives per day.

Friday Afternoon
2:00pm to 4:00 pm return to Port.

Friday Evening
6:00 pm Cocktail party
7:00 pm Dinner ashore
(Friday night dinner is the only meal not included in the cruise as there are many restaurants in the Port Ghalib area which guest enjoy visiting.)

Saturday
9:00 am Check out .
All charters are Saturday to Saturday and subject to change


Taxes/Fee/Transfers: Please note there is a Port Fee on arrival of USD $39 per person plus a Marine Park fee of USD $52 per person for the Brothers itinerary or a USD $105 for the Brothers/Daedalus. These fees are paid onboard the yacht and may be paid by Visa, Mastercard, or cash (US Dollars).



Gallery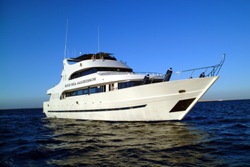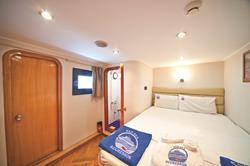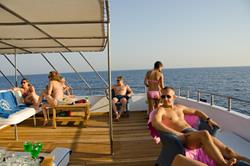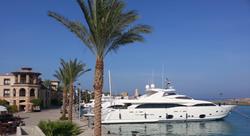 Fact File
Best Time: All year.

Average Air temps: 18-35°C

Average Water temps: 18-28°C

Visibility: 15-30m

Top Dive Sites:
North - Shaab El Erg, Abu Nuhas Wrecks (Giannis D, Carnatic, Lentil & Tile wrecks), Gubal Island, WWII British wreck Thistlegorm,Ras Mohamed National Park & Shark Reef. Rock & Zabargad Islands (Khanka wreck). South - Big and Little Brothers, Daedalus Reef and Elphinstone, St John's Fury Shoal's system.

Great Reasons to Dive on a Liveaboard in the Red Sea


Variety of itinearies to North and Southern Sites.
Departures from Hurghada, Marsa Alam & Hamata.
Perfect combination of reef & wreck diving.
Suites, shared or singles cabins.
FREE Nitrox Courses & FREE Nitrox fills on certain boats.
Sharks & large pelagics at southern sites.