2020 - 2021 Scuba Diving Holidays, Liveaboards and Learn to Dive Courses to the Maldives, Red Sea, Canary Islands, Far East, Caribbean and the Pacific.
Fort Young Dive Centre - Dominica, Caribbean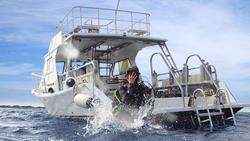 The diving academy is a 5* PADI and Universal Refferal Centre. The professional and freindly staff offer a range of PADI courses which can be conducted in several languages.
Location
The centre is located at the Fort Young Hotel on the South West coast of Dominica, approximtly 90 minutes drive from the airport.
Facilities and Services
Departing several times a day is the centres Newton dive boat, which accomodates divers and crew on a 2 tank trip.The boat is equipped with a spacious deck, dry storage facilities, a dedicated camera table, large rinse buckets and a fresh water shower. The centre provides complete rental equipment facilities, vast teaching facilities, lockers, rinse tanks, camera tables and out door showers available on the dock making it conveinent for divers to do their check out dive.
For those that are new to scuba diving or are keen to continue their dive education, PADI courses are availble and are taught by the experienced and freindly instructors. All the centres guides and instructors will ensure you gain a personal experience and have all the nessasry knowledge before you head out on your first open water dive.
Diving
There are numerous dive sites around the island, a few of the most famous are; Pole To Pole, Champagne Reef and Nose Reef, and are all covered in thriving coral. If your diving on the outer edges of the reef be sure to bring your camera as barracudas, turtles and sting rays frequently swim through dive groups giving amazing photo opportunities. The reefs are made from volcanic formations and are home to a rare collection of sea creatures such as frogfish, seahorses and upside-down jelly fish.

Equipment Rental
Equipment
Daily
Weekly
Mask & Snorkel
£5
£23
Fins

£5
£23
Mas, Snorkel & fin set
£8
£39
Snorkel Vest
£5
£23
B.C. jacket
£10
£50
Regulator w/ gauges & octopus
£10
£50
Dive Computer
£10
£50

Mesh bag
£2
£12
Wet suit
£10
£50
Dive light (without batteries)

£5
£23
Octopus or gauges
£5
£23
Wetsuit full
£15
£77
Open heel fins
£10
£50
Dive light LED
£10
£50
Scuba det (B.C., regulator, mask, snorkel
fins, wetsuit)
£35
£173
Gallery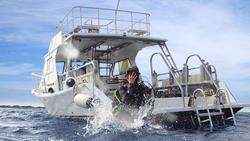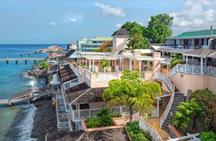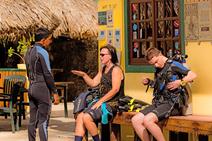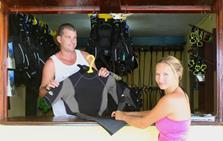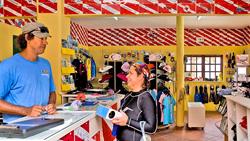 Fact File
Best Time: tYear Round

Average Air temps: 29°C

Average Water temps: 27°C

Visibility: 18-25m

Top Dive Sites: Dangleben's Pinnacles, Champagne (escaping volcanic gasses), Scotts Head Pinnacle, Coral Gardens.

Dive Centre: Dominica Dive >
Daily boat diving, night diving, full range of PADI courses from Learn to Dive to specialist courses, snorkelling packages.

Great Reasons to Dive in Dominica

Morne Trois Pitons National UNESCO Heritage site
Whale & Dolphin watching
Spectacular underwater Volcanic topography
Dives for novices & more experienced
Vertical walls, caverns & swim throughs.
Accompanied snorkelling boat trips.