2022 - 2023 Scuba Diving Holidays, Liveaboards and Learn to Dive Courses to the Maldives, Red Sea, Canary Islands, Far East, Caribbean and the Pacific.
Indian Ocean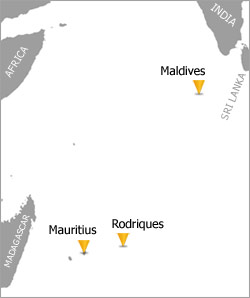 The Maldives is diving holiday heaven. An Indian Ocean scuba diving holiday, where exciting marine life abounds, is best summed up by the sheer quantity and size that can be seen. Head to the Maldives for a great mix of endless white sand beaches, azure blue waters and fabulous underwater topography. We have selected the widest range of hotels, liveaboards in the Maldives, exotic Mauritius and hideaway Rodrigues island. As experts in this area we can find something just right for you!

The Maldives is the perfect place to learn to dive from one of the idyllic island resorts. As Maldives diving holiday specialists, Sportif Dive offer over 100 islands with some of the very best prices out there. Or why not immerse yourself in diving from a dedicated liveaboards taking you to some of the less busy, pristine sites.
Mauritius and the lesser know nearby Island of Rodrigues offer widely contrasting holidays. The former with luxury hotels resorts and many options for relaxing and other activities. The latter to discover an island untouched by tourism and off the beaten track.
All provide first class facilities for diving and snorkelling, shallow water lagoons and more challenging dive sites for the advanced divers. Whale Sharks, Manta Rays, Wreck and Drift Diving characterise most of the Indian Ocean dive sites with more sheltered dives closer to shore.

Maldives
If you've dreamt of diving in the Maldives, you won't be disappointed. A Maldives scuba diving holiday offers world class diving holidays with professional dive centres, channels and lagoons that are brimming with the huge variety of sea life and soft coral that make the Maldives a mecca for all levels of scuba divers. Maldives is ideal location...
Mauritius
A scuba diving hoilday in Mauritius offers diving holidays in a destination totally encircled by one of the world's finest coral reefs that provide a perfect breeding ground for many marine species. The pearl of the Indian Ocean, a cross-roads of civilizations influenced by Asia, Africa and Europe, with the east coast of Africa 1100...
Sri Lanka
Sri Lanka, previously known as Ceylon, in the Indian Ocean offers an endless list of things to see and places to visit, with 1000 miles of palm-fringed coastline, safaris, cultural tours, history and warm climate. Sportif Dive Holidays offer twin centre holidays with short 3 day to 2 week plus extension tours, where you can experience the...