2022 - 2023 Scuba Diving Holidays, Liveaboards and Learn to Dive Courses to the Maldives, Red Sea, Canary Islands, Far East, Caribbean and the Pacific.
Micronesia and Pacific - Liveaboards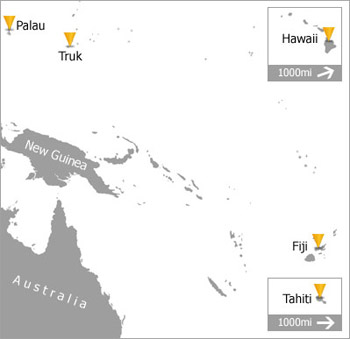 Choose a scuba diving holiday to Micronesia and the Pacific which offers adventures for those wanting an exploratory and exotic diving holiday. Meet unique and rare marine creatures and dive sites of unsurpassed beauty that will leave memories for a lifetime. Dive holidays in Micronesia are famous for the chance to see World War II wrecks.
Palau, made up of 300 mostly unihabited islands that look like 'mushrooms'. From caves to soft corals, mantas to giant shoals, sharks and 1500 variety of fish. This is a truly special destination.
Truk Lagoon famously has hundreds of World War II japanese wrecks lying in 35m water almost intact. Historically facinating and an excellent twin centre trip with Palau.
Explore the magic of Fiji and Hawaii aboard a luxury liveaboard or enjoy the pure escapism on the paradise island of Bora Bora in your own water villa. For a once in a lifetime trip visit the Galapagos, Darwin and Wolf Islands.

Galapagos Aggressor Liveaboard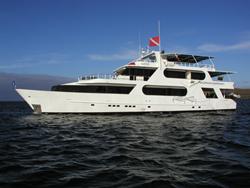 Dive the Galapagos aboard a luxury liveaboard offers much including a wide range of animal and marine inhabitants. Thrilling shark dives at remote Wolf and Darwin Islands. Beginner divers may find Galapagos diving a little too challenging and no night diving is offered. For those who love challenging diving this is the place.
Palau Aggressor Liveaboard
Dive Palau's pristine waters aboard a luxury liveaboard built for comfort, safety and stability. WWII wrecks, shark-infested channels, caves, and sheer walls covered in lush soft corals and huge anemones are just a flavour of the world class diving available here. A luxury liveaboard with table service.
Palau Ocean Hunter Liveaboard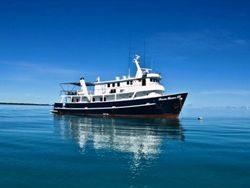 The Ocean Hunter, specially designed for underwater photographers, can accommodate up to 16 divers in 8 cabins. The Palau Ocean Hunter fleet offers an exclusive, tailor made diving experience. Enjoy the incredible variety of dive sites, maximising your diving time.
Truk Master Liveaboard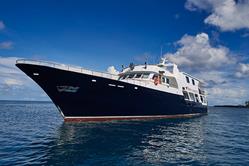 Experience the best wreck diving worldwide on the Truk Master Liveaboard, a newly refurbished 121ft yacht with added tech diving facilities.