2022 - 2023 Scuba Diving Holidays, Liveaboards and Learn to Dive Courses to the Maldives, Red Sea, Canary Islands, Far East, Caribbean and the Pacific.
Caribbean - Liveaboards
The Caribbean has something to offer everyone and one of our most popular diving regions after the Red Sea. For many, the Caribbean epitomizes luxury in an idyllic setting, for divers it offers so much more.
Surprising and enchanting, visit underwater sculpture parks, varied wreck dives & coral gardens. Experience fast and thrilling drift dives & cave diving. The Caribbean Sea is the right choice for the novice, including the technical diver with its ample choice of shore and boat dive sites, resorts, dive centers & liveaboards.
Each island has an individual character and feeling but always offering a warm, friendly welcome, exotic food, tropical fruit and fresh seafood. Mix this up with a sundowner and lively music against a backdrop of cobalt blue skies and you'll want to return before you leave.
Bahamas Aggressor Liveaboard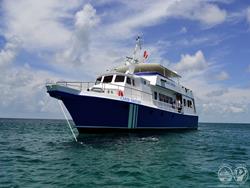 This luxury Bahamas Aggressor Caribbean Liveaboard is an intimate 14-passenger 100ft monohull yacht with 5 deluxe cabins with double and single bunks and a quad cabin. Explore the dramatic walls, lush coral reefs and exciting animal encounters of the Exuma Cays Land and Sea Park. This protected area is one of the world's most successful marine parks with more than 350 small islands and cays.
Cayman Islands Aggressor Liveaboard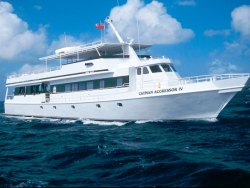 This luxury Cayman Islands Caribbean Liveaboard from Aggressor provides access to excellent visibility and calm, crystal clear warm water has made the Cayman Islands a scuba diving favourite for decades. Every week, Cayman Aggressor IV divers explore the walls and ship wrecks of Grand Cayman with side excursions to Little Cayman and Cayman Brac in the right conditions.
Turks & Caicos Aggressor II Liveaboard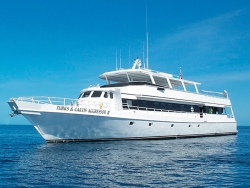 Dive the Turks & Caicos Islands aboard a luxury liveaboard and dive walls that plunge into the deep blue and include crevasses and ledges that are decorated with huge orange Elephant Ear sponges, Gorgonians and Crimson Rope Sponges. Experience the world famous service with the aboard this excellent Aggressor Liveaboard.