2022 - 2023 Scuba Diving Holidays, Liveaboards and Learn to Dive Courses to the Maldives, Red Sea, Canary Islands, Far East, Caribbean and the Pacific.
Micronesia and Pacific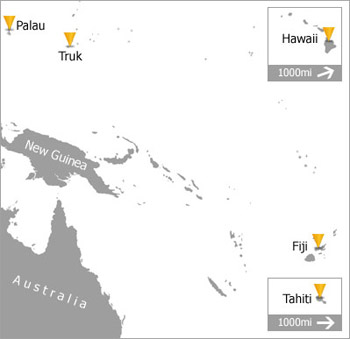 Choose a scuba diving holiday to Micronesia and the Pacific which offers adventures for those wanting an exploratory and exotic diving holiday. Meet unique and rare marine creatures and dive sites of unsurpassed beauty that will leave memories for a lifetime. Dive holidays in Micronesia are famous for the chance to see World War II wrecks.
Palau, made up of 300 mostly unihabited islands that look like 'mushrooms'. From caves to soft corals, mantas to giant shoals, sharks and 1500 variety of fish. This is a truly special destination.
Truk Lagoon famously has hundreds of World War II japanese wrecks lying in 35m water almost intact. Historically facinating and an excellent twin centre trip with Palau.
Explore the magic of Fiji and Hawaii aboard a luxury liveaboard or enjoy the pure escapism on the paradise island of Bora Bora in your own water villa. For a once in a lifetime trip visit the Galapagos, Darwin and Wolf Islands.

Bora Bora (Tahiti)
Bora Bora in the Pacific is an almost mystical diving holiday location. Located approximately 200 miles north west of Tahiti and one hour's flight from Papeete, Bora Bora is the definition of a Pacific island paradise. Dive in crystal clear waters, shallow lagoon, white sand beach and palm trees swaying like the grass skirts of the local...
Read more about Bora Bora (Tahiti) >
Fiji
Scuba diving holidays to the Pacific with Sportif Dive, offers a liveaboard diving holiday exploring unspoilt coral gardens with an abundance of marine life around the best sites of the Fiji islands. A collection of around 300 islands spread over 280,000 square miles of ocean north of New Zealand. Known as "the soft coral capital of the...
Galapagos Islands
Galapagos Islands scuba diving holidays to the Pacific offers a diving holiday to some of the most thrilling and exciting dive sites in the world. Dive with playful sealiions, see Hammerheads, Whaleshark, clouds or tuna and visit the famous Darwin and Wolf islands. As there can be strong currents. often with surging waters, this is a dive trip...
Read more about Galapagos Islands >
Hawaii
Hawaii scuba diving holidays in the Pacific offers a diving holiday with many outstanding dive sites and spectacular night dives. The best way to dive Hawaii is aboard a liveaboard. The 50th State of the USA, the Hawaiian chain comprises hundreds of volcanic islands spread over 1,500 square miles of ocean off the west coast of mainland...
Palau
A scuba diving holiday in Palau offers an incredible range of diving. Part of Micronesia, Palau is a Pacific Ocean island-nation made up of over 300 mostly uninhabited islands, located just north of the equator, 600 miles to the east of the Philippines. The shape of the flourishing green islands often leads them to be described as looking like...
Truk Lagoon
Scuba diving holidays in Truk Lagoon are mainly made to dive the outstanding World World II wrecks at varying depths, making it one of the best wreck scuba diving locations in the world. 800 miles to the east of Palau lies Truk lagoon encircling the islands of Chuuk. This is the location of hundreds of wrecked World War II Japanese and US ships...