2022 - 2023 Scuba Diving Holidays, Liveaboards and Learn to Dive Courses to the Maldives, Red Sea, Canary Islands, Far East, Caribbean and the Pacific.
Learn Underwater Photography
New for 2014, INON Level 1 Learn Underwater Photography courses in Lanzarote, Canary Islands with Sportif Dive Holidays.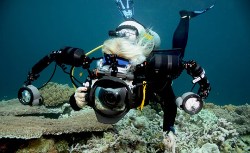 These fun and informative courses are designed for beginner to advanced underwater photography divers who wish to learn new skills and improve their knowledge of how to use their equipment. Courses are for one week with a qualified INON Underwater Photography instructor and includes 6 theory sessions plus in water exercises, diving in gentle conditions. Personal instruction allows you to practise what you have learnt, in a relaxed environment.

Course details
Your personal, professionally trained, INON Underwater Photography Instructor, will take you through 6 theory sessions, accompany you on dives and help you analyse your results with feedback and tips on how to take great photographs. The course content will be relevant to the ability level for that week and individual needs but generally covers:
► Session 1 Light - the basis of good photographs
Covering the fundamental principal as the basis for all photography, learn how light is disrupted, reflected, absorbed by water plus how to deal with scatter and diffusion and overcome these problems to get sharp and vibrant photographs every time.

► Session 2 Equipment - understand your compact camera.
The session covers the features of your camera, how they work and adjustments that make the difference such as shutter speed, aperture and camera lenses.

► Session 3 Colour - how to enhance with natural light
How to select the best options on your camera to create colourful images when shooting by sunlight using different underwater modes, auto and manual white balance settings plus special underwater filters.

► Session 4 Flash & Strobes - how to use introduced light
Using flash units and strobes are essential tools to restore colour, light up dark places and fill in shadows. This sessions covers how to position your strobe and how to avoid backscatter to evenly light your images.

► Session 5 Lenses - expanding your camera's capabilities
The results you get, with your compact camera can be limited. Understanding how to use of super wide-angle, wide-angle and close up lenses will improve results with tiny nudibranchs to imposing shipwrecks.

► Session 6 Composition - images with impact
Successful underwater photographers use tried and tested techniques to create photographs with impact. This presentation will share these top compositional ideas and insider tips, using example images to demonstrate how to create impactful images for yourself.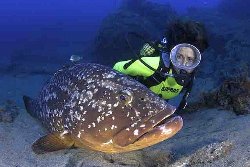 Typical Course Level
Beginners to Intermediates
To get the best out of this course, participants will need to be a minimum Open Water level divers with good buoyancy control. If additional instruction is required before the course, this can be arranged in advance. You are required to own your own company camera and underwater housing.


Course Schedule
The course runs over one week with a combination of 6 theory sessions and 4 shore dive sessions. Boat diving is available by arrangement with the dive centre at an additional cost. Check dives are required to acclimatise your buoyancy with your equipment. Dive certification, health and insurance information is required before the commencement of the course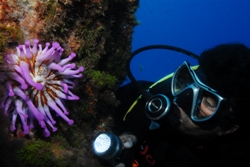 The INON UK Level One Underwater Photography Course is designed to provide you with the knowledge, skills and experience to prepare you to take consistently great underwater photographs, with no previous experience taking photos required. The INON UK course is a comprehensive beginners' course and the only one approved by a leading underwater camera equipment manufacturer in the UK. Here is some feedback from previous INON courses:

"Thank you soooo much, fab photos, fab course. I learnt so much and the difference in my photos from last year is incredible, down to the patience and instruction you showed me! Can't thank you enough." Richard Street
"The course was great and I learnt a lot. A very enjoyable trip." Michael Bailey
"I had a fabulous time. You did an amazing job. The group learned a lot and was able to improve their photography by your fab efforts." Marty Engles Dunmore



INON UK Level 1 Underwater Photography Course
LANZAROTE - CANARY ISLANDS
6 December 2014, 6 & 20 January 2015

*BOOK BY 30 NOVEMBER 2014 TO INCLUDE 10 DIVES TANKS, WEIGHTS!

Course Price: from £699pp INCLUDING
- INON Level One Underwater Photography Course
- 10 dives tanks, weights*
- Return flights from UK
- 7 nights self catering Ocean Studio Apartment on twin share basis.
- Round trip airport transfers.
Optional Supplements:
Single room available at a supplement.
3*, 4* and 5* Accommodation options - call for prices.
Other specialist courses eg Advanced Diver, Buoyancy specialism.
Extended stay - POA

To book - call us on +44 (0)1273 844919 or email below.
Limited places. International bookings welcome.

Here are is our review on the facilities and tips for travel to Lanz:


Ocean Apartments, Lanzarote
A budget 2* self-catering apartment complex built in 1989, around a swimming pool. 40 Studios in the heart of Costa Teguise just 150m from the beach. A great location where you can to walk out to all the local bars, shops and restaurants, which are on your doorstep. The dive centre is a short 10-15 minute walk.
View Now >

Lanzarote Dive Centre
This professional PADI diving centre is located in Costa Teguise Lanzarote, Canary Islands. The Lanzarote Dive Centre is fitted out with regularly renewed Mares scuba diving equipment and the dive centre is located right on Jablillo Beach. Boat diving is done on a Valiant 8.50 M. There is also a bar, jacuzzi and solarium for after you have completed your dives. More >

Diving: Lanzarote has an abundance of sea life and calm, protected waters in which to see them. There are a choice of dive sites nearby that offer something for everyone. Playa Jablillo is a small bay close to open sea with a huge variety of fish just in front of the centre. The maximum depth is 10 meters, with opportunity to see scorpionfish, blennies, starfish, damselfish, brightly coloured wrasses, whilst the flat sandy bottom is a haven for stingray, flounder and schools of bream and salema. Playa Chica is located in Playa Del Carmen, around a 20 minute drive away. With 2 shore entry points, one from the beach and one from the jetty, there are a variety of dive sites with multitude of tiny creatures such as seahorses, pipehorses, nudibranchs and blennies. There is a small wreck, caverns and local resident grouper called Felix. Schools of Mullet busily hoover the white, sandy bottom, looking for food, whilst bright red starfish make starkly contrasting subjects against the sand. Scorpionfish pose photogenically in the rocky walls around the bay and the jetty. More >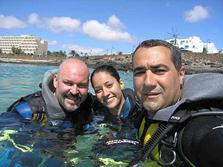 Travel Details
Airport: Gatwick/Lanzarote (regional flights available)
Transfer: approximately 20 minutes.

Equipment Hire
The dive centre offers a choice of equipment to hire along with a range of PADI courses for beginners to advances. Please book any additional arrangements or equipment in advanced to ensure availability.


Frequently Asked Questions

What wetsuit should I bring?
The water temperature in Lanzarote in winter ranges from around 18-20 degrees. Some people wear a 5mm or aa 3mm long suit with 3mm shortie. Some divers opt for a drysuit. A hood is a good idea, as are gloves if people get cold. We would probably suggest a 7mm to be on the safe side. The sun is lovely and warm, however, so you soon warm up :) It is actually a lovely time of year to go because it is a little quieter, although not too quiet...still plenty going on - winter sun and all that!

What camera equipment should I bring?
Lanzarote offers a wide choice of subjects to let you hone your skills as an underwater photographer. To get the most from your INON UK Level One underwater photography course and return with a great portfolio from the island, we recommend you take the following equipment: A camera and housing, an underwater flash unit, wide–angle lens, a close up or macro lens. If you are using a compact system camera or D- SLR, then you can use a kit lens with an add – on underwater close up lens or, better yet, a proper macro lens designed specifically for close up photography. If you would like to speak to an INON Course Director regarding your equipment beforehand, please contact us.