2022 - 2023 Scuba Diving Holidays, Liveaboards and Learn to Dive Courses to the Maldives, Red Sea, Canary Islands, Far East, Caribbean and the Pacific.
Indian Ocean - Liveaboards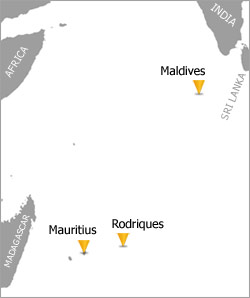 The Maldives is diving holiday heaven. An Indian Ocean scuba diving holiday, where exciting marine life abounds, is best summed up by the sheer quantity and size that can be seen. Head to the Maldives for a great mix of endless white sand beaches, azure blue waters and fabulous underwater topography. We have selected the widest range of hotels, liveaboards in the Maldives, exotic Mauritius and hideaway Rodrigues island. As experts in this area we can find something just right for you!

The Maldives is the perfect place to learn to dive from one of the idyllic island resorts. As Maldives diving holiday specialists, Sportif Dive offer over 100 islands with some of the very best prices out there. Or why not immerse yourself in diving from a dedicated liveaboards taking you to some of the less busy, pristine sites.
Mauritius and the lesser know nearby Island of Rodrigues offer widely contrasting holidays. The former with luxury hotels resorts and many options for relaxing and other activities. The latter to discover an island untouched by tourism and off the beaten track.
All provide first class facilities for diving and snorkelling, shallow water lagoons and more challenging dive sites for the advanced divers. Whale Sharks, Manta Rays, Wreck and Drift Diving characterise most of the Indian Ocean dive sites with more sheltered dives closer to shore.

Maldives Horizon III Liveaboard - Maldives, Indian Ocean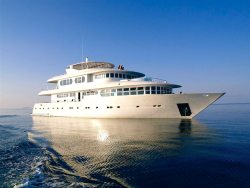 The Maldives Liveaboard Horizon III is a 36m liveaboard based from Male in the Maldives, accommodating up to 22 persons. All levels of diver and non divers are welcome and can enjoy up to 16 dives at week, snorkelling, the on board massage service and jacuzzi. All dives are from the 18m Dhoni.

Location
The Horizon III liveaboard usually departs from Male, depending on season and itinerary.

Accommodation
The Maldives Horizon III liveaboard has 8 standard cabins, 2 deluxe cabins and 1 master deluxe suite. All the cabins have air conditioning, storage, shelving, a wardrobe, mirror, small table and a private en-suite with a toilet and shower.

Facilities
The Maldives Horizon III Liveaboard is light and airy with a relaxed and comfortable atmosphere. On board there is an indoor dining saloon and dining is also available on the front deck where you can enjoy the fresh air and scenery. The boat has a bar, spa (additional cost payable locally), an indoor lounge, LDC TV, DVD player, music system, a library with books and board games and camera storage and charging area. The sun deck has a jacuzzi, and sun loungers.

Diving
All diving is done from the dive 18m dhoni boat, where all the equipment is kept. You can enjoy up to 16 dives during the week with up to 3 dives per day, including diving the Maldives channels, Thilas, elongated reefs, outer reefs, wrecks and overhangs. Enjoy encounters with big fish, swarm fish, small animals, corals and hard corals. These Maldives liveaboard weeks offer the chance to see manta ray, reef shark, eagle ray, sting ray, turtle and whale shark.

Itinerary
Sample itinerary.


Horizon III offers guests the chance to decide the route, theme and itinerary. The "Classic Atolls" offers a mix of Maldivian high lights, including a mix of: Sharks, Rays, Napoleons, Mantas, Corals, Mantas at Night, Whale shark, and an exciting wreck dive. The itinerary is subject to change due to the weather conditions, length of the trip and the group's majority decision. An example itinerary;
Day 1: Guests will be picked up from Ibrahim Nasir International Airport and will start sailing from Male', depending on arrival check dive will be done.

Day 2: Three dives, 1st dive Lankan manta, after the dive, cross to Ari atoll, 2nd Dive Bathalakanthila, 3rd Dive Fesdu Thila, after dive check for manta at night.

Day 3: Three dives, 1st dive Maalhos thila, 2nd dive Moofushi Manta, 3rd Dive Raidhiga Thila. BBQ in the evening – weather permitting.

Day 4: Three dives,1st dive Rangali Madivaru, dive after breakfast to search for whale shark, 2nd dive Maamingli Beyru, dive after lunch search for whale shark again, 2nd dive Dhidhoo Beyru.

Day 5: Three dives, 1st morning dive Kudarah Thila, after dive boat cross to Vaavu atoll, 2nd Dive Dhigaluvashee Kandu, 3rd dive Night dive with nurse sharks Alimatha house reef.

Day 6: Three dives, 1st dive Miyaru Kandu, after the dive, cross to south Male atoll, 2nd dive Kandooma Thila, 3rd dive Kuda Giri wreck.

Day 7: Depending on guest departure - one dive and then head back to Male.

Day 8: Guests will be dropped off to Ibrahim Nasir International Airport after breakfast around 7am.

All itineraries are subject to change at any time by the boat captain to reflect the local conditions and for the safety and level of divers on the boat.
Gallery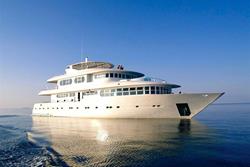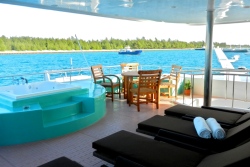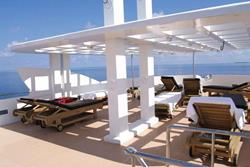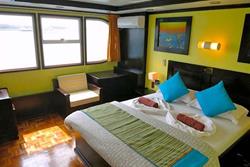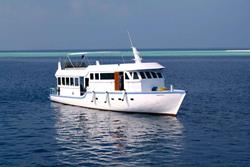 Fact File
Best Time: Dec-April (Summer/NE
monsoon) & June-Oct (SW current)

Average Air temps: 28-30°C
Average Water temps: 28-30°C

Visibility: 20-30m + (varies
depending on season & sites).

Top Dive Sites: Too many to
mention. Each island offers
short distance to dive sites,
excellent house reefs. Sites
for all levels. More >

Liveaboard Itineraries More >


Great Reasons to Dive in Maldives

Clear visibility.
Vast number of dive sites.
Chance to see Manta Whales
& Whale Sharks in Summer months, on the SW side.
Large schooling pelagics.
3*,4* & 5* island resorts
Liveaboards with free places for whole boat bookings.