2022 - 2023 Scuba Diving Holidays, Liveaboards and Learn to Dive Courses to the Maldives, Red Sea, Canary Islands, Far East, Caribbean and the Pacific.

Latest Offers
MALDIVES DIVING HOLIDAY
from £1770pp INC FLIGHTS!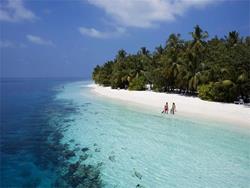 Maldives Dive Holiday to Luxury Vilamendhoo Island Resort>
Vilamendhoo Island Resort 7 nights Full Board INCLUDING flights. Excellent value, daily boat diving packages and superb house reef.
Departs Selected dates in 2022.
SAVE up to 20%
News
Maldives Dive Sites - Maldives, Indian Ocean
The island nation of the Maldives Islands lie Southwest of India just across the equator. Scattered across the middle of the Indian Ocean, the islands of the Maldives are made up of 26 coral atols with over 1000 islands covering around 35,000 square miles. These tropical, palm fringed islands with dazzling white sand beaches and clear turquoise, warm water lagoons are an idyllic holiday location. The diving matches too - fringing coral reefs with abundant varieties of marine flora and fauna, captivates visitor divers and remains one of the top diving destinations for world class diving.

There are three distinctly different types of diving: inside the atolls, outside the atolls and inside the channels or passes, where the currents are strongest and you'll find the most fish life. A big draw are the cleaning stations, on every corner and under every ledge where Groupers, Snappers, Surgeonfish, Eels, Parrotfish, even Giant Napoleon Wrasse settle in the corners, oblivious to all, (including cameras) while armies of wrasse, shrimp and other assorted cleaners pick at debris in their open gills and cavernous mouths.

The big attraction, however, are the schools of fish that patrol the reefs in colorful packs: Humpback and Black and White Snappers, Trevally Jacks, Barracuda, Batfish, Unicornfish, Yellowback Fusiliers and Harlequin Sweetlips almost comical in design. The reef's larger inhabitants, including sharks, rays and occasionally even Whale Sharks, are often seen cruising in the blue.

Mantas: One of our most asked question is "when.s the best time to see Mantas?". The answer is year round in the right conditions, but you will need to be in the right location. Generally, you will see Mantas in the West Atols from mid December round until May time. From end May through to mid December, your best chance is in the east of the Atolls. We have a choice of over 96 islands and selection of liveaboard itineraries, please call us for our recommendations and get you in the right place at the right time!

For island based diving, the house reef will provide a perfect introduction the diving the Maldives either with a guide or if experienced to suite your dive plan. The dive centre will offer boat dives during the day at scheduled times with dives planned to suit the divers experience in the group.

Our liveaboards have varying itineraries to suit the seasons and local conditions. Call us for details of options available to suit your budget. We can offer group discounts, free places and whole boat charter.
Dive Holidays Sportif
Sportif Dive is a specialist tour operator offering a wide range of diving holidays all over the world. Our choice of destinations is extensive from established locations in the Red Sea, Maldives, Caribbean and the Far East to the exotic and unusual such as Rodrigues Island in the Indian Ocean, Wakatobi, Truk, Palau, South America & the Pacific. Whether you are looking to for a Learn to Dive course, group expedition or trip of a lifetime we can help. With over 30 years experience and a personal approach, we can advise on the ideal location to suit your needs, at a price to suit your budget.
Our extensive knowledge of the destinations means we can recommend the right location for you. Our diving centres are selected for their excellent standards of service and safety. Whatever your priority, whether starting out or wishing to dive a technically challenging site we can recommend a range of options offering the best diving for when you wish to travel. We can organise all your travel arrangements for you, pre-book equipment and diving packages in advance to maximise your time when you get there.
As an independent tour operator, we select only the hotels, liveaboards and diving centres that offer the best standards and quality of service but at the right price. Without the overheads of a large mass market operator, we can offer the best value diving holidays often with great discounts and special offers.
Our consultants have many years experience in travel and are divers. They are able to closely match your needs and take time to recommend from a carefully selected range of accommodation and diving packages. With first hand knowledge, they are passionate about diving and travel and providing the perfect holiday for you.
Sportif also have a specialist multisport division offering instruction and rental packages for windsurfing, kitesurfing and surfing. Our specialist centres are located in some of our diving resorts, often minutes from the Dive Centre for easy coordination of activities. Packages offered included taster and learn to right through to intensive coaching weeks up to expert level. Children can start from 8 years.
Sportif Dive are an ATOL bonded operator which means that every element of your holiday is secure. With the worry of disruption to your holiday plans from weather disruption or airline failure you can be sure that we will be there to help every step of the way.