2022 - 2023 Scuba Diving Holidays, Liveaboards and Learn to Dive Courses to the Maldives, Red Sea, Canary Islands, Far East, Caribbean and the Pacific.
Red Sea and Middle East - Liveaboards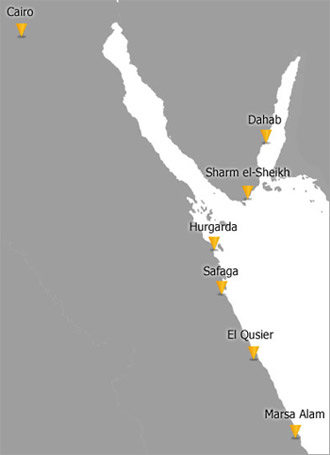 A Red Sea scuba diving holiday offers some of the most amazing dive conditions year round for all types of diving - both shore based, boat diving or on one of our specially selected liveaboards. Red Sea dive holidays offer the best value and are perfect for non-divers too.
Egypt is the Land of the Pharaohs, with abundant historical sites to visit and is the perfect paradise for year round diving holidays. The choice of hotels is vast and there is something to suit all tastes and budgets. Why not explore some of the ancient sites with an excursion to see the Pyramids or Tuthankhaun's tomb in the Valley of the Kings.
The crystal clear warm water and some of the best and most established dive centres in the world to choose from, make Egypt a wonderful experience for both first timers and annual 'pilgrims' alike. Each destination offers it own special character and variety of diving.

Red Sea Contessa Mia Liveaboard - Red Sea Liveaboards, Red Sea and Middle East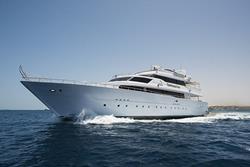 The Contessa Mia is a luxury liveaboard operating from Hugharda in the Red Sea. 11 beautifully designed cabins, accommodating up to 22 guests, spacious decks and two saloons providing southern Red Sea itineraries and Hurghada coastal diving sites. Dive locations include the Brother Islands, Rocky Island, Daedelus, St Johns Reef

Location
The Contessa Mia, part of the Serpent Sea Fleets, offers a selection of Southern Red Sea destinations including Brother Islands, Rocky Island, Daedelus, St Johns Reef with varied itineraries on different departure dates.

| | |
| --- | --- |
| Capacity: | 22 persons |
| Length: | 35m |
| Beam: | 75m |
| Construction: | Wood with teak decking. |
| Engine: | 2 x 600 HP MAN |
| Generator: | 2 x 85 KW |
| Sweetwater: | Desalination Unit 2 x 4500 L / Day |
| Fuel: | |
| Electricity: | |
| Navigation: | GPS, Radar, Compass, EPIRB, Echo Sounder. |
| Communication: | VHF & HF Radio & Satellite Phone. |
| Safety: | Life Jackets (32), Lift Rafts (2), First Aid kit, Oxygen kit,Fire Fighting Equipment, Fire Alarms, Flares. |
Accommodation
There are 11 ensuite cabins accommodating a maximum of 22 guests of which 8 are situated at the lower deck and 3 at the main deck. Bed layout is either single, double or bunk beds. 10 cabins are twin and 1 cabin is a double. Cabins include towels and bathrooms for guests to use with individually controlled air conditioning.

Facilities
The air conditioned saloon is separated into lounge sitting and dining areas. for Guests enjoyment there is an audio visual station with DVD, CD and video playback. There are 2 outside decks. The lower deck partially shaded for sitting out and the top sun deck with cushioned seating or sun beds. Meals are open buffet style with beer and wine available.

Diving
Diving takes place from the large spacious dive deck or the tenders either 1 x 25HP or 1 x 40HP. There are between 1 and 2 dive guides on board. There are two compressors onboard (500l /min) with nitrox: partial pressure, membrane (Membrane 500 L/Min). Rebreather diving is available with advanced notification. PADI and CMAS certification courses and equipment rental are available when booked in advanced.

Itineraries
Special itinearies are available on request. Standard itineraries include Brother Islands, Rocky Island, Daedelus, St Johns Reef with varied itineraries on different departure dates.

Northern Wrecks and Safaga
This itinerary can head North as far as the Gobal Islands and Rosalie Moeller wreck or as far South as the Panorama reef and Salem Express, diving the best Hurghada and Safaga sites on the way.

The famous wrecks of Abu Nuhas, the Ships' Graveyard with the reef on the Suez Canal shipping lane laying claim to more wrecks than any other in the Red Sea. The wrecks smothered in corals and offer a memorable site and opporutnity for underwater photographer, especially the Carnatic, having sunk in 1869.

Marsa Alam / Port Ghaleb Departures
For departures from Marsa Alam and Port Ghaleb there are varied itineraries including the following:

2 Week Marine Park
BDE Itinerary, Simply The Best!
Brothers and Elphinstone
DZR
Fury Shoal
RZ, St.John
St. John and Elphinstone
For full details of the diving itinerary for your departure date, please contact us.

Please note: Routes are subject to change at the dicretion of the captain based on local conditions on the day.



Gallery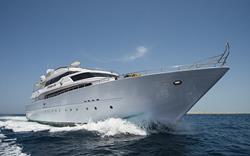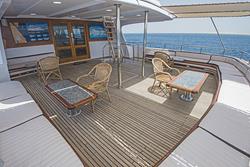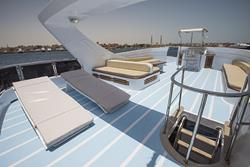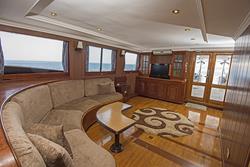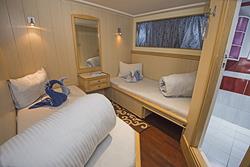 Fact File
Best Time: All year.

Average Air temps: 18-35°C

Average Water temps: 18-28°C

Visibility: 15-30m

Top Dive Sites:
North - Shaab El Erg, Abu Nuhas Wrecks (Giannis D, Carnatic, Lentil & Tile wrecks), Gubal Island, WWII British wreck Thistlegorm,Ras Mohamed National Park & Shark Reef. Rock & Zabargad Islands (Khanka wreck). South - Big and Little Brothers, Daedalus Reef and Elphinstone, St John's Fury Shoal's system.

Great Reasons to Dive on a Liveaboard in the Red Sea


Variety of itinearies to North and Southern Sites.
Departures from Hurghada, Marsa Alam & Hamata.
Perfect combination of reef & wreck diving.
Suites, shared or singles cabins.
FREE Nitrox Courses & FREE Nitrox fills on certain boats.
Sharks & large pelagics at southern sites.