2022 - 2023 Scuba Diving Holidays, Liveaboards and Learn to Dive Courses to the Maldives, Red Sea, Canary Islands, Far East, Caribbean and the Pacific.
Shark Diving Liveaboard Trips Now available
Article date : Jun 24, 2016
New Shark diving liveaboard trips are now available to the Red Sea as well as the Maldives as well as Sudan, Bahamas, Caribbean and Cocos Island and Malapascua. All inclusive land based or liveaboard shark diving holidays with full ATOL from Sportif Dive Holidays.

Southern Sharks Itinerary to St Johns - Rocky - Daedalus - Elphinstone
If it's shark action you're looking for, this itinerary will offer you an itinerary focussed on visiting remote offshore reefs at St Johns, Rocky, Daedalus and Elphinstone for close encounters of the sharky kind! Subject to the weather, the itinerary will be flexible to maximise opportunites with some deep drop offs and possible exposure in strong currents with time waiting to spot those inmistakable shapes out of the blue!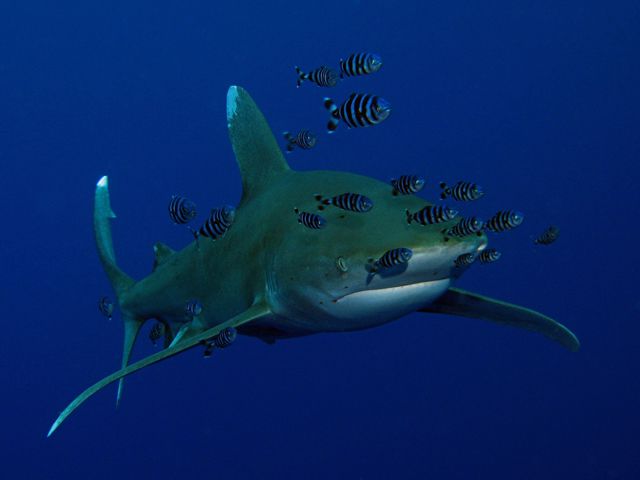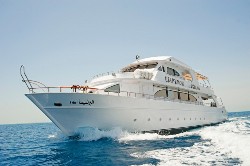 The Red Sea liveaboard MY Asmaa is a Silver Class liveaboard cruising the southern diving reef systems of Fury Shoals and St Johns from Hamata. NEW Southern Sharks Itinerary.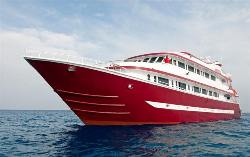 Choice of 2 different 130ft steel yacht with 13 en-suite double cabins with twin and queen beds. Air-conditioned, spacious salon, Arabian cafe & sun deck. Dive sites include Shaab Rumi, Umbria wreck, Angarosh, Sanganeb and Shaab Saudi. A fast, powerful boat with stablisers to get you to the pristine sites in comfort. Read more >
Bahamas, Caribbean Liveaboard >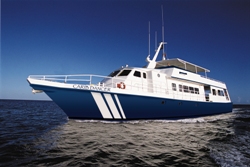 This luxury Bahamas Caribbean Liveaboard is an intimate 14-passenger 100ft monohull yacht with 5 deluxe cabins with double and single bunks and a quad cabin. Explore the dramatic walls, lush coral reefs and exciting animal encounters of the Exuma Cays Land and Sea Park. This protected area is one of the world's most successful marine parks with more than 350 small islands and cays. Read more >
Cocos Island - Costa Rica Liveaboard >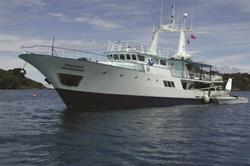 This 110ft Luxury liveaboard escorts 22 divers in comfort, offering access to the lush, green uninhabited island resting 300 miles off Costa Rica's Pacific coast. Rocky pinnacles surrounding the island are beacons for big animals and big action: Schooling hammerheads, countless white-tip sharks, mantas, tuna and even whale sharks are seen in season plus a huge variety of coral, crustaceans, mollusks & fish in this World Heritage site. Read more >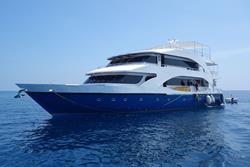 Maldives liveaboard MV Voyager offers excellent value, luxury comforts and superb scuba diving itineraries leaving from Male

For more information on the latest availability of shark diving liveaboard itineraries call 01273 844979.