2022 - 2023 Scuba Diving Holidays, Liveaboards and Learn to Dive Courses to the Maldives, Red Sea, Canary Islands, Far East, Caribbean and the Pacific.
Latin America - Liveaboards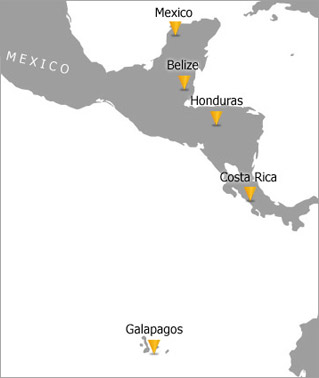 Central and South America offers a wonderful variety of spectacular scuba diving and diving holiday options. Visit the mystical Blue Hole in Belize and the 185 mile long reef second only to the Great Barrier Reef in Austalia. Experience Whale Shark encounters off Utila in the Honduras or dive with the Giant Mantas and Hammerheads off Cocos Islands. The perfect locations for a world class dive holiday.
To get the best out of diving in Latin America we offer a range of luxury liveaboard boats. Providing the highest standards of service, equipment and comfort, you can enjoy carefully planned itineraries. All the yachts are built and powered for comfort, safety and stability with air-conditioned ensuite single and double cabins and luxury facilities including hot tubs, satellite linked media centres and computers. Diving schedules ensure you visit the best diving in each destination with time to explore the cultural sights in the programme.

Cocos Island Aggressor Liveaboard - Cocos Island (Costa Rica), Latin America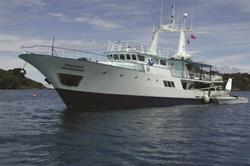 Our recommened Cocos Islands luxury liveaboard is the Okeanos Aggressor, a 110ft steel liveaboard escorting 22 divers in comfort and style, offering access to the lush, green uninhabited islands resting 300 miles off Costa Rica's Pacific coast. Rocky pinnacles surrounding the island are beacons for big animals and big action:

Location
The Okeanos Aggressor docks in Puntarenas.

Accommodation
A 110 ft steel hull yacht built and powered for comfort, safety and stability. Comfortable accommodation for 22 passengers. Nine deluxe staterooms, each with a double and single berths, private toilet and shower, port light and TV/DVD. One Quad cabin with private toilet and shower, port light and TV/DVD.

Facilities
Air-conditioned salon with entertainment centre, full service galley, separate dining room, partially covered sun deck with wet bar and deck chairs. Onboard safety equipment including defibrillator and D.A.N. oxygen system. Photo lab.

Diving
Roomy dive deck with personal gear lockers. Two large dive skiffs for diving and shore excursions. Air/nitrox fills. Anticipate seeing Schooling hammerheads, countless white-tip sharks, mantas, tuna and even whale sharks are seen in season plus a huge variety of 30 species of coral, 60 species of crustaceans, 600 species of mollusks and over 300 species of fish! Cocos Island National Park was designated a World Heritage Site by UNESCO in 1997.

San Jose (1 night), Liveaboard (8 nights) Sample Itinerary:


Fri Depart UK for San Jose, Costa Rica. Transfer by local taxi to the Marriott Courtyard Hotel for overnight.

Sat Transfer to the western coast port town port of Puntarenas. The scenic two-hour air-conditioned bus ride showcases some of Costa Rica's most beautiful views. Once aboard the Okeanos Aggressor, the 300 mile journey to Cocos begins. Dolphins and whales often escort the Aggressor on the voyage, which takes approximately 30 hours. The trip gives divers plenty of time to prepare their gear and their hearts for the magnificent creatures awaiting their arrival!

Sun Day at sea en-route to Cocos Island.

Mon-Fri Enjoy five days of diving is around Cocos Island. Throughout the week, you will dive from roomy dive tenders. Most dive sites have mild currents. Between dives, the chef will treat you to scrumptious local and international cuisine. If conditions permit, guests are shuttled to the island for a land hike and swim in one of the lush island's many waterfalls.

Sat Day at sea en-route to Puntarenas.

Sun Checkout time is 07:30 hrs. After arriving back on the mainland, the crew will transfer you back to San Jose Airport for return flight to the UK.

Itinerary may vary due to weather conditions and yacht location.

A 10 night Liveaboard including 7 days of diving is also available. Details on request.

Note. Costa Rica park fee US$245, US$30 emergency evacuation fee pay locally onboard and airport departure tax US$28 payable on departure - all payable in cash only. A non-refundable deposit of 35% is required at the time of booking. Final balance due 15 weeks prior to departure. Fees are subject to change and will be advised at time of booking.

Gallery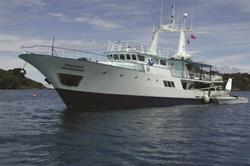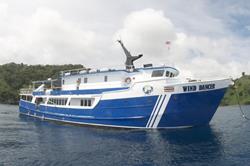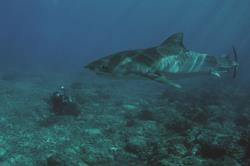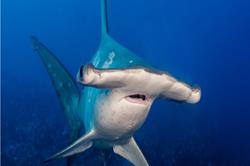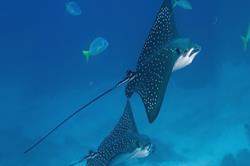 Fact File
Diving Conditions






Suitability:
Beginners

Intermediates

Advanced

Technical

Best Time: Year round

Average Air temps: 24-26°C

Average Water temps: 26-29°C

Visibility: 30m (average)

Top Dive Sites: Cruise the best spots from the Aggressor liveaboard including Alycyone, Dirty Rock, Dos Amigos for Hammerheads, Bird Islands, Silverado - shark cleaning station, Lone Stone, Manuelita, Special Sightings and Ubing Rock.
Typical 10 day itinerary with 7 days diving.

Great Reasons to Dive in Cocos Islands


Cocos Islands National Park World Heritage UNESCO Site.
Big animals, big action!
Schooling hammerheads.
Countless white-tip sharks.
Mantas, tuna, sailfish, marlin, false killer whales & whale sharks in season.
The ususual Marble and Mobula rays.
Varied underwater landscapes - mountains, arches, pinnacles.