2022 - 2023 Scuba Diving Holidays, Liveaboards and Learn to Dive Courses to the Maldives, Red Sea, Canary Islands, Far East, Caribbean and the Pacific.
Africa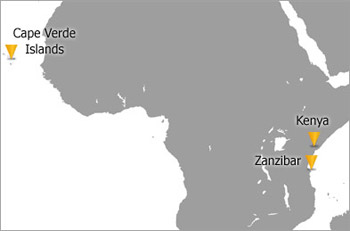 Our recommendations for diving holidays in Africa include Cape Verdes, Kenya and Zanzibar. All first class dive holiday destinations with interesting and varied diving plus multisport and safafi options.

Cape Verdes Islands, less than 5 hours flight, average temperatures of 24°C and year round diving. Uncrowded sites, shipwrecks and caves and portugese creole heritage.
Kenya has a wide variety of diving including specialist courses for Macro photography to wrecks & large pelagic fish. Whilst not take the chance to encounter some different wildlife with a land based safari.
You will find world class diving off the coast of Zanzibar with opportunities to encounter whale shark and dolphins.
Cape Verde Islands
A year round diving desitnation, the Cape Verde Islands are located approx 450 kms off the west coast of Africa. The archipelago consists of eleven volcanic islands, the flattest of these being Sal, where vast expanses of white sand form the stark landscape. The islands gained independence from Portugal in 1975. Equally impressive are the...
Read more about Cape Verde Islands >
Kenya
Scuba diving holidays to Mombasa, Kenya with Sportif Dive offers excellent marine life and dives sites including wrecks, walls, reef and drift dives staying at luxury beach hotels and safari extensions. Kenya's tropical coast boasts over 300 miles of white sand beaches. The bustling island town of Mombasa is connected to the mainland...
Zanzibar
Scuba diving holidays to Zanzibar and Mnemba, Tanzanzia offers dive holiday for all levels of divers wanting a stunning beach hotel location. Located 25 miles off the East Coast of Tanzania. the archipelago is made up of Zanzibar and Mnemba atolls, and several islets. Zanzibar is approx 60 miles long by 20 miles wide and is best characterised by...