2022 - 2023 Scuba Diving Holidays, Liveaboards and Learn to Dive Courses to the Maldives, Red Sea, Canary Islands, Far East, Caribbean and the Pacific.
Indian Ocean - Liveaboards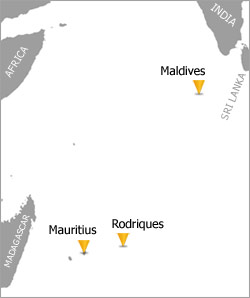 The Maldives is diving holiday heaven. An Indian Ocean scuba diving holiday, where exciting marine life abounds, is best summed up by the sheer quantity and size that can be seen. Head to the Maldives for a great mix of endless white sand beaches, azure blue waters and fabulous underwater topography. We have selected the widest range of hotels, liveaboards in the Maldives, exotic Mauritius and hideaway Rodrigues island. As experts in this area we can find something just right for you!

The Maldives is the perfect place to learn to dive from one of the idyllic island resorts. As Maldives diving holiday specialists, Sportif Dive offer over 100 islands with some of the very best prices out there. Or why not immerse yourself in diving from a dedicated liveaboards taking you to some of the less busy, pristine sites.
Mauritius and the lesser know nearby Island of Rodrigues offer widely contrasting holidays. The former with luxury hotels resorts and many options for relaxing and other activities. The latter to discover an island untouched by tourism and off the beaten track.
All provide first class facilities for diving and snorkelling, shallow water lagoons and more challenging dive sites for the advanced divers. Whale Sharks, Manta Rays, Wreck and Drift Diving characterise most of the Indian Ocean dive sites with more sheltered dives closer to shore.

Maldives Stingray Liveaboard - Maldives, Indian Ocean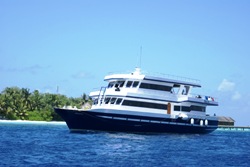 For your scuba diving and liveaboard holiday to the Maldives, the MY Stingray is an outstanding Maldives liveaboard to discover the most stunning atols of the Maldives.

Location
You will board the MY Stingray in Male, departing directly from near to the airport with our representative meeting you directly at airport arrivals with a short transfer by vehicle.

Accommodation
M/Y Stingray is a solid wooden construction and combines Maldivian boat-building traditions with modern engineering. 9 comfortable cabins (4 with double and 5 with twin beds) are equipped with air conditioning and en-suite hot-water showers. All cabins are equipped with outside portholes. Diving takes place from accompanying diving Dhoni where all compressors and equipment are stored.

Sample Itinerary
If you haven't dived for a while, this will also serve as a great refresher course and we try to choose a nice calm dive site for the check dive. Please don't forget to bring your logbook and your dive certification with you on your Maldives scuba diving holiday. The safari starts as soon as all guests have arrived. The anchor is hoisted and the ship leaves Male for the first dive site. At the first dive site, an obligatory "check dive" is held, which is a great opportunity to check everybody's scuba gear and diving skills.

At the start of each safari, the captain and the dive instructor decide on a route. This depends on the prevailing seasonal weather and current conditions. You are in the hands of experts; our crews are very good at choosing the best route for the current weather conditions. We will do our best to ensure you have the best Maldives scuba diving experience possible. The experienced dive guides will take you to the most spectacular dive sites in the Maldives. No other dive destination can be compared to the Maldives in terms of top dive sites and marine life diversity.

Diving
The rainbow-colored coral reefs and overgrown wrecks of the Maldives are home to endless attractions, both big and small. The Maldives are renowned for the abundance of big aquatic animals such as Whale Sharks, Manta Rays, Reef Sharks, Napoleon Wrasse and several Ray species. Time and time again, the breathtaking, synchronized maneuvers of the big schools of fish fascinate even the most experienced of divers. And fans of macro-attractions will also get their money's worth: the nooks and crannies of the coral reefs teem with Gobies, Blennies, Snails and other tiny wonders of the Indian Ocean.

The Maldives consists of thousands of reefs that are full of beautiful surprises just waiting to be discovered. Each scuba diving safari is an adventure all of its own that can take you into remote parts of the Maldives, which most tourists will never have the opportunity to see. At the end of each day, the ship anchors in a protected lagoon. Our safari boats never travel at night.

Year of Launch: 2002, refurbished 2008

Length: 31 m /101 feet

Rooms: 9 air-conditioned rooms, en-suite bathroom (hot water), exterior windows, 220V UK sockets (triangle of 3 flat pins), international adapters available. 4 double bed cabins, 4 with one slightly bigger and one standard twin bed, 1 cabin with 2 standard twin beds.

Equipment: water desalination, 2 generators, 2 compressors, rental equipment on request, medical oxygen, GPS, email, mobile GMS 900, 12L aluminum DIN/INT tanks.

Salon: TV, VCR, DVD, HiFi, games, books and comfy, well-stocked bar.

Decks: 75sq m sun deck, deck chairs and mats, seats on quarter deck are sun/rain protected, stairs and platform with ladder for easy water access, fresh water shower facilities outside. Tea, coffee and chilled water (from dispenser) available free of charge at all times.

NITROX 32% available at USD 6 per tank (no subject for compensation if not available).
Gallery





Fact File
Best Time: Dec-April (Summer/NE
monsoon) & June-Oct (SW current)

Average Air temps: 28-30°C
Average Water temps: 28-30°C

Visibility: 20-30m + (varies
depending on season & sites).

Top Dive Sites: Too many to
mention. Each island offers
short distance to dive sites,
excellent house reefs. Sites
for all levels. More >

Liveaboard Itineraries More >


Great Reasons to Dive in Maldives

Clear visibility.
Vast number of dive sites.
Chance to see Manta Whales
& Whale Sharks in Summer months, on the SW side.
Large schooling pelagics.
3*,4* & 5* island resorts
Liveaboards with free places for whole boat bookings.