2022 - 2023 Scuba Diving Holidays, Liveaboards and Learn to Dive Courses to the Maldives, Red Sea, Canary Islands, Far East, Caribbean and the Pacific.
NEW Maldives Aruyvedic Spa Wellness Liveaboards
Article date : Feb 15, 2017
NEW for 2017 Maldives Aruyvedic Spa Wellness Liveaboards aboard the MY Conte Max and Duke of York. After a fantastic day's diving the best Maldives sites, relax with a specialist spa massage treatment from your on board, Aruyvedic therapist - perfect for divers and non-divers alike.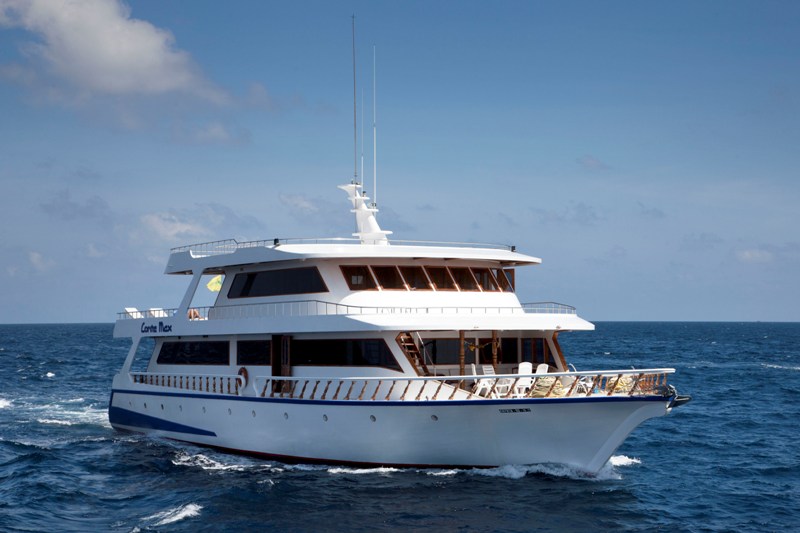 MY Conte Max


Spa – Luxury and wellbeing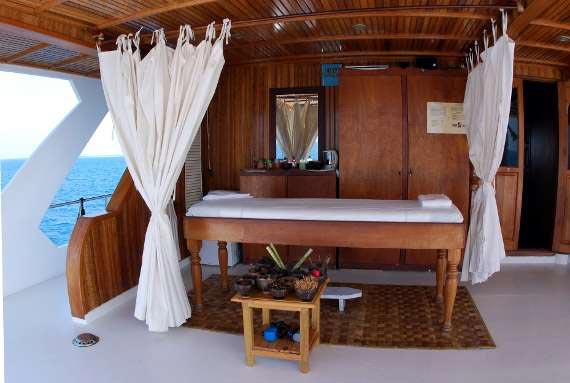 The Conte Max is offering a new concept in spa and wellness programmes combined with a full diving programme from the convenience of a liveaboard. You can now enjoy regenerative massage and aruyvedic treatments, with a breath taking backdrop of the Indian Ocean, whilst aboard your Maldivess scuba diving liveaboard. The MY Conte Max has a small, on board spa specialising in Ayurvedic treatments, with specially trained masseur always on board and joined by an Italian doctor for special weeks with Ayurvedic treatments both for divers and non divers.


What is Ayurveda ?
The word Ayurveda means life science and has been considered to be a medical practice since time immemorial. This ancient therapy, dating back over 6,000 years, will purify you from toxins, while natural oil and herb-based massage treatments will relax both your mind and your body.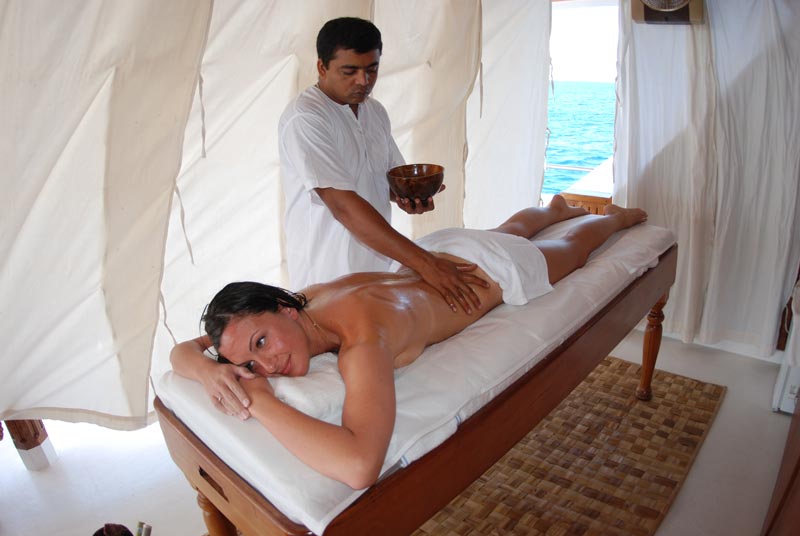 The oils are prepared fresh each day with special herbs and ingredients from the ancient Ayurvedic culture and are then applied to the body using the Marma Point Massage technique, using light pressure of varying intensity. Each full body massage treatment takes approximately one hour and is designed to alleviate muscle tension and sore or stiff joints. This healing massage invigorates and regenerates the immune system giving a pleasurable sensation of strength and energy leading to a state of inner calm. Perfect for your next dive.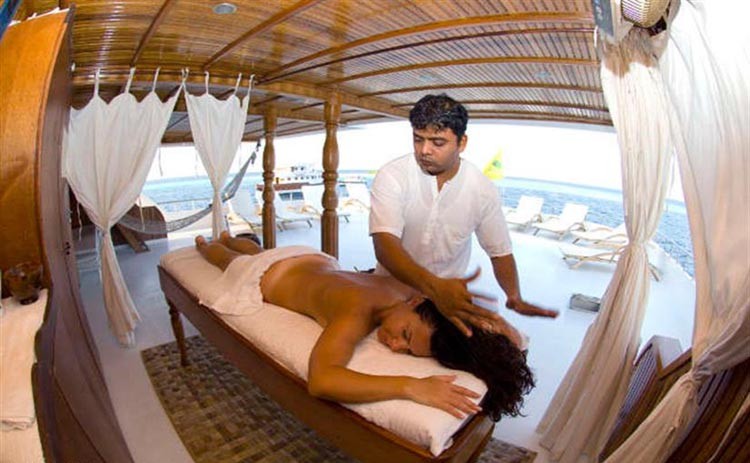 The massage area is set up on the deck, with privacy created by curtains.

Guests also have the option for a wider range of specialist treatments including compresses and face packs, treatments for back and joint aches, with 100% natural therapies. According to Ayurveda, beauty treatments for the body are extremely important for the general well being of the whole organism and are considered to provide an external cleansing.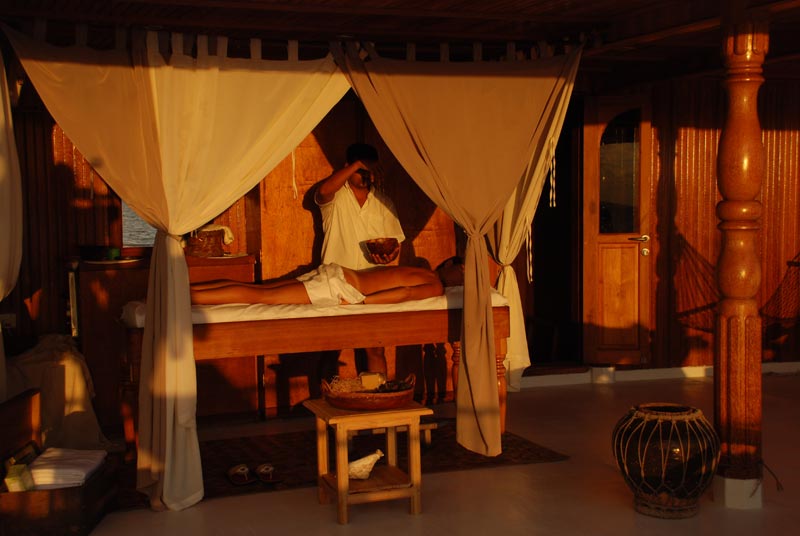 For this reason the preparations on board are not limited to massage oils and mixes for beauty treatments but also include purifying infusions of leaves and natural roots designed to rid the body of toxins accumulated through an unsuitable diet. After a few days of treatments, watching the wonderful sunsets while practising the Pranayama, the yogic breathing technique which allows one to regain balance of energy and relax the mind you will be relaxed and rejuvinated.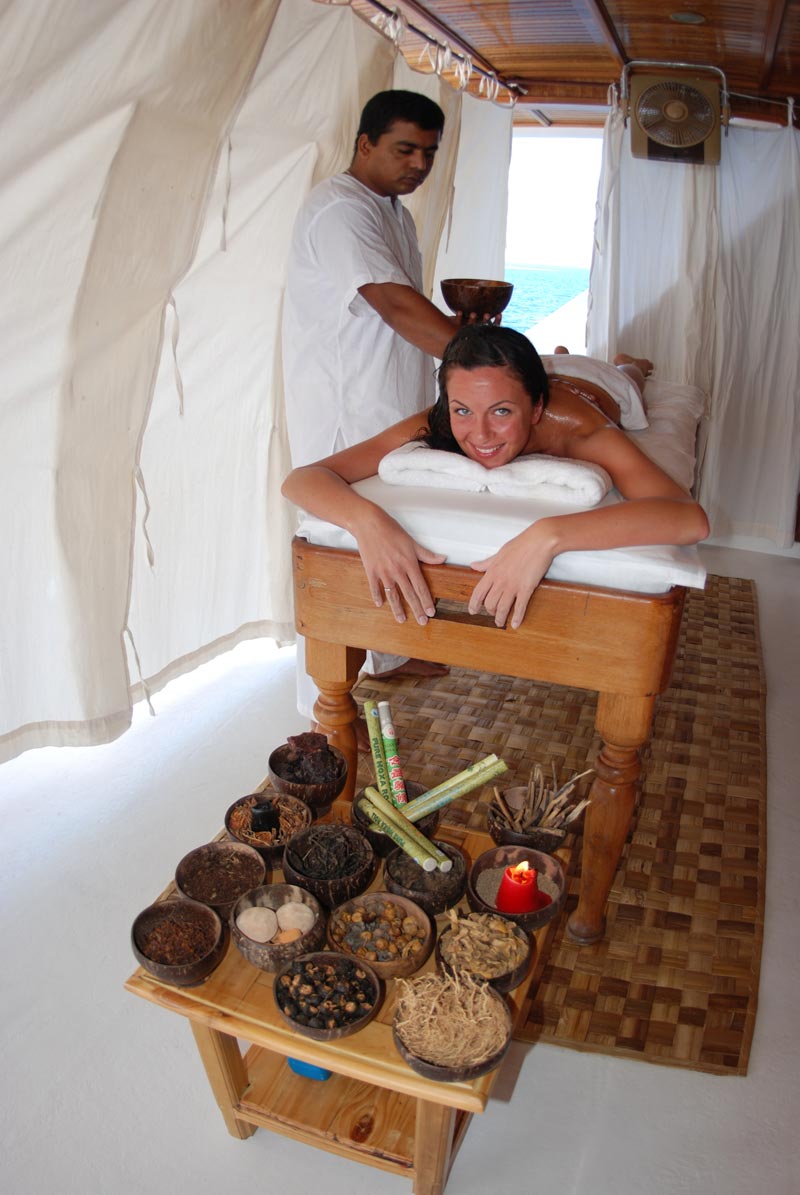 Special Ayurvedic Weeks
Throughout the year Wellness Cruises are scheduled with a specialist Ayurvedic medicine practitioner aboard, who will guide you through the art of simple relaxation through yoga, meditation and individual treatments.
Sample Weekly Programme

- Introductory lesson to the Ayurvedic philosophy. Explanation of the programme.

- Ayurvedic diet, balancing energy through food.

- Yoga, energy balancing, meditation and Pranayama.

- Ayurvedic massage, lymphatic drainage and re-balancing the Chakra. (US$ 80.00)

- Self-massage techniques.

- Skin rejuvenation treatments.

- Special anti-cellulite Ayurvedic treatments.

MY Conte Max View Now >
Enquire about this liveaboard >