2022 - 2023 Scuba Diving Holidays, Liveaboards and Learn to Dive Courses to the Maldives, Red Sea, Canary Islands, Far East, Caribbean and the Pacific.

Latest Offers
MALDIVES DIVING HOLIDAY
from £1770pp INC FLIGHTS!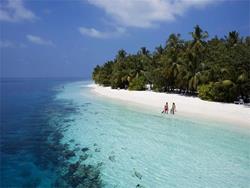 Maldives Dive Holiday to Luxury Vilamendhoo Island Resort>
Vilamendhoo Island Resort 7 nights Full Board INCLUDING flights. Excellent value, daily boat diving packages and superb house reef.
Departs Selected dates in 2022.
SAVE up to 20%
News
Sportif Multisport
Sportif also specialise in multisport activity holidays offering a choice of windsurfing, kitesurfing, surfing and other activities alongside your diving holiday. There is a wide choice of destinations suitable for all levels of ability from beginner to expert. Whether you are looking to take the first steps or perfect that technique there is no better way thanwhilst you are on holiday with sunny days and warm water. If you are looking to book a dive holiday with other activities whether as a single, family or part of a group we have over 40 locations worldwide to choose from. Operating since 1982, we have a wealth of experience to advise where is best for you without being tied to specific programmes.

Destinations include the Mediterranean, Red Sea, Caribbean, Canaries and Cape Verdes. Each of our destinations has been chosen to ensure you are able to enjoy your chosen sport in the optimum conditions. So for beginner windsurfers we recommend shallow water protected lagoons, for kitesurfers those with wide sandy beaches to allow you to practice in safety with room to move. If it's surfing, we have dedicated centres to help you progess at a pace to suit you.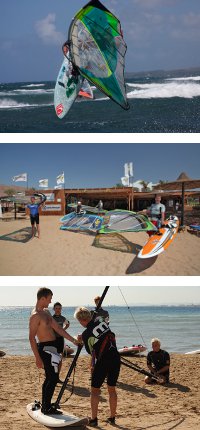 For the more experienced, our resorts offer a range of conditions to develop skills and technique. For those of expert level we can offer advanced locations to challengewhere the best in the world compete and can often be seen on the water too!
Our centres are stocked with a full range of the latest equipment with the leading manufacturers. Specialist equipment from junior or entry level right through to expert boards for freestyle and wave sailing are available. With the right equipment you will find it easier to progress. For those wishing to prebook specific equipment our online booking systems ensures you have just what you want when you arrive.
A full instruction programme is available from taster and beginner courses to advance and private sessions. All courses are taught by highly experienced, professional instructors who will help you learn quickly and easily, in safety and have fun.
For those wishing to join one of our highly respected coaching weeks, we offer personal tuition from the best instructors out there. These highly respected worldclass coaches, have developed tuition programmes for the RYA and British Kitesurfing Association and with highly respected technique columns in the specialist press,published around the world. Their tuition is highly effective and available in the UK as well as abroad.
For more information call 01273 844919 or see our Multisport website www.sportif.travel.
Dive Holidays Sportif
Sportif Dive is a specialist tour operator offering a wide range of diving holidays all over the world. Our choice of destinations is extensive from established locations in the Red Sea, Maldives, Caribbean and the Far East to the exotic and unusual such as Rodrigues Island in the Indian Ocean, Wakatobi, Truk, Palau, South America & the Pacific. Whether you are looking to for a Learn to Dive course, group expedition or trip of a lifetime we can help. With over 30 years experience and a personal approach, we can advise on the ideal location to suit your needs, at a price to suit your budget.
Our extensive knowledge of the destinations means we can recommend the right location for you. Our diving centres are selected for their excellent standards of service and safety. Whatever your priority, whether starting out or wishing to dive a technically challenging site we can recommend a range of options offering the best diving for when you wish to travel. We can organise all your travel arrangements for you, pre-book equipment and diving packages in advance to maximise your time when you get there.
As an independent tour operator, we select only the hotels, liveaboards and diving centres that offer the best standards and quality of service but at the right price. Without the overheads of a large mass market operator, we can offer the best value diving holidays often with great discounts and special offers.
Our consultants have many years experience in travel and are divers. They are able to closely match your needs and take time to recommend from a carefully selected range of accommodation and diving packages. With first hand knowledge, they are passionate about diving and travel and providing the perfect holiday for you.
Sportif also have a specialist multisport division offering instruction and rental packages for windsurfing, kitesurfing and surfing. Our specialist centres are located in some of our diving resorts, often minutes from the Dive Centre for easy coordination of activities. Packages offered included taster and learn to right through to intensive coaching weeks up to expert level. Children can start from 8 years.
Sportif Dive are an ATOL bonded operator which means that every element of your holiday is secure. With the worry of disruption to your holiday plans from weather disruption or airline failure you can be sure that we will be there to help every step of the way.