2022 - 2023 Scuba Diving Holidays, Liveaboards and Learn to Dive Courses to the Maldives, Red Sea, Canary Islands, Far East, Caribbean and the Pacific.
Dive Calendar
Whatever time of year you are thinking of travelling, Sportif Dive can provide an expert recommendation of the best conditions, what you can see and where you will find the type of diving you are after.
January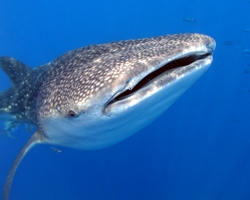 Start the year off with a spectacular diving expedition to see the Humpback whales in the Caribbean. Dive the Turks & Caicos walls, sharks and shorkelling with the humpback whales aboard the Kona Aggressor II Liveaboard. Or for amazing clear water, sheltered reefs try Safaga or Hurghada Red Sea with great value beach hotels. Ideal for non divers too.

From January till Spring you can admire the largest mammal on our planet, the Blue Whale but also Minke, Bryde's, Orca, Pilot, and Humpback Whales. Kona, Hawaii is one of the best places for whale and dolphin watching.
February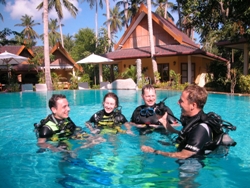 Whale Sharks can also be seen in Thailand from February to April while diving with Sea Bees and staying at Palm Garden Resort in Koh Lak or from Marco Polo Liveaboard for a safari around the Similans Islands. Pilot Whales arrive in Fiji and stay till May. What about sailing on Island Dancer II. Not only Arabian Nights with Buccaneer Dive Center in Paje (Zanzibar) but also Whale Sharks in February and March. February and March are cold months in Europe! Why not migrate to the Caribbean for some exiting shark diving! For Bull Sharks and Tiger Sharks head north.
March
Large numbers of Hammerhead Sharks can be seen at different Malaysian Resorts or you may wish to join one of Celebes Explorer Cruises.
March and April see Humpback and Grey Whales migrating past the Cape Verde Islands. It is also perfect for a winter sun, beach holiday.
March is also the month of the Annual Shark week in Palau, Micronesia and and WWII Wrecks.
April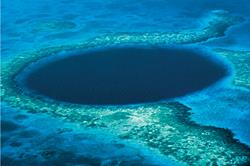 Central America: during the months of April to June, Belize offers the opportunity to dive the 2nd largest barrieri reef in the world and the famous Blue Hole. There are also Whale Shark from one of the Aggressor vessels or from the comfort of the Hugh Parkey Adventure Lodge.

From April until September Leatherback Turtles arrive on Tobago, Caribbean and lay their eggs but it is also Manta Madness on the North-East of the island with Tobago Dive Experience.
May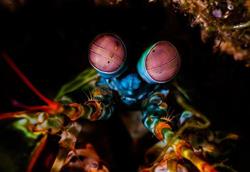 You want to join the Galapagos Aggressor I in order to spot Whale Sharks from May through to August.
If you really want to spend the summer in Philippines (wet season) then head for Puerto Galera where the South eastern Monsoon is not that strong and Asia Divers will take good care of your diving needs with their UNLIMITED diving packages.
June
June is the time of the year for the annual Fish 'n' Fins wrexpedition because Palau in Micronesia . See the Nautilus, Mandarin Fish and Jellyfish Lake and the WWII wrecks just like in Truk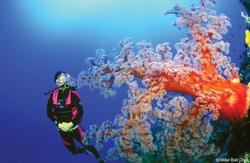 The annual sardine run is an amazing natural spectacle and one not to be missed! Each year at the beginning of the summer, huge schools of sardines migrate through the waters of the Indian Ocean near KwaZulu Natal, attracting large numbers of sharks. Dive the big 5 while staying in South Africa.
Off the northern Queensland coast of Australia, Minke Whales can be seen during the summer months, with a peek in June and July. Humpback Whales are also spotted till September. Join a Coral Sea Expedition aboard Mike Ball's Australia MV Spoilsport >.
July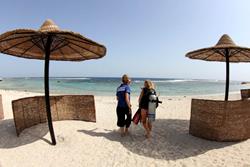 The Red Sea continues to one of the best value diving holiday destinations. Choose from El Gouna, El Quseir, Hurghada, Marsa Alam, Port Ghalib, Safaga or Soma Bay. More >

Head to the more difficult to access dive sites in the North or Southern Red Sea for pristine reefs, wrecks or sharks aboard a Red Sea Liveaboard. Experience luxury five star diving aboard the Andromeda & Cassiopeia liveaboards in Sudan.
August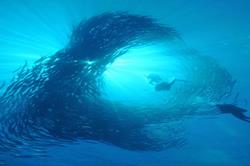 Sipadan is well known in the diving community for its population of Turtles, the mating season in August is the best time of the year to get close to this fantastic reptile. You can choose one of our adds-on to your diving week and visit to an Orang-utan sanctuary and a stay in a river long house. Humpback Whales can be seen off the coast of Zanzibar.
August through November is the best time of the year to do some cage diving with Aggressor and the Great White Sharks off Guadalupe Island in Mexican waters.
September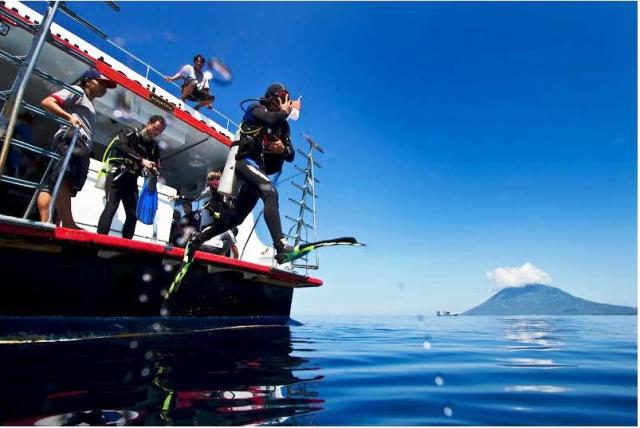 Green Turtles start hatching in Sipadan, Malaysia.
The fantastic Sun Fish can be found in the waters around Bali in Indonesia from September till November.

For our top pic, head to the Bunaken National Park in Manado, Sulawesi for pristine wall diving, muck and critter diving with the widest range of marine life on the planet!
October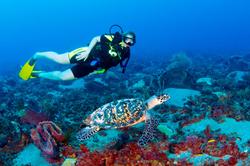 October is the best time of the year to enjoy our terrific deals to Sharm El Sheik and the northern Red Sea perfect for groups, single and non-divers too. Access the widest range of sites by joining one of our Red Sea Liveaboards for a Northern Itinerary with plenty of stunning reefs and intriguing wrecks.
October is a great time to head to the Caribbean with world class diving in Bonaire, easily accessible wrecks in Grenada, stunning lanscapes in St Lucia and range of reef sites in Tobago.
November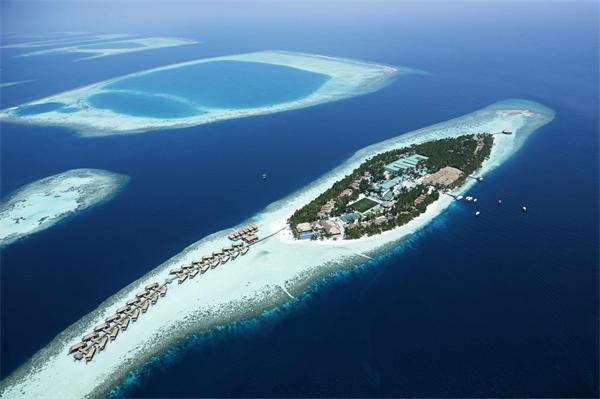 The dry season start in Philippines: Puerto Galera and Malapascua will not disappoint the most experienced diver.
The Rainy season ends in Maldives, the Monsoon direction changes and plenty of Whale Shark are found during the winter close by Mamigilli Thila in South Ari Atoll.
December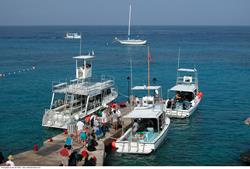 Manta Rays are found on the west side of the Maldives Atolls from December to April because of the Monsoon direction.
In Cozumel, Mexico large school of Eagle Rays can be found until February while enjoying the UNLIMITED dive packages offered by Cozumel Scuba Club. You can add cultural trip to your diving week by visiting Tulum Ruins.