2022 - 2023 Scuba Diving Holidays, Liveaboards and Learn to Dive Courses to the Maldives, Red Sea, Canary Islands, Far East, Caribbean and the Pacific.
Micronesia and Pacific - Liveaboards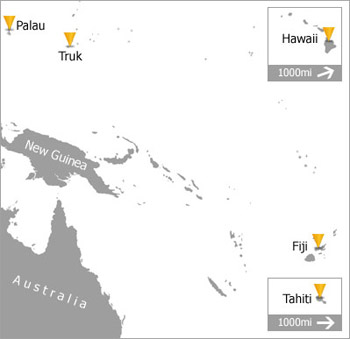 Choose a scuba diving holiday to Micronesia and the Pacific which offers adventures for those wanting an exploratory and exotic diving holiday. Meet unique and rare marine creatures and dive sites of unsurpassed beauty that will leave memories for a lifetime. Dive holidays in Micronesia are famous for the chance to see World War II wrecks.
Palau, made up of 300 mostly unihabited islands that look like 'mushrooms'. From caves to soft corals, mantas to giant shoals, sharks and 1500 variety of fish. This is a truly special destination.
Truk Lagoon famously has hundreds of World War II japanese wrecks lying in 35m water almost intact. Historically facinating and an excellent twin centre trip with Palau.
Explore the magic of Fiji and Hawaii aboard a luxury liveaboard or enjoy the pure escapism on the paradise island of Bora Bora in your own water villa. For a once in a lifetime trip visit the Galapagos, Darwin and Wolf Islands.

Hawaii Kona Aggressor Liveaboard - Hawaii, Micronesia and Pacific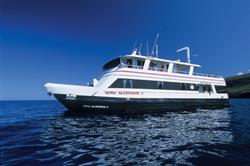 For your diving and liveaboard holiday to Hawaii, Micronesia & Pacific, Kona Aggressor II offers you chance to see the Big Islands volcanic underwater topography. The 50th State of the USA, the Hawaiian chain comprises hundreds of volcanic islands spread over 1,500 square miles of ocean off the west coast of mainland USA. The Big Island's volcanic underwater topography is a diver's wonderland.
Location
Kona is located on the Big Island of Hawaii. The Kona Aggressor II operates out of downtown Kailua-Kona. Lava tubes, bommies, arches and huge craters like "Au Au Crater," create a spectacular backdrop for Hawaii's many indigenous species of Butterfly fish. Photographers will delight in the many subjects like Spanish Dancers, turtles, mantas and frogfish.

Accomodation
Accommodations include 5 double staterooms and 1 roomy quad stateroom on the upper deck. Each stateroom has ensuite private toilet and shower. Each stateroom has extra storage and individual climate control.

Facilities
Spacious salon, 50 feet of sun deck with shading, chaise lounges and deck chairs, bar, and grill. Her diving amenities include freshwater rinse showers, camera tables, and nitrox. The sun deck features a "moon deck bar" with seating, lounge and deck chairs, stereo and CD player, shaded wet bar and grill. The Kona Aggressor II has safes in every stateroom to store your valuables.

Diving
The Kona Aggressor II offers a week of hassle-free diving along the western coast of the island at favorite sites like Paradise Pinnacle, Tubestria Tunnel, The Hive, Turtle Pinnacle and Rob's Reef. The yacht ventures far from the reach of day operators to beautiful South Point, the southernmost tip of Hawaii and the United States, weather permitting. With lava flows in the background, divers suit up for a week of spectacular diving. Excellent snorkeling is available for non-diving passengers.

Arrival/Transfers: Guests will fly into the Kona International Airport on Saturday. A pre arrange transfer will take you from the airport director to the boat. The Kona Aggressor II operates out of the downtown pier in Kailua-Kona, Hawaii. This is a 20-minute drive from the airport.

Sample Itinerary:
Schedule: Diving begins Sunday morning and ends Friday afternoon when the Aggressor returns to port. Sunday through Thursday there is unlimited diving throughout the day and a night dive each evening. Friday a half-day of diving is offered.

Arrival/Boarding/Departure: The Kona Aggressor II will dock Saturday afternoon at the Kailua Pier between 5:30-6:00 pm to greet and board passengers. After all guests are aboard the yacht departs for its night anchorage to prepare for diving Sunday morning. After a full week of diving, the Kona Aggressor II returns back to Kailua-Kona Friday afternoon after lunch. Checkout is Saturday morning at 8 am. A crewmember will assist guests with your prebooked transfer arrangements to the Kona Airport or hotel, if extending to a Land based holiday, on Saturday morning.

Friday afternoon, the Kona Aggressor II returns to Kailua-Kona Bay. Guests may spend the afternoon shopping, sight seeing or just relaxing onboard until the evening cocktail party hosted by the crew. After the party, everyone will dine at a local restaurant. This is the only meal not included in the charter. Saturday morning checkout is 8:00 am.

Diving Environment: More than 20% of the Hawaiian reef fishes are found nowhere else in the world, including countless Butterfly fish and Angelfish. Other marine species include: Hawaiian Lionfish, Dolphin, Turtles, Mantas, Frogfish and Eels. Humpback Whales migrate through Hawaii November through February. All dives from mothership. Water temperature: 72 - 80F, 22 - 26C and a 3-5mm wetsuit is recommended.

Itinerary is subject to change
Gallery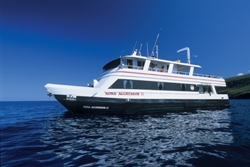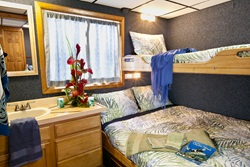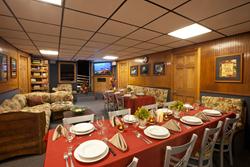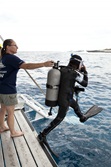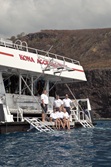 Fact File
Diving Conditions






Suitability:
Beginners

Intermediates

Advanced

Technical

Best Time: November - February

Average Air temps: 22-26°C

Average Water temps: 25-30°C

Visibility: 30-60m

Top Dive Sites:
Paradise Pinnacle, Tubestria Tunnel, The Hive, Turtle Pinnacle and Rob's Reef. 3-Room Cave -200ft lava tube with 3 large rooms, Au Au Crater - sibmerged volacano crater. Catacombs with swim throughs arches and tunnels.

Guide to the dive sites More >

Great Reasons to Dive in Kona, Hawaii


Spectacular Hawaii island Volcanic UW landscapes
Humpback whales migrating Nov-Feb.
Unique Hawaii fish.
Dolphin, turtles & mantas.
Helicopter Volcano tours, deep sea fishing, golf.
7 niight liveaboard itineraries with US/Hawaii stopovers.