2022 - 2023 Scuba Diving Holidays, Liveaboards and Learn to Dive Courses to the Maldives, Red Sea, Canary Islands, Far East, Caribbean and the Pacific.
Micronesia and Pacific - Liveaboards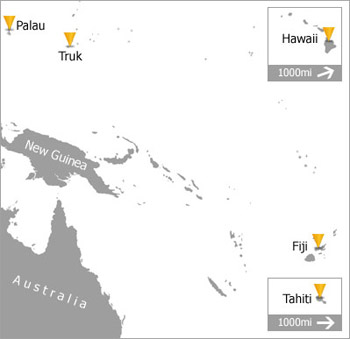 Choose a scuba diving holiday to Micronesia and the Pacific which offers adventures for those wanting an exploratory and exotic diving holiday. Meet unique and rare marine creatures and dive sites of unsurpassed beauty that will leave memories for a lifetime. Dive holidays in Micronesia are famous for the chance to see World War II wrecks.
Palau, made up of 300 mostly unihabited islands that look like 'mushrooms'. From caves to soft corals, mantas to giant shoals, sharks and 1500 variety of fish. This is a truly special destination.
Truk Lagoon famously has hundreds of World War II japanese wrecks lying in 35m water almost intact. Historically facinating and an excellent twin centre trip with Palau.
Explore the magic of Fiji and Hawaii aboard a luxury liveaboard or enjoy the pure escapism on the paradise island of Bora Bora in your own water villa. For a once in a lifetime trip visit the Galapagos, Darwin and Wolf Islands.

- Hawaii, Micronesia and Pacific
Gallery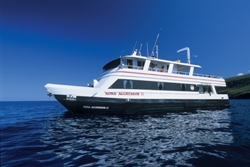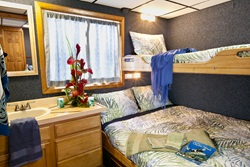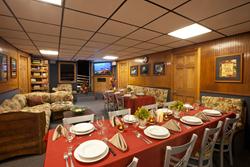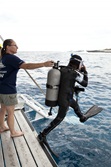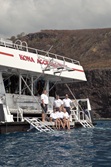 Fact File
Diving Conditions






Suitability:
Beginners

Intermediates

Advanced

Technical

Best Time: November - February

Average Air temps: 22-26°C

Average Water temps: 25-30°C

Visibility: 30-60m

Top Dive Sites:
Paradise Pinnacle, Tubestria Tunnel, The Hive, Turtle Pinnacle and Rob's Reef. 3-Room Cave -200ft lava tube with 3 large rooms, Au Au Crater - sibmerged volacano crater. Catacombs with swim throughs arches and tunnels.

Guide to the dive sites More >

Great Reasons to Dive in Kona, Hawaii


Spectacular Hawaii island Volcanic UW landscapes
Humpback whales migrating Nov-Feb.
Unique Hawaii fish.
Dolphin, turtles & mantas.
Helicopter Volcano tours, deep sea fishing, golf.
7 niight liveaboard itineraries with US/Hawaii stopovers.