2020 - 2021 Scuba Diving Holidays, Liveaboards and Learn to Dive Courses to the Maldives, Red Sea, Canary Islands, Far East, Caribbean and the Pacific.
Kona, Hawaii - Hawaii, Micronesia and Pacific

Scuba dive the best Big Island dive sites aboard our recommended luxury liveaboard. .
Top Dive Sites - Kona, Hawaii
3-Room Cave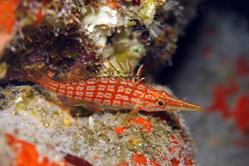 200-foot lava tube with 3 large rooms. One way in, one way out. The dive is set up with line and cylume sticks to follow. Inside the caves there are mole lobsters, ghost shrimp, Hawaiian lobsters, puffer fish and nudibranches. Outside the cave there are frogfish, Reticulated Butterfly fish and turtles. An excellent dive upon request. Made only in extremely calm seas.
Au Au Crater
A submerged volcano crater with 3 sides intact, the ocean side wall has fallen. The walls range from 30-70 ft. and 50-200 ft., very dramatic topography with cleaner shrimp station, turkey fish and nudibranches. Good spot for pelagics such as oceanic white-tip sharks, hammerhead sharks, and large jacks.
Black Coral Forest
The boat is moored on in 50 ft. on a sand chute which drops to 90 ft. where the first black coral tree grows, from 90 ft. the black coral trees are endless. The rare longnose hawkfish lives here along with barracuda and viper eels.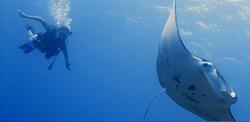 Catacombs
A finger coral garden drops steeply to rubble and boulder sloping into the endless blue. The shallows feature swim throughs, tunnels, arches with sky lights and streaming sun rays.
Kalokos Arches
Three natural lava arches on a downhill slope at 50 ft. Turtles frequently seen, spotted eagle rays, good spot for nudibranches.
Keahole Point-Manta Theater
A new mooring installed in 2001. Mantas are often spotted during night dives. Lights are lowered into the water to attract tiny organisms for the hungry mantas. A very exciting dive.
Manuka Bay


A wide protected bay of lava fingers covered with encrusting corals. Several resident frog fish, flame angels, dragon eels, bi-colored anthias (very rare in Hawaii), sennat barracuda and garden eels. Snorkelers frequently encounter spinner dolphins. The night dives are awesome with an abundance of invertebrates including Spanish dancers.
Meadows
Shallow, gently sloping bottom. Lava tubes and arches around 30 ft., finger coral at 80 ft. where white sand flats dominate. Three shy resident white-tip sharks, frogfish, nudibranches under ledges, mantas, crocodile eels, and red-stripe pipe fish.
Okoe Bay
A beautiful shallow bay with a black sand beach. A gentle, white sand slope from 30-60 ft. Look for leaf scorpions, eels, decoy scorpions and an occasional manta at night.
Old Airport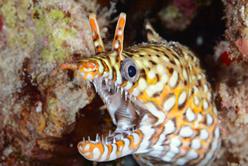 A locally known good spot for eels and daytime manta fly-bys. Steep drop-off, anthias can be found here.
Oz
Yes, it does have a "Yellow Brick Road." Lava ridge wall from shore to 20 ft., sand patches and reef give way to a ridge that extends straight out off shore 200 ft. the top of which starts in 40 ft. and gently slopes to 80 ft. The ridge top is covered with yellow lobe coral.
Paradise Pinnacle
Large bommie rising from 90-35 ft. out of black sand. Garden eels, cleaner shrimp, crocodile eels, turkey fish and hairy hermit crabs.
Pohoe Bay
A wide bay. Bare lava rocks with a white sand beach and palm trees create an "Oasis" look. This is the site of an ancient Hawaiian village. It is only ruins now with petroglyphs. Weather permitting, guests may snorkel to shore. Underwater, there is a healthy reef with a cave loaded with Hawaiian turkeyfish and the home to the only known pair of Hawaiian lionfish.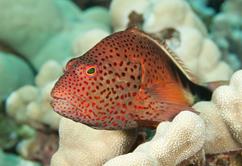 Rainbow Reef
The most southerly dive site is actually the most southern point in the United States. The sandy shoreline is flanked by steep cliffs. A shallow wall starts at 15-40 ft. The wall becomes rocky and drops of to a sandy flat at 100 ft. Large silver milkfish, garden eels and bi-colored anthias.
Shark Fin Rock
Also off the "Old Airport Beach," lava ridges dropping down from shore, schooling surgeons, lots of puffers.
Stoney Mesas
Four large bommies from 25-65 ft. deep crowded together. Titan scorpion fish, turtles and wire coral with gobies.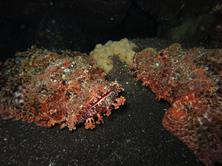 The Hive
A large bommie 30-70 ft. covered with agile chromis resembling a swarm of bees. Cleaner shrimp station, leaf scorpions and titan scorpions.
The Maze
One of 2 sites off Miloli'i, oldest traditional fishing village in Hawaii. Lava ridges and bommies twist and turn to create the walls of a "maze" at 55 ft. Tinker's butterfly fish, bandit angels, eagle rays and peacock groupers.
Thompson's Reef
An exciting dive off a point where there can be a slight current feeding hundreds of Thompson's butterfly fish. Sandy bottom with white-tip sharks.
Tubastrea Tunnel
Also off of Miloli'i Village. Lava fingers extend from shore to form a peninsula of canyons and ridges and swim throughs. The feature tunnel is 20 ft. wide, 10 ft. high and 40 ft. long. It is covered with beautiful tubastrea coral. There are 3 resident frog fish. Keep an eye out for sharks.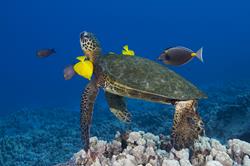 Turtle Pinnacle
A fun dive with several turtles, some are quite large. It is an actual turtle cleaning station. A small pinnacle at 55 ft. marks the spot. This is great opportunity for photographers because the turtles are still during their cleaning. Keep an eye out for schooling barracuda.
Wall's Wall
Vertical wall starting at 45 ft. dropping to 100-150 ft. Lots of eels, octopus, pyramid and Thompson butterfly fish.
Diving sites guide courtesy of Aggressor more >