2022 - 2023 Scuba Diving Holidays, Liveaboards and Learn to Dive Courses to the Maldives, Red Sea, Canary Islands, Far East, Caribbean and the Pacific.
Caribbean - Liveaboards
The Caribbean has something to offer everyone and one of our most popular diving regions after the Red Sea. For many, the Caribbean epitomizes luxury in an idyllic setting, for divers it offers so much more.
Surprising and enchanting, visit underwater sculpture parks, varied wreck dives & coral gardens. Experience fast and thrilling drift dives & cave diving. The Caribbean Sea is the right choice for the novice, including the technical diver with its ample choice of shore and boat dive sites, resorts, dive centers & liveaboards.
Each island has an individual character and feeling but always offering a warm, friendly welcome, exotic food, tropical fruit and fresh seafood. Mix this up with a sundowner and lively music against a backdrop of cobalt blue skies and you'll want to return before you leave.
Bahamas Aggressor Liveaboard - Bahamas, Caribbean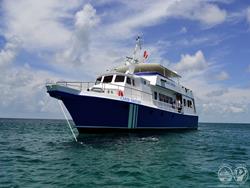 Our recommended Bahamas, Caribbean Liveaboard is the Carib Dancer. The Bahamas Carib Dancer is a luxury Caribbean Liveaboard which offers the opportunity to explore the Bahamas and outlying islands. Dive the sheer walls, wrecks and blue holes of the Exuma Cays aboard this elegant, 14 passenger yacht.

Location
Arrive into Nassau International airport for a short 30 minute transfer to the boat. Explore the dramatic walls, lush coral reefs and exciting animal encounters of the Exuma Cays Land and Sea Park. This protected area is one of the world's most successful marine parks consisting more than 350 small islands and cays.

Accommodation
This 100ft Aluminium monohull offers a high levels of comfort and a highly personalised service with 5 Deluxe Staterooms and 1 Quad Stateroom accommodating a maximum of 14 passengers. Deluxe staterooms include double lower and single upper beds, private WC with shower and sink, port light window. The Quad Stateroom as 2 upper single beds and 2 lower singe beds, private WC with shower and sink just outside the stateroom. Linens are changed mid week and fresh towels placed in each stateroom daily as needed. All staterooms have TV/DVD player, mirrored cabinet, wardrobe, bathrobes, hair dryer, toiletries, fresh towels daily and independently controlled air conditioning. The comfortable, well appointed salon has ample room for divers to view their photos and videos or to enjoy a movie on the entertainment system. Enjoy a relaxing hot tub on the sun deck.

Meal plan 7 nights on board including all meals and beverages. Breakfast (cooked to order), buffet lunch and dinner with table service are served daily. In addition, fresh mid-morning and mid-afternoon snacks, beverages (including soft drinks, local beer and wine) are complimentary on board. Please note dinner on Friday evening is not included and will be on your own in Nassau town.

Diving
Filled tanks, weights and weight belts are included. Diving takes place from the Caribe Dancer, with spacious diving deck. Access back on board is via a ladder. Diving instruction, Nitrox, equipment rental and digital camera rental are available at an additional charge (Please advise in advance of arrival). A camera table is built into the dive deck. Nitrox is payable locally at US$100 for Unlimited 32% fills or US$10 per fill.


Liveaboard (7 nights) Sample Itinerary:

Saturday
Guest Board from 16:00hrs at Elizabeth on Bay Marketplace and Marina. Leave dock
usually between 17:00 18:00hrs (depending on guest flight arrivals).

Sunday
Experience the best that The Bahamas has to offer with up to 5 dives a day through
(2 on the last day) in and around Nassau and the Out Islands of the Bahamas.

Thursday
Including the Exuma Cays.

Friday
Diving ends Friday morning. At approximately 12:00hrs the Carib Dancer return to port.
The afternoon is spent on excursions or sightseeing and shopping in town. A cocktail
party is hosted for you by the Captain around 18:00hrs (depending on tour schedules) followed by dinner on your own in town at a local restaurant.

Saturday
Guest disembark at 08:00 hrs.

Itinerary may vary due to weather conditions.



Gallery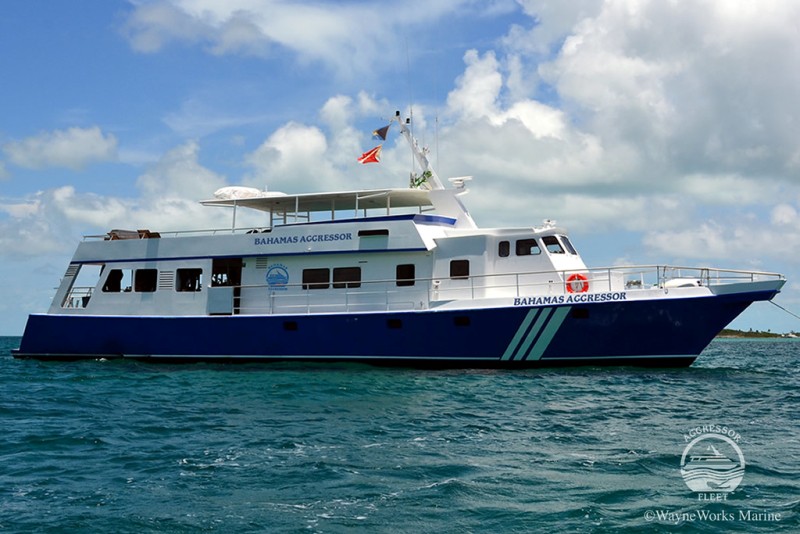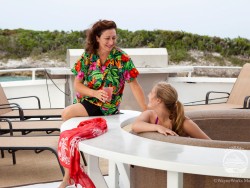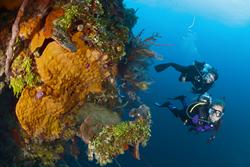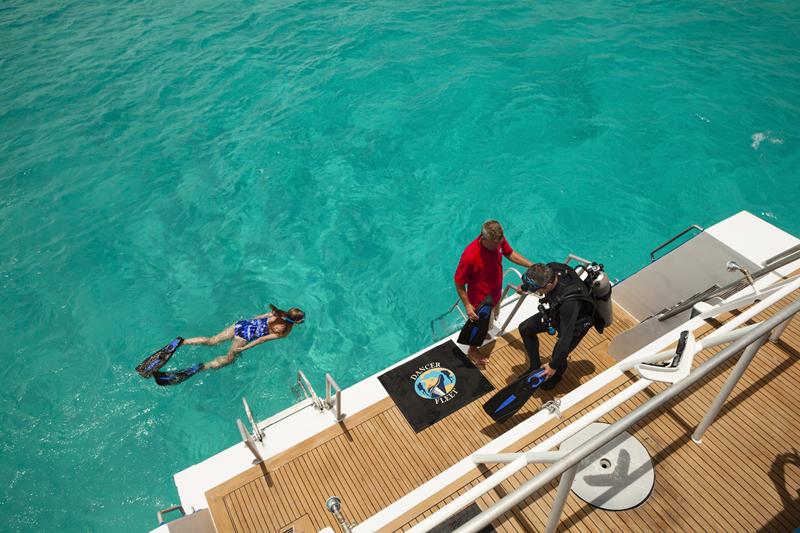 Fact File
Diving Conditions


Suitability:
Beginners

Intermediates

Advanced

Technical

Best Time: Year Round but May to October have the warmest water.

Average Air temps: 27°C.

Average Water temps: 28°C (May-Oct), 24°C (Nov-Apr).

Visibility: 30-60m +.

Top Dive Sites: Nassau - Lost Blue Hole, Periwinkle Reef. Exumas - Amberjack Reef, Austin Smith Wreck, Barracuda Shoals, Blacktip Wall, Cathedral at Dog Rocks Reef, Cracked Coral Head, Jeep Reef, Pillar Wall, The Washing Machine, Wax Cut Drift, Whale Tail Wall. Southwest Eleuthera - Cave Rock, Monolith, Little San Sal, Empress Pinnacles. More >


Great Reasons to Dive in the Bahamas

Warm water, year round.
Great visibility
Pristine coral.
World class shark diving - reef, hammerhead, tiger, lemon & oceanic whitetips.
Wild dolphin encounters.
Advanced dive sites - deep wrecks, pinnacles, blue holes.
Photography events - 1000s of Nassau Groupers (Jan-Feb), migrating spiny lobsters.
Luxury Liveaboards with varied itineraries including Exuma Keys. More >