2022 - 2023 Scuba Diving Holidays, Liveaboards and Learn to Dive Courses to the Maldives, Red Sea, Canary Islands, Far East, Caribbean and the Pacific.
Red Sea and Middle East - Liveaboards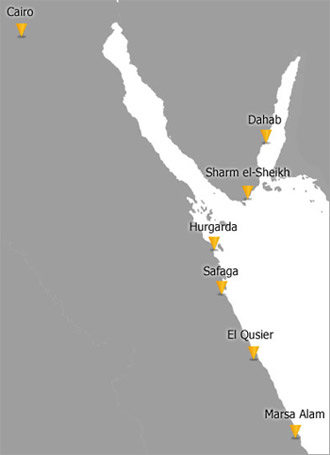 A Red Sea scuba diving holiday offers some of the most amazing dive conditions year round for all types of diving - both shore based, boat diving or on one of our specially selected liveaboards. Red Sea dive holidays offer the best value and are perfect for non-divers too.
Egypt is the Land of the Pharaohs, with abundant historical sites to visit and is the perfect paradise for year round diving holidays. The choice of hotels is vast and there is something to suit all tastes and budgets. Why not explore some of the ancient sites with an excursion to see the Pyramids or Tuthankhaun's tomb in the Valley of the Kings.
The crystal clear warm water and some of the best and most established dive centres in the world to choose from, make Egypt a wonderful experience for both first timers and annual 'pilgrims' alike. Each destination offers it own special character and variety of diving.

Red Sea Emperor Asmaa - Red Sea Liveaboards, Red Sea and Middle East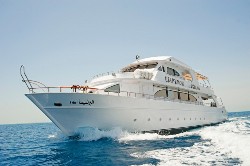 The Emperor Asmaa liveaboard is based in the Red Sea where up to 20 divers can explore the some of the best diving on offer in the region. This is an excellent value liveaboard for high standard of service and comfort.

Location
The Emperor Asmaa liveaboard is based in the southern Red Sea. With transfers arranged from Marsa Alam or Hurghada airports to the boat dock in Port Ghalib or Hurghada.

Accommodation
The custom built motor yacht is designed with the diver in mind. Up to 20 guest can be accommodated in 10 twin berth cabins, all with ensuites and two towels per guest. All cabins and the salon are air conditioned for your comfort with a spacious dive and sun decks. There is free WiFi available when in range. Soft drinks are provided and wine is served with dinner.

Diving
A diving guide is provided for each dive. Free NITROX available for certified diver up to a maximum of two tanks per day (subject to availability). Day diving is available (in the right conditions) to the Brothers, Zarbagad, Daedalus and Rocky Marine parks to those with a minimum of 50 logged dives. A range of PADI courses are available, including the FREE Nitrox Diver Course.
Sample Itinerary 'Fury & Friends'
The following is a sample schedule. Itineraries will be tailored depending on local conditions.

Abu Galawa Soraya Part of the Wadi Lahmi reef system
A beautiful reef with soft and hard corals, variety of fish life,pinnacles and a small wreck of a 17m sailing boat accessible at 18m and still intact after more than 25 years. Maximum depth 24m.
Abu Galawa Kebir is close to its smaller sister, Abu Galawa Soraya, and is famous for its tunnels and south plateau. The Tien Hsing Chinese tugboat wreck has some stunning soft and hard coral bouquets running its 34m length. But the wreck is not the only reason to visit as the large reef provides plenty of opportunity for other dives along the walls and pinnacles; the tunnels are ideal for novice cave diver.
Sha'ab Maksur is a large and varied reef that is often compared to the Red Sea classic, Elphinstone, with steep drop offs and strong currents making it a dive where some diving experience is beneficial. North and South plateaus start at around 20 metres and extend to around 40 metres, although the plateau has some pinnacles that can be enjoyed on the ascent and safety stop. On the plateaus, and drifting down the east wall, you can encounter some species that make a proud entry in your log book, hammerheads, reef sharks, mantas and whale sharks have all visited Maksur!
Also in the Fury Shoals system, the Sha'ab Claudio captivates divers and enthrals photographers with its shallow swim-through system, perfect for leisurely exploration. With five entrances and exits and shallow in depth, you're never 'lost' and can just enjoy the shafts of light dancing through the caverns. Rays, nudibranchs, large Napoleon wrasse and morays are all frequently spotted here; you may even see a white tip reef shark or turtle pass by.
Sha'ab Sataya is situated at the very south of Fury Shoals; this huge natural lagoon is formed by a massive reef (sha'ab) rising from the depths. The fame of Sataya is its steep drop offs along with pelagic sightings and protected pinnacles smothered in soft and hard corals. But the real stars can be the huge pods of spinner dolphins that frequent here, meaning Sataya has become the 'Dolphin House' of Hamata.
You are required to have 30 logged dives to dive in the Marine Parks and you are expected to be able to complete each dive with your buddy or following the guide.

Wadi Lahmi & Fury Shoals Reef System Sample Itinerary: Please note, the above is a maximum itinerary and will depend on local sea conditions. The maximum number of dives are 28 dives in the summer and most trips will usually offer around 25/26 but in the winter, this will normally be reduced to a maximum of 24 and divers should be prepared to get up early each day. The boat will not move to a different site for each dive. At least 3 dives per day will be guided with other dives taken with a buddy. You are required to have at least a PADI Open Water diver certification or equivalent to be eligible for this trip.
Gallery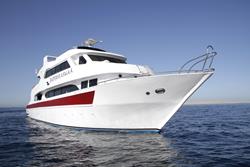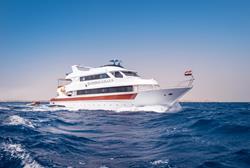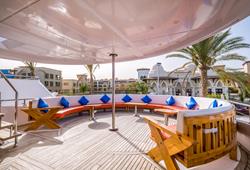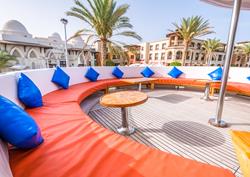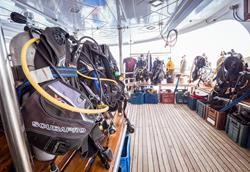 Fact File
Best Time: All year.

Average Air temps: 18-35°C

Average Water temps: 18-28°C

Visibility: 15-30m

Top Dive Sites:
North - Shaab El Erg, Abu Nuhas Wrecks (Giannis D, Carnatic, Lentil & Tile wrecks), Gubal Island, WWII British wreck Thistlegorm,Ras Mohamed National Park & Shark Reef. Rock & Zabargad Islands (Khanka wreck). South - Big and Little Brothers, Daedalus Reef and Elphinstone, St John's Fury Shoal's system.

Great Reasons to Dive on a Liveaboard in the Red Sea


Variety of itinearies to North and Southern Sites.
Departures from Hurghada, Marsa Alam & Hamata.
Perfect combination of reef & wreck diving.
Suites, shared or singles cabins.
FREE Nitrox Courses & FREE Nitrox fills on certain boats.
Sharks & large pelagics at southern sites.