2022 - 2023 Scuba Diving Holidays, Liveaboards and Learn to Dive Courses to the Maldives, Red Sea, Canary Islands, Far East, Caribbean and the Pacific.
Turks and Caicos, Caribbean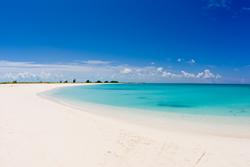 Turks and Caicos offer diving holidays and liveaboard diving with some of the best diving in the Caribbean including the sheer walls of Providenciales. A British Crown Colony consisting of 40 islands lying in the tropical Atlantic south east of the Bahamas. Only eight of the islands are inhabited. Providenciales is the most well known of the Turks and Caicos Islands and is the center of the tourism industry with a wide range of hotels, restaurants, attractions and facilities. The islands offer a glimpse into Caribbean history with great Bermudian architecture and a rustic charm as well as some of the best diving and stunning beaches.

Diving
The diving is some of the best in the Caribbean with the sheer walls of Providenciales, West Caicos and remote French Cay host to enormous Orange Elephant Ear Sponges, sprawling sea fans and an unmatched variety of life including eels, Orange Ball Corallimorph and anemones. Eagle Rays, barracuda shoals and turtles are seen year round and, on occasion, the odd humpback whale is spotted on its winter migration to the Caribbean. We recommend a liveboard diving itinerary to ge the most of the diving in the various dives sites cruising the best dive sites of Providenciales, West Caicos and south to French Cay. More >

Culture and Activities
Your flights will come in and out of Providenciales. Here you can take the opportunity to stay in a hotel for a beach based holiday before or after your liveaboard cruise. More commonly known as 'Provo', this small 38 mile wide islands is surrounded by beautiful white sand beaches, with Grace Bay Beach ranked "Best Beach" by Conde' Nast magazine. As well as luxurious hotels, villas and condos, there are numerous restaurants, spas and shopping facilities, a championship golf course. Towards the south of the island you will find Chalk Sound, a large lake with striking turquoise water and an array of small cays. There are a variety of island tours and excursions including boat and fishing trips just along from Grace Bay from Turtle Cove marina.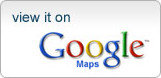 Gallery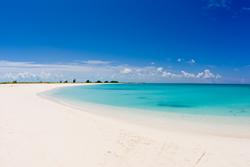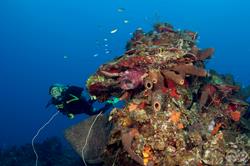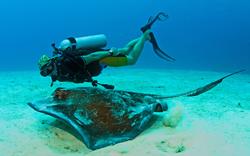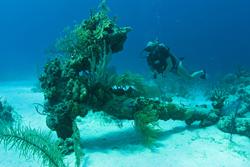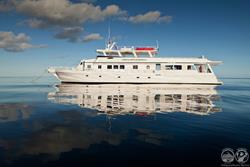 Fact File
Diving Conditions






Suitability:
Beginners

Intermediates

Advanced

Technical

Best Time: April to December.

Average Air temps: 30°C

Average Water temps: 25-29°C
(78-84°F) 3mm wetsuit recommended

Visibility: 5-100m (Jan-June)
Up to 200m (July - December)

Top Dive Sites: French Cay - Double D, G-Spot, Rock & Roll. Northwest Point - Shark hotel & The Dome.West Caicos - Gullies & The Anchor.

Great Reasons to Dive in Turks & Caicos


Beautiful sheer wall diving with pristine corals
Abundant macro life ideal for photographers
Grey Reef & Nurse shark, Eagle rays,
Huge Orange Elephant Ear Sponges, Gorgonians & Crimson Rope Sponges.
Eagle Rays, Angelfish, Snapper, Horse-eye Jacks, Lobster, Garden Eels, Angelfish.