2022 - 2023 Scuba Diving Holidays, Liveaboards and Learn to Dive Courses to the Maldives, Red Sea, Canary Islands, Far East, Caribbean and the Pacific.
Micronesia and Pacific - Liveaboards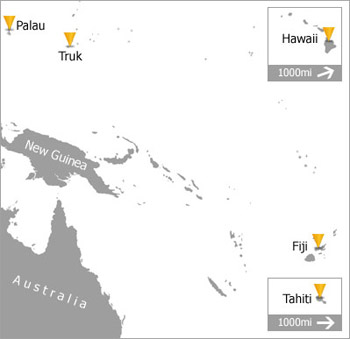 Choose a scuba diving holiday to Micronesia and the Pacific which offers adventures for those wanting an exploratory and exotic diving holiday. Meet unique and rare marine creatures and dive sites of unsurpassed beauty that will leave memories for a lifetime. Dive holidays in Micronesia are famous for the chance to see World War II wrecks.
Palau, made up of 300 mostly unihabited islands that look like 'mushrooms'. From caves to soft corals, mantas to giant shoals, sharks and 1500 variety of fish. This is a truly special destination.
Truk Lagoon famously has hundreds of World War II japanese wrecks lying in 35m water almost intact. Historically facinating and an excellent twin centre trip with Palau.
Explore the magic of Fiji and Hawaii aboard a luxury liveaboard or enjoy the pure escapism on the paradise island of Bora Bora in your own water villa. For a once in a lifetime trip visit the Galapagos, Darwin and Wolf Islands.

Palau Aggressor Liveaboard - Palau, Micronesia and Pacific
For your scuba diving liveaboard holiday to Palau. The Palau Aggressor II liveaboard is a 106ft aluminium yacht built and powered for comfort, safety and stability. The Palau Aggressor will give you the opportunity to maximise your diving in one of the best diving locations in the world, with an incredible quantity and diversity of marine life waiting to be discovered. Up to two trips to shore are provided during the week to Peleliu Tour and Ulong Beach, depending on the local conditions and itinerary.

Location
The Palau Aggressor II docks at the Neco Marine (Malakai) Harbour in Palau, approximately 12 kms around 25 minutes drive from the Palau international airport.

Accommodation
The liveaboard features nine spacious air-conditioned staterooms, eight of which are deluxe with queen bed and single beds bunk style, private toilet and shower, hairdryer, individual climate control, closet and port window. The remaining room includes a double and single berth with private toilet and shower, hairdryer and individual climate control.

Facilities
A comfortable air-conditioned salon offers an entertainment centre for guest use with TV/DVD/CD, a galley, a spacious 50ft sun deck, hammocks and deck chairs. For underwater photographers there is a photo lab and computer with email access. Photo equipment is available to rent separately or as a complete package. Onboard safety equipment including defibrillator and D.A.N. oxygen system are standard. A superb selection of food is served throughout your trip, with fresh mid-morning and afternoon snacks. Beverages (alcoholic and non-alcoholic) are complimentary while onboard. There is a large, well designed dive deck with divers' own personal dive station with seat and locker. Both air and nitrox fills are available on board.

Diving
Diving is from the 35' dive tender add takes 18 divers with up to 4 - 5 dives per day possible. You'll be diving in water that ranges from 27-30˚C, so a 3mm wetsuit should be more than adequate. Due to the fast currents in Palau, bringing safety items along such as Dive Alert and Safety Sausage is advised. Indeed, most diving in Palau is drift diving so best suited to more experienced divers comfortable with a current. Visibility is often fantastic, with a seemingly endless view on a good day in Palau's crystal clear waters. In reality it reaches around 200ft, or 60 metres. The wrecks closer to the mainland will have slightly diminished visibility due to nearby Koror. Palau can be dived all year round, with the optimum times in the dry months between October and April.


Sample Itinerary:
Guam (1 night), Aggressor (7 nights), Palau (1 night), Guam (1 night)

Fri Depart UK for Seoul. Overnight flight.
Sat Connect with flight to Guam.
Sun Arrive Guam early morning and transfer to the Guam Hilton. Evening depart Guam for Koror, Palau. Met on arrival and transferred to the Palau Aggressor (boarding is from 4pm). Evening, the crew hosts a welcome party followed by a delicious chef prepared dinner with tableside service, and briefing which outlines safety procedures and the week's schedule.
Mon – Fri The boat will depart at 6am. After a hearty breakfast (cooked to order), it is time to grab your BCD and gear up for the first dive at signature sites like Ulong Channel and the ship wreck Iro Maru. During a typical week, Aggressor guests dive Palau's best areas including Blue Corner, German Channel, Drop-off Wall and Siaes Tunnel. Several sites have strong currents, therefore Palau diving is recommended for minimum intermediate divers. All dives are conveniently made from the speedy dive skiff which comfortably accommodates all passengers. The skiff is safely boarded from the main deck and then lowered into the water by hydraulic cradle. Mid-week, the Aggressor heads south to Peleliu Island, weather permitting, for a WWII land tour and more fabulous diving.
Sat Diving ends before lunch with a last trip to Chandelier Caves. The Palau Aggressor returns to port approximately 2pm after a buffet lunch. The Captain and crew host an evening cocktail party at 18:00hrs. Dinner is not included this evening so the crew will arrange transportation to a local restaurant.
Sun Checkout time is 08:00hrs. Transfer to the Palau Pacific Resort. Late night transfer to the airport for flight to Guam.
Mon Arrive Guam early morning. Transfer to the Guam Hilton for overnight.
Tue Depart Guam for Seoul and connect with flight to the UK arriving late afternoon.
Itinerary may vary due to weather conditions and yacht location.



Each guest must pay a $210 US port fee (paid onboard) at the end of the week. The port fee is not included in the charter rate.




Gallery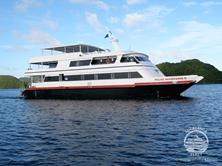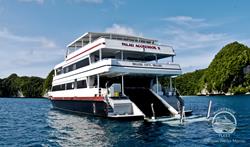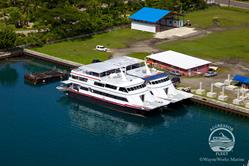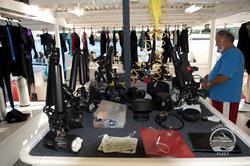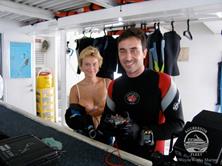 Fact File
Best Time: October - April.

Average Air temps: 29°C

Average Water temps: 27-29°C

Visibility: 25-60m

Top Dive Sites: World War II freighter, warships and aircraft including Japanese Wrecks - Iro Maru, Teshio Maru, Bichu Maru and Japanese Zero fighter, Jake Seaplane. Chandelier Cave, Peleliu Wall, Cut and Expressway. Highly recommended is the Blue Holes and Blue Corner Wall at Koror Island, New and Big drop offs, German and Ulong Channels.

Great Reasons to Dive in Palau


World class WWII wreck and drift diving.
Wall diving plus shallow, wide caves and caverns.
Shark diving weeks.
Big shoals - snappers, grunts, barracuda, Eagle rays and mantas.
Macro and underwater photography sites - Mandarinfish!
Land, snorkel and kayak tours.