2022 - 2023 Scuba Diving Holidays, Liveaboards and Learn to Dive Courses to the Maldives, Red Sea, Canary Islands, Far East, Caribbean and the Pacific.
Caribbean - Liveaboards
The Caribbean has something to offer everyone and one of our most popular diving regions after the Red Sea. For many, the Caribbean epitomizes luxury in an idyllic setting, for divers it offers so much more.
Surprising and enchanting, visit underwater sculpture parks, varied wreck dives & coral gardens. Experience fast and thrilling drift dives & cave diving. The Caribbean Sea is the right choice for the novice, including the technical diver with its ample choice of shore and boat dive sites, resorts, dive centers & liveaboards.
Each island has an individual character and feeling but always offering a warm, friendly welcome, exotic food, tropical fruit and fresh seafood. Mix this up with a sundowner and lively music against a backdrop of cobalt blue skies and you'll want to return before you leave.
Cayman Islands Aggressor Liveaboard - Cayman Islands, Caribbean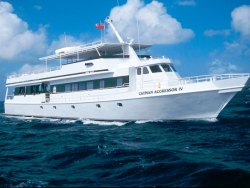 This Caymans Islands luxury liveaboard, the Cayman Aggressor provides access to excellent visibility and calm, crystal clear warm waters which have made the Cayman Islands a scuba diving favourite for decades. Every week, Cayman Aggressor IV divers explore the walls and ship wrecks of Grand Cayman with side excursions to Little Cayman and Cayman Brac in the right conditions.

Location
The Cayman Aggressor docks at the George Town Tourist Dock, however during the winter months she occasionally dock off Ann Drive in North Sound Estates.

Accommodation
A 110 ft yacht built and powered for comfort, safety and stability. Nine deluxe staterooms (6 with a double and single berths, 1 with a queen bed and 2 with twin berths), all have private toilet and shower except twin cabins which share.
Facilities
Air-conditioned salon with entertainment centre, galley, shaded sun deck hot tub and deck chairs. Computer with email access via satellite. Onboard safety equipment including defibrillator and D.A.N. oxygen system. Photo lab.
Diving
Large well designed dive deck with divers own personal dive station with seat and locker. Air/nitrox fills.



Liveaboard (7 nights) Sample Itinerary:

Saturday
Depart UK for Cayman Islands. Met and transferred to the Cayman Aggressor IV. At 18:00 hrs dinner is served onboard followed by the Captain's briefing.
Sunday
Dive briefing. Guests may enjoy up to five dives each day. All dives are conveniently made from the mothership. Excellent snorkeling is available fornon-diving passengers. While you are diving, the chef prepares delicious snacks and scrumptious meals, served on schedule. Night diving is offered every night.
Monday - Thursday
Diving continues at favorites like Bonnie's Arch, Devil's Grotto and Trinity Caves. Weather permitting, the Aggressor makes an overnight journey to Little Cayman. Here, guests dive famous Bloody Bay Wall, a glorious coral eden starting at only 16 feet! After a day or two at Little Cayman, the Aggressor speeds to Cayman Brac to explore the Capt. Keith Tibbetts, a 300 foot Russian destroyer. The week culminates back on Grand Cayman with the world famous feeding frenzy at Stingray City.
Friday
After diving, the yacht returns to George Town at approximately 13:00 hrs. Guests may shop or sightsee in town. The Captain and crew host an evening cocktail party at 18:00hrs. Since dinner is not served onboard this evening, the crew will arrange transportation to a local restaurant.
Saturday
Checkout time is 08:00hrs. Transfer to the airport for return flight to UK.
Itinerary may vary due to weather conditions and vessel location.


A non-refundable deposit of is required at the time of booking. The final balance is due 5 weeks prior to departure.

Please note: No transfers are included and local taxes and fees of US$45 are payable locally on board.

Gallery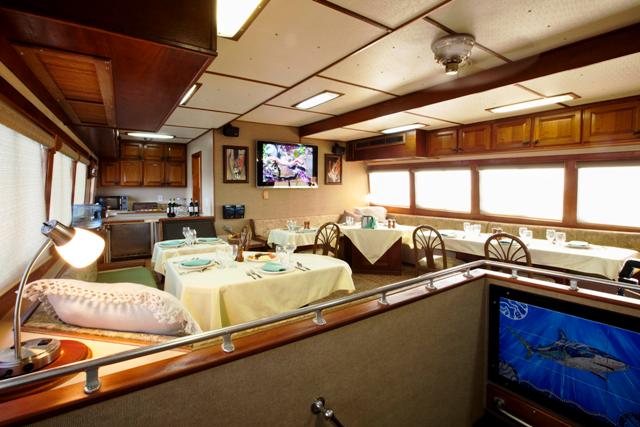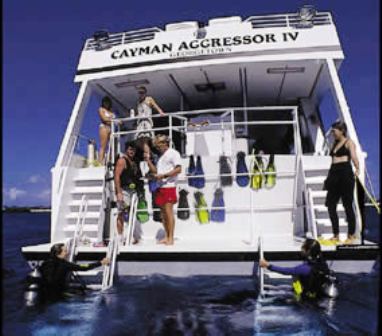 Fact File
Best Time: November - April (Dry season), May - October (Wet season)

Average Air temps: 24-30°C

Average Water temps: 26-28°C Recommended - 3mm shortie/full suit.

Visibility: 5-100m (Jan-June)
Up to 200m (July - December)

Top Dive Sites: Stingray City - Grand Cayman, Bloody Bay Wall - Little Cayman. Wrecks USS Kittiwake, Balboa & Oro Verde - Grand Cayman, San Miguel - Little Cayman, Captain Keith Tibbets - Cayman Brac. Spectacular wall dives. North Wall .

Great Reasons to Dive in the Cayman Islands


World class, year round diving.
Twin centre diving with Cayman Brac & Little Cayman.
Outstanding visibility.
Sheltered, calm easy access dives - photographers heaven.
Excellent snorkelling trips.
Marine Parks plan since 1986 ensuring regulated dive sites.
281 single & double mooring to control numbers of dive boats.