2022 - 2023 Scuba Diving Holidays, Liveaboards and Learn to Dive Courses to the Maldives, Red Sea, Canary Islands, Far East, Caribbean and the Pacific.
Cayman Islands, Caribbean - Liveaboards
The Caribbean has something to offer everyone and one of our most popular diving regions after the Red Sea. For many, the Caribbean epitomizes luxury in an idyllic setting, for divers it offers so much more.
Surprising and enchanting, visit underwater sculpture parks, varied wreck dives & coral gardens. Experience fast and thrilling drift dives & cave diving. The Caribbean Sea is the right choice for the novice, including the technical diver with its ample choice of shore and boat dive sites, resorts, dive centers & liveaboards.
Each island has an individual character and feeling but always offering a warm, friendly welcome, exotic food, tropical fruit and fresh seafood. Mix this up with a sundowner and lively music against a backdrop of cobalt blue skies and you'll want to return before you leave.
Cayman Islands Aggressor Liveaboard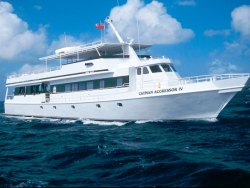 This luxury Cayman Islands Caribbean Liveaboard from Aggressor provides access to excellent visibility and calm, crystal clear warm water has made the Cayman Islands a scuba diving favourite for decades. Every week, Cayman Aggressor IV divers explore the walls and ship wrecks of Grand Cayman with side excursions to Little Cayman and Cayman Brac in the right conditions.
Fact File
Best Time: November - April (Dry season), May - October (Wet season)

Average Air temps: 24-30°C

Average Water temps: 26-28°C Recommended - 3mm shortie/full suit.

Visibility: 5-100m (Jan-June)
Up to 200m (July - December)

Top Dive Sites: Stingray City - Grand Cayman, Bloody Bay Wall - Little Cayman. Wrecks USS Kittiwake, Balboa & Oro Verde - Grand Cayman, San Miguel - Little Cayman, Captain Keith Tibbets - Cayman Brac. Spectacular wall dives. North Wall .

Great Reasons to Dive in the Cayman Islands


World class, year round diving.
Twin centre diving with Cayman Brac & Little Cayman.
Outstanding visibility.
Sheltered, calm easy access dives - photographers heaven.
Excellent snorkelling trips.
Marine Parks plan since 1986 ensuring regulated dive sites.
281 single & double mooring to control numbers of dive boats.