2022 - 2023 Scuba Diving Holidays, Liveaboards and Learn to Dive Courses to the Maldives, Red Sea, Canary Islands, Far East, Caribbean and the Pacific.
Indian Ocean - Liveaboards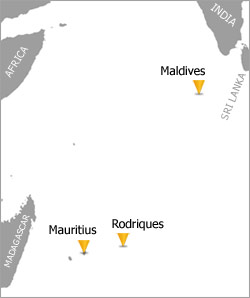 The Maldives is diving holiday heaven. An Indian Ocean scuba diving holiday, where exciting marine life abounds, is best summed up by the sheer quantity and size that can be seen. Head to the Maldives for a great mix of endless white sand beaches, azure blue waters and fabulous underwater topography. We have selected the widest range of hotels, liveaboards in the Maldives, exotic Mauritius and hideaway Rodrigues island. As experts in this area we can find something just right for you!

The Maldives is the perfect place to learn to dive from one of the idyllic island resorts. As Maldives diving holiday specialists, Sportif Dive offer over 100 islands with some of the very best prices out there. Or why not immerse yourself in diving from a dedicated liveaboards taking you to some of the less busy, pristine sites.
Mauritius and the lesser know nearby Island of Rodrigues offer widely contrasting holidays. The former with luxury hotels resorts and many options for relaxing and other activities. The latter to discover an island untouched by tourism and off the beaten track.
All provide first class facilities for diving and snorkelling, shallow water lagoons and more challenging dive sites for the advanced divers. Whale Sharks, Manta Rays, Wreck and Drift Diving characterise most of the Indian Ocean dive sites with more sheltered dives closer to shore.

Maldives Aggressor II Liveaboard - Maldives, Indian Ocean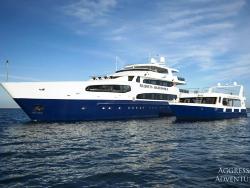 The luxury Maldives liveaboard, Aggressor II offers an elegant and contemporary interior, comfortable cabins coupled with world class diving, excellent food and services. Enjoy a cool cocktail while you relax, after your day's diving. on the top desk bar, watching the picturesque sunset over the blue lagoon. The Dream Catcher II liveaboard provides an excellent level of comfort, access to the best sites available in the Maldives and top quality dining and service to maximise your comfort whilst aboard.


Accommodation
The modern cabins cabins are spacious and are designed with teak finish each with your own TV, DVD and music system. All are individually air-conditioned with your personal control to set to suit your comfort. The Aggressor II can accommodate 22 guests in twin/double sharing staterooms. Choice of staterooms include:
Suite Stateroom
A comfortable stateroom with a queen bed (for couples only) with a private head and shower and panoramic window. All with individual climate control, monitor with media player and hair dryer.
Twin Stateroom
A comfortable stateroom with two twin beds. Private head and shower, porthole windows individual climate control, monitor with media player and hair dryer.

Deluxe Stateroom
Stateroom 8 and 9 have two twin beds with the option to create a king bed. Stateroom 10 and 11 have a queen bed (for couples only) Staterooms have a private head and shower and picture window. All with individual climate control, monitor with media player and hair dryer.
All cabins have private bathrooms with shower cubicle, hot and cold water, TV, DVD and music system, electronic safe, individually controlled air-conditioning.

Facilities
The elegant bar on the top deck which is the perfect location to sit and relax and watch the world go by, whilst enjoying a long & cooling cocktail and taking in the sunset and the ocean's breeze. The boat itself has all the latest navigational equipment, which enables a safe and pleasant cruise, you may wish to visit uninhabited islands, local inhabited islands and sandbanks that are scattered around in the middle of the ocean, the choice is yours. There is a fully airconditioned Saloon with library, internet access, TV Wii Box, DVD and music sytem and open and closed restaurant.
Boat Specifications
• Capacity 14 guest, maximum 17 guests (if partly in triple accommodation)
• LOA: 31.21m
• BOA: 9.69m

Diving
Diving in the Maldives is known for its diversity. From tiny nudibranchs and hard to spot ghostpipe fish, through eels, turtles, big schools of snappers, fusiliers and reef sharks to our favourite manta rays and whale sharks seen all year round. Much of the diving in the Maldives is drift diving. Due to this all dives will be made from a a beautiful custom built diving dhoni (60 feet in length) that is very easy to dive from. It has ample space for divers, their equipment, photography equipment, hot water, a full bathroom and 5 compressors. Water temperature varies from 80F (27 Celsius) in wet season to 86F (30 Celsius) in dry season a 3mm wetsuit recommended.

Itineraries

Depending on your departure date the following itineraries are available on the Maldives Aggressor II.
Best of Maldives Itineraries
• Malé/Malé (7 & 10 nights)
• Malé/Malé + Thaa & Meemu (10 nights)
• Malé + Baa/Hanifaru (10 nights)

Southern Hemisphere Itineraries
• Laamu to Addu (GAN) (7 nights)
• Malé to Addu (GAN) (10 nights)
• Addu (GAN) to Malé (10 nights)

Far South & Deep South Itineraries
• Far South: Malé to Laamu (7 nights) (2018)
• Deep South: Laamu to Addu (GAN) (7 nights) 2019
7-night charters: up to 18 dives.
10-night charters: up to 27 dives.
Fact File
Best Time: Dec-April (Summer/NE
monsoon) & June-Oct (SW current)

Average Air temps: 28-30°C
Average Water temps: 28-30°C

Visibility: 20-30m + (varies
depending on season & sites).

Top Dive Sites: Too many to
mention. Each island offers
short distance to dive sites,
excellent house reefs. Sites
for all levels. More >

Liveaboard Itineraries More >


Great Reasons to Dive in Maldives

Clear visibility.
Vast number of dive sites.
Chance to see Manta Whales
& Whale Sharks in Summer months, on the SW side.
Large schooling pelagics.
3*,4* & 5* island resorts
Liveaboards with free places for whole boat bookings.