2022 - 2023 Scuba Diving Holidays, Liveaboards and Learn to Dive Courses to the Maldives, Red Sea, Canary Islands, Far East, Caribbean and the Pacific.
Indian Ocean - Liveaboards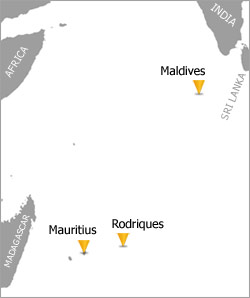 The Maldives is diving holiday heaven. An Indian Ocean scuba diving holiday, where exciting marine life abounds, is best summed up by the sheer quantity and size that can be seen. Head to the Maldives for a great mix of endless white sand beaches, azure blue waters and fabulous underwater topography. We have selected the widest range of hotels, liveaboards in the Maldives, exotic Mauritius and hideaway Rodrigues island. As experts in this area we can find something just right for you!

The Maldives is the perfect place to learn to dive from one of the idyllic island resorts. As Maldives diving holiday specialists, Sportif Dive offer over 100 islands with some of the very best prices out there. Or why not immerse yourself in diving from a dedicated liveaboards taking you to some of the less busy, pristine sites.
Mauritius and the lesser know nearby Island of Rodrigues offer widely contrasting holidays. The former with luxury hotels resorts and many options for relaxing and other activities. The latter to discover an island untouched by tourism and off the beaten track.
All provide first class facilities for diving and snorkelling, shallow water lagoons and more challenging dive sites for the advanced divers. Whale Sharks, Manta Rays, Wreck and Drift Diving characterise most of the Indian Ocean dive sites with more sheltered dives closer to shore.

Maldives Emperor Orion Liveaboard - Maldives, Indian Ocean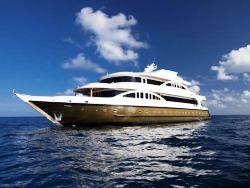 The Maldives Emperor Orion is a 5* luxury liveaboard that is a spacious 39 meters in length with twin and double cabins as well as suites available. All levels of divers are welcome and non divers can enjoy snorkelling and on board massage service. Varied itineraries are available through the year covering Rasdhoo, North and South Ari, South Male, Vaavlu and North Male Atolls. Here you will have the chance of amazing encounters from whale shark to mantas, pelagics, beautiful coral and macro life.

Location
The Maldives Orion liveaboard departs from Male.

Accommodation
The Orion has 12 guest rooms and can accommodate up to 24 guests, the upper deck has 1 executive suite and 3 twin/ double mini suites, the lower deck has 1 junior suite, 3 double and 4 twin/ double rooms. Each room has a twin or double bed, a mini bar, room to room intercom, an en suite toilet and shower facilities, individually controlled air-conditioning, a TV, DVD player, safe and hair dryer. Two of the cabins have a bath tub. The Executive Suite is spacious with a king size bed, a private jacuzzi and an outside patio area.

Facilities
The main deck has a lounge with sofas and a dining room with a bar. The upper deck has a jacuzzi, massage room (payable locally) and the main bar. The spacious fly deck has sunbeds to relax on. Wifi is available at an additional cost. Non-divers are welcome and can get free snorkelling kit rental.

Diving
All the diving takes place from the 19.8m dhoni, allowing divers to get to the perfect dive spot every time. Orion is rebreather friendly and offers free Nitrox, all diving and safety equipment as well as a photography charging station and four dive guides. For those requiring hire equipment, we recommend booking in advance to ensure availability. Water temperatures in the Maldives ranges from 26-30°C year round, with good visibility (20 meters/ 70 feet). In the open ocean, near the reefs there are manta rays, eagle rays, tuna and a variety of sharks (including whale sharks). Maldives also has parrotfish, groupers, snappers, turtles and moray eels.


Itinerary

MV Orion offers a variety of itineraries including The Best of the Maldives, Deep South & Southern Sharks, Manta Madness, Pelagic Magic, Sharktastic and South Central Atolls.

The Best of the Maldives - 7 Days
You don't need a minimum number of dives but you should be comfortable with drift dives. Currents can be strong. All your diving is made from dhonis or zodiacs to give precise entry and exits points. Experienced divers can dive in a buddy pair unguided.
Rasdhoo Atoll: Hammerhead Dive, Beautiful Reef with Pelagics
North Ari Atoll: Grey Reef Sharks, Maaya Thila Night Dive, Multiple Manta Cleaning Stations
South Ari Atoll: Whale Sharks, Beautiful Pinnacles
South Male Atoll: Grey Reef Sharks, Eagle Rays, Other Pelagics, Beautiful Macro Wreck.
Vaavu Atoll: Beautiful channels with magical soft corals and pelagic delights. Action packed night dive with Nurse Sharks and others.
North Male Atoll: Beautiful Pinnacles.

This is the Best of the Maldives - and it delivers exactly that. This is where you dive the best and most famous dive sites of the Maldives in a week of wonderful liveaboard diving across Male and Ari atolls.
Enjoy a dive holiday that gives you all you could wish for from the iconic sites of North Male, South Male and Ari Atoll. Awaiting you are channels, drifts and pinnacles where you have every chance of meeting mantas, whale sharks and mesmerising marine life of so many varieties. We don't follow an exact itinerary; flexibility is the word so that no matter what time of the year you visit, this underwater world is yours for the exploring.
This itinerary gives you a marine mix of big fish such as shark and manta dives as well as reef dives, reef fish, morays and the abundant macro life. Get up close at the cleaning stations without disturbing the locals! One of the best known dive sites is Maaya Thila; this pinnacle is approximately 30m in diameter and falls away to reveal sharks and fish a plenty.
A night dive from sheltered moorings here is a must! And the boat will also aim to find whale sharks so you can get in the water and snorkel with them...as long as they stay around long enough!


Guide for Diving Experience:
To dive with a dive buddy you must be a PADI Open Water diver or equivalent and be able to complete each dive with your buddy or following the guide. Inexperienced divers may be asked to skip dives that are not suitable for their diving experience. Experienced divers can dive in a buddy pair unguided. The guides may decide, upon seeing each diver's ability, not to enter the water for every dive and remain onboard providing surface support only. You are expected to be able to dive to a standard that reflects the certification and experience requirements outlined for each itinerary. The maximum depth for diving in the Maldives is 30 metres with an equally qualified buddy. Your maximum diving depth will be dependent on your level of training and experience. To help gain experience and confidence, it is possible to complete the Advanced Open Water Course, Specialty Courses and Adventure Dives (Nitrox, Deep, Drift and Night) whilst on the trip.


Gallery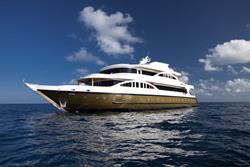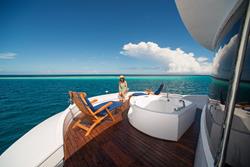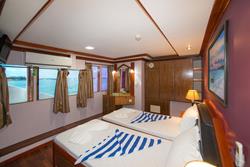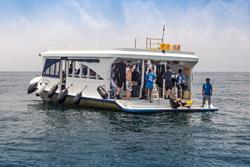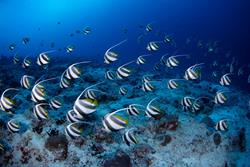 Fact File
Best Time: Dec-April (Summer/NE
monsoon) & June-Oct (SW current)

Average Air temps: 28-30°C
Average Water temps: 28-30°C

Visibility: 20-30m + (varies
depending on season & sites).

Top Dive Sites: Too many to
mention. Each island offers
short distance to dive sites,
excellent house reefs. Sites
for all levels. More >

Liveaboard Itineraries More >


Great Reasons to Dive in Maldives

Clear visibility.
Vast number of dive sites.
Chance to see Manta Whales
& Whale Sharks in Summer months, on the SW side.
Large schooling pelagics.
3*,4* & 5* island resorts
Liveaboards with free places for whole boat bookings.