2022 - 2023 Scuba Diving Holidays, Liveaboards and Learn to Dive Courses to the Maldives, Red Sea, Canary Islands, Far East, Caribbean and the Pacific.
Canary Islands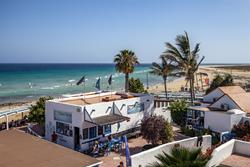 In the Atlantic, off the west of the North Africa, lie the volcanic islands of the Canaries, basking in year round sunshine and blown by consistent winds, each island has a distinct character of its own. They sit on the same latitude as the Sahara and Red Sea, but are further south than Florida. Many of the beaches are incredible with endless stretches of pure golden sand lapped by azure water making the perfect backdrop to your sailing dream. Our recommendated locations include Lanzarote and Fuerteventura.


Diving in the Canary islands
The temperatures are reliably good all year, peaking in July to September at 88For 30C. The sea conditions vary from one island to another, and, between venues on each island, different windsurfing is available according to your preference or ability. It is possible to go from radical wave sailing in one area to flat water 'blasting' in another on the same day. The islands are blessed with a constant supply of wind, thereby making them the ideal choice for all year round scuba diving.

Lanzarote - Costa Teguise
Scuba diving holidays to Lanzarote in the Canary Islands with Sportif Dive offers a diving holiday filled with interesting dive sites, making each dive into an exciting experience for all levels of diver. This is an ideal location for budget conscious divers wanting shore and boat diving, taking a learn to dive, advanced or underwater...