2022 - 2023 Scuba Diving Holidays, Liveaboards and Learn to Dive Courses to the Maldives, Red Sea, Canary Islands, Far East, Caribbean and the Pacific.
Micronesia and Pacific - Liveaboards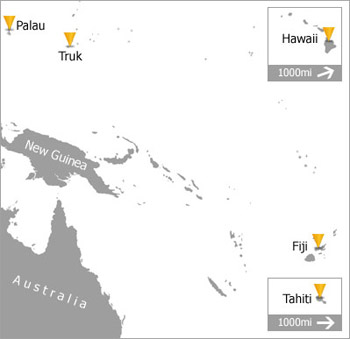 Choose a scuba diving holiday to Micronesia and the Pacific which offers adventures for those wanting an exploratory and exotic diving holiday. Meet unique and rare marine creatures and dive sites of unsurpassed beauty that will leave memories for a lifetime. Dive holidays in Micronesia are famous for the chance to see World War II wrecks.
Palau, made up of 300 mostly unihabited islands that look like 'mushrooms'. From caves to soft corals, mantas to giant shoals, sharks and 1500 variety of fish. This is a truly special destination.
Truk Lagoon famously has hundreds of World War II japanese wrecks lying in 35m water almost intact. Historically facinating and an excellent twin centre trip with Palau.
Explore the magic of Fiji and Hawaii aboard a luxury liveaboard or enjoy the pure escapism on the paradise island of Bora Bora in your own water villa. For a once in a lifetime trip visit the Galapagos, Darwin and Wolf Islands.

Palau Ocean Hunter Liveaboard - Palau, Micronesia and Pacific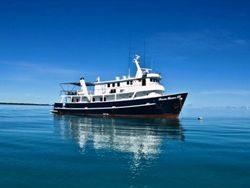 The Ocean Hunter liveaboard, a 96ft dive yacht built for comfort, offers an unforgettable scuba diving holiday to Palau. Born out of over 25 years experience running liveaboards, the Ocean Hunter will offer a comfortable diving holiday, with every detail meticulously thought out as a result of it being designed by divers, for divers. The liveaboard operates with a flexible dive schedule so each diver can decide exactly how much diving they wish to do.

Location
The Palau Ocean Hunter docks next to the Palau dive centre, approximately a 10 minute drive from downtown Koror, with complimentary hotel transfers.

Accommodation
The Ocean Hunter sleeps 16 guests and consists of two Standard cabins (one queen size bed, one single), four Deluxe cabins (one king size bed, one single) and two Upper Deck Master Staterooms (one king size bed, one single), all air conditioned and with private head and shower as standard. The Upper Deck Master Staterooms are fitted with portholes and offer views over the calm azure waters.

Facilities
The Ocean Hunter is specifically designed for underwater photography with a sizeable computer station and powerful software for loading and editing photos and videos, with download, email and CD burning services. The dive deck is spacious and equipped with personal gear boxes, as well as a semi-dry gear room with camera tables. The rear of the dive deck is fitted with an exit ladder. In between dives you can relax in either of the two on board heated jacuzzis, the large shaded sun deck or in the plush saloon with comfortable sofas and a flat screen TV. There is a separate dining area serving fresh cuisine in a relaxed and friendly environment.

Diving
The Ocean Hunter offers the opportunity to visit the must see dive spots in Palau and more – its size and speed make travelling further afield possible, with trips planned to Northern Papua New Guinea, Yap, the Northern Marianas to name a few. These virtually untouched reefs are in pristine condition representing a once-in-a-lifetime dive experience.
The Ocean Hunter liveaboards give the opportunity to maximise your dive time in one of the best diving locations in the world, with an incredible quantity and diversity of marine life waiting to be discovered. You'll be diving in water that ranges from 27-30˚C, so a 3mm wetsuit should be more than adequate. Most diving in Palau is drift diving so best suited to more experienced divers comfortable with a current, although reef hooks can be used on some dives. All guests are required to dive with a safety sausage, which can be purchased at the dive centre before boarding if necessary. Visibility is often fantastic, with a seemingly endless view on a good day in Palau's crystal clear waters. In reality it reaches around 200ft, or 60 metres. The wrecks closer to the mainland will have slightly diminished visibility due to nearby Koror. Palau can be dived all year round, with the optimum times in the dry months between October and April. Nitrox 32% is offered as complimentary.
There is also a wide range of activities on offer between dives, including kayak tours through the rock islands and to various derelict Japanese WWII fortifications, sunken aeroplanes and submerged limestone caves. Land tours visit lush rainforests and remote waterfalls, as well as ancient abandoned villages and WWII artefacts.


Sample Itinerary

Day 1 You will be picked up from your hotel at 12:30pm and taken to the Palau dive centre where you will get your gear ready and embark on the Ocean Hunter. Lunch is served onboard before a first dive on Helmet Wreck (easy to dive Japanese WWII ship, good for checking gear and weights). The Ocean Hunter will then cross the lagoon to German Channel, with a second dive here or at Big Drop Off. An evening meal will then be served but can be brought forward or delayed at your request to accommodate a night dive.
Days 2-6 Wake up 6:00-6:30am with tea, coffee and sweet rolls.
A typical week of diving will be at the following dive sites: Blue Holes, German Wall, Barnum Wall, Blue Corner, Turtle Cove, Ngedebus coral gardens, Fairyland, etc.
Towards the latter part of the trip the Ocean Hunter will move to the Peleliu area and there will be the opportunity to dive at Peleliu Wall, Peleliu Corner, Peleliu Coral Garden, Orange Wall, Peleliu Expressway, White Beach, Yellow Wall, etc. For those who are interested in land tours there will be the chance to explore the island of Peleliu which was a major battlefield during WWII. On the penultimate day of the trip the Ocean Hunter will travel on to Ulong where the famous Ulong Channel and Siaes Tunnel can be dived.
7:00am First dive
8:30am Full breakfast
10:00am Second dive
12 noon Lunch
1:30pm Third dive
4:00pm Fourth Dive
7:00pm Dinner
8:30pm Night Dive
Day 7 The final day of the trip often includes a shipwreck dive (Iro or Chuyo Maru) and then Chandelier Cave as the Ocean Hunter makes its way back towards Koror. If time permits then a trip to nearby Mandarinfish Lake can be offered. Return to dock late afternoon.
Day 8 Breakfast at 7:00am before disembarking Ocean Hunter at 8:00am. Transportation to the hotel or airport is included.
Itinerary may vary as all trips are tailored to take advantage of the best weather and sea conditions.

Gallery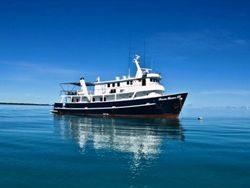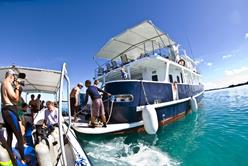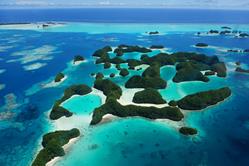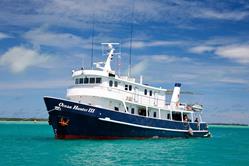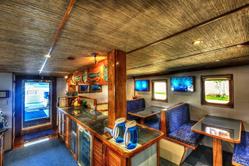 Fact File
Best Time: October - April.

Average Air temps: 29°C

Average Water temps: 27-29°C

Visibility: 25-60m

Top Dive Sites: World War II freighter, warships and aircraft including Japanese Wrecks - Iro Maru, Teshio Maru, Bichu Maru and Japanese Zero fighter, Jake Seaplane. Chandelier Cave, Peleliu Wall, Cut and Expressway. Highly recommended is the Blue Holes and Blue Corner Wall at Koror Island, New and Big drop offs, German and Ulong Channels.

Great Reasons to Dive in Palau


World class WWII wreck and drift diving.
Wall diving plus shallow, wide caves and caverns.
Shark diving weeks.
Big shoals - snappers, grunts, barracuda, Eagle rays and mantas.
Macro and underwater photography sites - Mandarinfish!
Land, snorkel and kayak tours.