2020 - 2021 Scuba Diving Holidays, Liveaboards and Learn to Dive Courses to the Maldives, Red Sea, Canary Islands, Far East, Caribbean and the Pacific.
Turks and Caicos, Caribbean - Liveaboards
The Caribbean has something to offer everyone and one of our most popular diving regions after the Red Sea. For many, the Caribbean epitomizes luxury in an idyllic setting, for divers it offers so much more.
Surprising and enchanting, visit underwater sculpture parks, varied wreck dives & coral gardens. Experience fast and thrilling drift dives & cave diving. The Caribbean Sea is the right choice for the novice, including the technical diver with its ample choice of shore and boat dive sites, resorts, dive centers & liveaboards.
Each island has an individual character and feeling but always offering a warm, friendly welcome, exotic food, tropical fruit and fresh seafood. Mix this up with a sundowner and lively music against a backdrop of cobalt blue skies and you'll want to return before you leave.
Turks & Caicos Aggressor II Liveaboard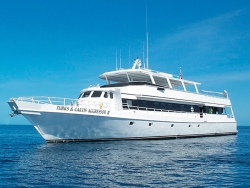 Dive the Turks & Caicos Islands aboard a luxury liveaboard and dive walls that plunge into the deep blue and include crevasses and ledges that are decorated with huge orange Elephant Ear sponges, Gorgonians and Crimson Rope Sponges. Experience the world famous service with the aboard this excellent Aggressor Liveaboard.
Fact File
Diving Conditions






Suitability:
Beginners

Intermediates

Advanced

Technical

Best Time: April to December.

Average Air temps: 30°C

Average Water temps: 25-29°C
(78-84°F) 3mm wetsuit recommended

Visibility: 5-100m (Jan-June)
Up to 200m (July - December)

Top Dive Sites: French Cay - Double D, G-Spot, Rock & Roll. Northwest Point - Shark hotel & The Dome.West Caicos - Gullies & The Anchor.

Great Reasons to Dive in Turks & Caicos


Beautiful sheer wall diving with pristine corals
Abundant macro life ideal for photographers
Grey Reef & Nurse shark, Eagle rays,
Huge Orange Elephant Ear Sponges, Gorgonians & Crimson Rope Sponges.
Eagle Rays, Angelfish, Snapper, Horse-eye Jacks, Lobster, Garden Eels, Angelfish.