2022 - 2023 Scuba Diving Holidays, Liveaboards and Learn to Dive Courses to the Maldives, Red Sea, Canary Islands, Far East, Caribbean and the Pacific.
Red Sea and Middle East - Liveaboards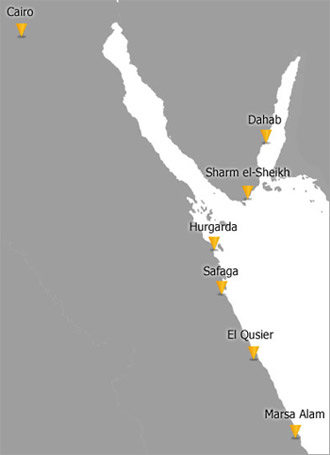 A Red Sea scuba diving holiday offers some of the most amazing dive conditions year round for all types of diving - both shore based, boat diving or on one of our specially selected liveaboards. Red Sea dive holidays offer the best value and are perfect for non-divers too.
Egypt is the Land of the Pharaohs, with abundant historical sites to visit and is the perfect paradise for year round diving holidays. The choice of hotels is vast and there is something to suit all tastes and budgets. Why not explore some of the ancient sites with an excursion to see the Pyramids or Tuthankhaun's tomb in the Valley of the Kings.
The crystal clear warm water and some of the best and most established dive centres in the world to choose from, make Egypt a wonderful experience for both first timers and annual 'pilgrims' alike. Each destination offers it own special character and variety of diving.

Red Sea Emperor Echo - Red Sea Liveaboards, Red Sea and Middle East
NEWLY FEATURED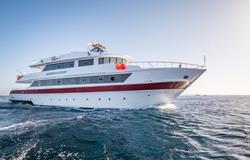 The Emperor Echo Liveaboard, completely refurbished in 2018, gives the opportunity for up to 25 divers to explore the some of the best diving on offer in the southern Red Sea. This is an excellent value liveaboard, perfect for the 'eat-sleep-dive-repeat' diver, with a contemporary and spacious saloon, restaurant and lounging areas.
Location
The Emperor Echo liveaboard is based in the Red Sea, with transfers arranged from Marsa Alam or Hurghada airports and hotels for departures from Marsa Ghalib Port, or from Hurghada airport and hotels for departures from Hurghada.
Accommodation
Up to 25 guests can be comfortably accommodated with 6 twin berth cabins and 1 single berth cabin on the lower deck, 3 twin berth cabins on the main deck, and a further 2 twin cabins on the upper deck. The latter are located next to undoubtedly the pièce de résistance - the sleek panorama double on the upper deck. All cabins are en-suite and come with individual air conditioning, two cabin towels, one deck towel and bathrobe per guest. Limited free wifi is available when in signal. Food is served as standard, with soft drinks provided and red wine with dinner.
Diving
The Emperor Echo sails many of the finest dive sites in the Red Sea, including wrecks such as the Salem Express, Roslie Moller and Thistlegorm, stunning reefs at the Ras Mohamed National Park and incredible wall diving at the Brother Islands. Dive itineraries are tailored according to the seasons when the weather and sightings are at their peak, which gives the diver more variety and the opportunity to explore the Red Sea at a more affordable price.
At least two professional diving guides will accompany you on the trip, and there is free NITROX available for certified divers up to a maximum of two tanks per day (subject to availability). A range of PADI courses are available, including the FREE Nitrox Diver Course. You are required to have 30 logged dives to dive in the Marine Parks and you are expected to be able to complete each dive with your buddy or following the guide.
The maximum number of dives are 28 dives in the summer and most trips will usually offer around 25/26 but in the winter, this will normally be reduced to a maximum of 24 and divers should be prepared to get up early each day. The boat will not move to a different site for each dive. At least 3 dives per day will be guided with other dives taken with a buddy. You are required to have at least a PADI Open Water diver certification or equivalent to be eligible for this trip.
Gallery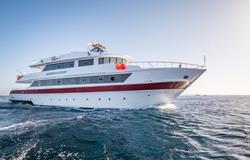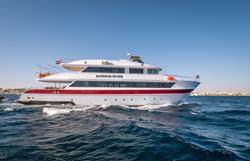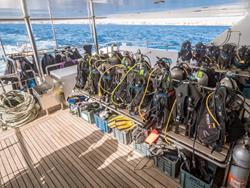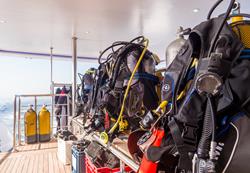 Fact File
Best Time: All year.

Average Air temps: 18-35°C

Average Water temps: 18-28°C

Visibility: 15-30m

Top Dive Sites:
North - Shaab El Erg, Abu Nuhas Wrecks (Giannis D, Carnatic, Lentil & Tile wrecks), Gubal Island, WWII British wreck Thistlegorm,Ras Mohamed National Park & Shark Reef. Rock & Zabargad Islands (Khanka wreck). South - Big and Little Brothers, Daedalus Reef and Elphinstone, St John's Fury Shoal's system.

Great Reasons to Dive on a Liveaboard in the Red Sea


Variety of itinearies to North and Southern Sites.
Departures from Hurghada, Marsa Alam & Hamata.
Perfect combination of reef & wreck diving.
Suites, shared or singles cabins.
FREE Nitrox Courses & FREE Nitrox fills on certain boats.
Sharks & large pelagics at southern sites.