2022 - 2023 Scuba Diving Holidays, Liveaboards and Learn to Dive Courses to the Maldives, Red Sea, Canary Islands, Far East, Caribbean and the Pacific.
Red Sea and Middle East - Liveaboards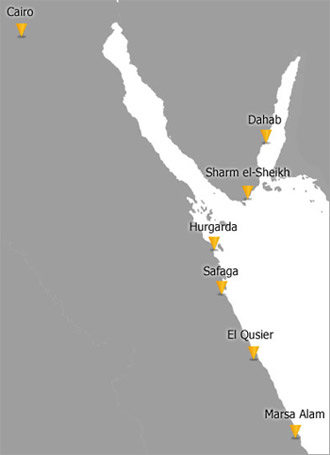 A Red Sea scuba diving holiday offers some of the most amazing dive conditions year round for all types of diving - both shore based, boat diving or on one of our specially selected liveaboards. Red Sea dive holidays offer the best value and are perfect for non-divers too.
Egypt is the Land of the Pharaohs, with abundant historical sites to visit and is the perfect paradise for year round diving holidays. The choice of hotels is vast and there is something to suit all tastes and budgets. Why not explore some of the ancient sites with an excursion to see the Pyramids or Tuthankhaun's tomb in the Valley of the Kings.
The crystal clear warm water and some of the best and most established dive centres in the world to choose from, make Egypt a wonderful experience for both first timers and annual 'pilgrims' alike. Each destination offers it own special character and variety of diving.

Oman Aggressor Liveaboard - Oman, Red Sea and Middle East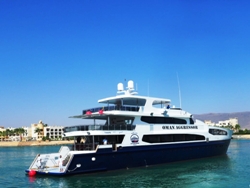 NEWLY FEATURED
For your scuba diving liveaboard holiday to Oman, the luxury Aggressor liveaboard is a new 148ft steel yacht in service since 2017, and powered for comfort, safety and stability. The Oman Aggressor will give you the opportunity to maximise your diving in a year round, warm weather location with pristine reefs, a variety of marine life whilst enjoying views over a rugged, mountainous coastline and endless beaches.

Location
The Oman Aggressor docks at varying locations throughout the year depending on the active itinerary. Throughout the winter months (November-April), the Aggressor will dock at the Juweira Marina on the southern coast of Oman as it follows the Hallaniyat Islands itinerary. During May and June the yacht will follow the Musandam Peninsula itinerary and dock at the Khasab Port Marina on the northern tip of the country. Between July and October, the liveaboard docks at the Al Mouj Marina in the capital Muscat, and follows the Daymaniyat Islands itinerary.

Accommodation
The 148ft steel hulled motor yacht accommodates up to 22 passengers in ten spacious, air-conditioned staterooms and one suite, all with hair dryers and flat screen TVs. Six of the staterooms are deluxe and located on the lower deck, with two side by side single beds, a private bathroom and shower, porthole and individual climate control. There are a further four master staterooms located on the upper deck, two with single beds (that can be combined into a king size upon request) and two with king size beds. All master staterooms are fitted with the features of the deluxe staterooms, with a picture window in place of a porthole. The suite is located on the main deck and also equipped with the same features, but larger and fitted with a panoramic window.

Facilities
The yacht features a well appointed, spacious salon, a large sun deck with shading areas, chaise lounges and deck chairs, a jacuzzi and bar. The flat screen TV in the salon has access to over 400 films, TV shows and documentaries, as do the individual TVs in the staterooms. Guests are also able to connect their personal computers to the TV in order to display and edit underwater pictures and video. The liveaboard features a complete digital photo facility with a computer for downloading photos from a day's diving. Photographic equipment is available to rent and free coaching of editing software is offered along with this. There is a camera table and large charging station; guests should bring their own chargers. There is a 'video of the week' available for purchase at the end of the trip featuring all guests and crew.

The cuisine on board is varied, ranging from more Western style food to Omani specialities. Breakfast includes hot tea/coffee, juices, cereals and fresh fruits; there is a buffet for lunch featuring homemade breads and salads, and an elegant dinner each evening with tableside service, in addition to fresh mid-morning and afternoon snacks. Drinks (beer, wine and non-alcoholic) are complimentary whilst on board. Linen is changed mid week upon request and fresh towels are supplied as needed. Internet is available when close to shore. A satellite phone can be used for incoming and outgoing calls for an additional charge. There is a mini-boutique onboard offering a range of t-shirts and gifts and miscellaneous items. Onboard safety equipment including defibrillator and D.A.N. oxygen system are fitted as standard.


Diving
Most guests make between 3-4 dives per day. You'll be diving in water that ranges from 23-31˚C, so a 5-7mm wetsuit and hood should be more than adequate. Bringing safety items along such as Dive Alert and Safety Sausage is advised, and indeed any other safety items you feel necessary. Filled tanks, weights and weight belts are included, with unlimited nitrox available for the week for an additional charge. Visibility ranges from around 15-25m, and is at its best during the winter months. The visibility may not seem vast to some, but this is largely due to nutrient blooms, which in turn attract shoals of fish. Indeed, the variety of marine life is excellent; more than 1000 different types of fish call the Arabian Sea and Gulf of Oman their home. You can expect to see Manta rays, sharks, mobula and mola mola, turtles, dolphins, and occasionally whale sharks alongside smaller species such as moray eels, seahorses, Angelfish, Scorpionfish, tuna, King mackerel, lobster and nudibranchs, which more than 1000 different types of fish and shellfish. Be sure to keep an eye out for the Oman clownfish, native to the area. If you're even luckier, you may catch a glimpse of one of the humpback whales and sperm whales that live in these waters. Don't expect to be in the water with these huge creatures, but you have a good chance of spotting them from the boat. (Whale sharks, mola mola and manta rays may be seen on the Muscat itinerary only)


Itineraries

The Jewels of Oman - Three Unique Itineraries to choose from. Oman offers pristine reefs, stunning deserts, rugged mountain landscapes, green oases, endless beaches and friendly people for a scuba diving liveaboard trip. The Arabian Sea and Gulf of Oman provide large coral reefs in the deep fjords of Musandam (Gulf of Oman), at Daymaniyat Islands off the coast of Muscat and Hallaniyat Islands off the coast of Mirbat in southern Oman (Arabian Sea) as well as untouched and undiscovered reefs and wrecks.


Sample Itineraries:
Daymaniyat Islands (7 day dive schedule)
Arrive and board the Oman Aggressor at Al Mouj Marina, Muscat, between 3pm-9pm. The boat departs Saturday night at approximately 10pm. Over the next few days you will discover why the dive sites around the Daymaniyat Islands helped place Oman on the map as a global dive destination. These islands, located north of Muscat, have been placed under UNESCO protection and the marine life has flourished as a result. Untouched coral gardens and walls are home to an abundance of life, including Leopard sharks and turtles amongst a variety of smaller fish.
Musandam Peninsula (7 day dive schedule)
Arrive and board the Oman Aggressor at Khasab Port Marina anytime after 3pm, as the boat will depart Saturday evening or Sunday morning depending on the tide. The Musandam Peninsula is separated from the rest of Oman by the United Arab Emirates and characterised by dramatic scenery: jagged mountains falling dramatically into the ocean, fjords, bays and islands carved into the landscape. This remarkable scenery above the surface continues below it, with stunning drop offs covered in healthy corals and a variety of fish. The currents here make the diving almost exclusively drift diving, which attract a number of larger pelagics including dolphins, rays and numerous shark species. Visibility is slightly decreased here, typically around 15-20m, but certainly won't hinder you spotting the sheer volume of marine life!
Hallaniyat Islands (7 day dive schedule)
Arrive and board the Oman Aggressor at Juweira Marina, Salalah, anytime after 3pm, as the boat will depart Saturday evening or Sunday morning depending on the tide. The remote nature of this excursion will suit divers comfortable with an exploratory itinerary, with many sites dived very few times before. The Hallaniyat Islands comprise 5 islands straddling the north Indian Ocean and the Arabian Sea. Expect to see a superb variety of pristine coral, including whip corals, gorgonians and colonies with large flower-like polyps. These will be inhabited by a range of marine life including red-toothed triggerfish, as well as shoals of fusiliers, goatfish and bannerfish. There are plenty of wreck dives also available, offering superb night diving opportunities. Parrotfish, urchins, octopuses, Decorator crabs and more hide in the depths.
Itinerary may vary due to weather conditions and yacht location.


Gallery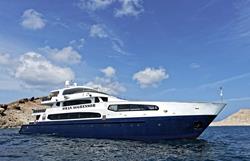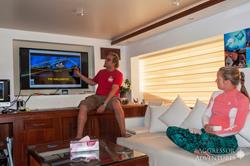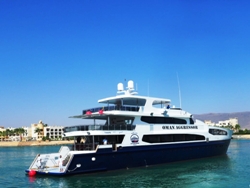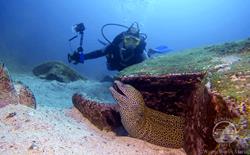 Fact File
Best Time: October to April.

Average Air temps: 22-38/50°C

Average Water temps: 22-25°C due to thermoclinics on Liveboard, up to 30°C close to shore.

Visibility: 15-30m.

Top Dive Sites: Ras Abu Daoud, Al Munasseir wreck, Daymaniyat and Fahal Islands, The Caves and Lima Rock in Musandam, Mirbat in Salalah.Deep fjords of Musandam, Daymaniyat Island off the coast of Muscat and Hallaniyat Islands off the coast of Mirbat .

Great Reasons to Dive in Oman

Easy and shallow coral reefs with hard and soft corals.
Wall diving.
Wreck diving.
1000 variety of fish and shellfish.
Turtles, rays, mobulars, mola momal, shark, dolphin.
Whale shark, humpback and sperm whales.
Combine land-based hotels with Liveaboard diving.