2020 - 2021 Scuba Diving Holidays, Liveaboards and Learn to Dive Courses to the Maldives, Red Sea, Canary Islands, Far East, Caribbean and the Pacific.
Oman, Red Sea and Middle East - Hotels
Sifawy Boutique Hotel

Oman, Red Sea and Middle East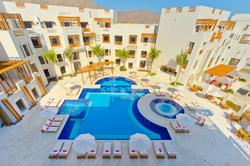 The Sifawy Boutique Hotel is a luxury hotel in Sifah, 40km south of Muscat with onsite PADI dive centre. Choose from Standard, Suite or 1, 2 or 3 bedroom Apartment Residences with large swimming pool and all day dining restaurant. The dive centre is located at the hotel.
Price from £799 Including flights
Fact File
Best Time: October to April.

Average Air temps: 22-38/50°C

Average Water temps: 22-25°C due to thermoclinics on Liveboard, up to 30°C close to shore.

Visibility: 15-30m.

Top Dive Sites: Ras Abu Daoud, Al Munasseir wreck, Daymaniyat and Fahal Islands, The Caves and Lima Rock in Musandam, Mirbat in Salalah.Deep fjords of Musandam, Daymaniyat Island off the coast of Muscat and Hallaniyat Islands off the coast of Mirbat .

Great Reasons to Dive in Oman

Easy and shallow coral reefs with hard and soft corals.
Wall diving.
Wreck diving.
1000 variety of fish and shellfish.
Turtles, rays, mobulars, mola momal, shark, dolphin.
Whale shark, humpback and sperm whales.
Combine land-based hotels with Liveaboard diving.