2020 - 2021 Scuba Diving Holidays, Liveaboards and Learn to Dive Courses to the Maldives, Red Sea, Canary Islands, Far East, Caribbean and the Pacific.
Oman, Red Sea and Middle East - Liveaboards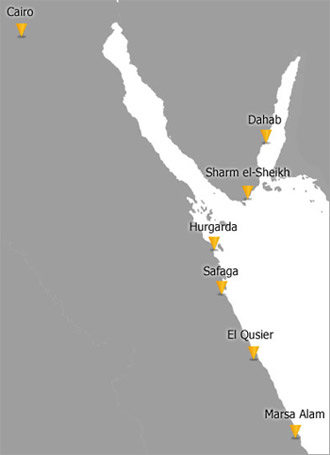 A Red Sea scuba diving holiday offers some of the most amazing dive conditions year round for all types of diving - both shore based, boat diving or on one of our specially selected liveaboards. Red Sea dive holidays offer the best value and are perfect for non-divers too.
Egypt is the Land of the Pharaohs, with abundant historical sites to visit and is the perfect paradise for year round diving holidays. The choice of hotels is vast and there is something to suit all tastes and budgets. Why not explore some of the ancient sites with an excursion to see the Pyramids or Tuthankhaun's tomb in the Valley of the Kings.
The crystal clear warm water and some of the best and most established dive centres in the world to choose from, make Egypt a wonderful experience for both first timers and annual 'pilgrims' alike. Each destination offers it own special character and variety of diving.

Oman Aggressor Liveaboard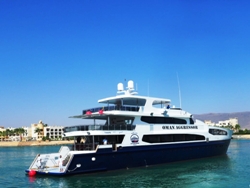 Explore Oman's excellent dive sites aboard a luxury liveaboard built for comfort, safety and stability. Pristine coral reefs are home to a variety of marine life, with a mix of larger pelagics and macro life seen in abundance. There are also many wrecks offering superb night diving. A wonderful opportunity to get off the beaten track and behold stunning scenery both above and below the surface.
Fact File
Best Time: October to April.

Average Air temps: 22-38/50°C

Average Water temps: 22-25°C due to thermoclinics on Liveboard, up to 30°C close to shore.

Visibility: 15-30m.

Top Dive Sites: Ras Abu Daoud, Al Munasseir wreck, Daymaniyat and Fahal Islands, The Caves and Lima Rock in Musandam, Mirbat in Salalah.Deep fjords of Musandam, Daymaniyat Island off the coast of Muscat and Hallaniyat Islands off the coast of Mirbat .

Great Reasons to Dive in Oman

Easy and shallow coral reefs with hard and soft corals.
Wall diving.
Wreck diving.
1000 variety of fish and shellfish.
Turtles, rays, mobulars, mola momal, shark, dolphin.
Whale shark, humpback and sperm whales.
Combine land-based hotels with Liveaboard diving.