2022 - 2023 Scuba Diving Holidays, Liveaboards and Learn to Dive Courses to the Maldives, Red Sea, Canary Islands, Far East, Caribbean and the Pacific.
Learn Underwater Photography Course Canary Islands
Article date : Oct 24, 2014
New Learn Underwater Photography Course - Lanzarote, Canary Islands
in association with INON UK.

Many scuba divers want to take a learn underwater photography course, or take photographs to record their diving experiences and where better than on an overseas scuba diving holiday to the Canary Islands.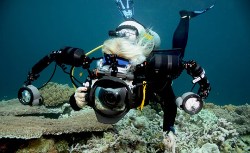 If you are already have bought expensive underwater compact cameras but are getting disappointing photographs of your precious diving holidays the Sportif Dive Underwater Photography Course will help you improve your technique with 6 practical sessions and the back up of a PADI recognised centre to arrange your shore or boat dives to practise what you have learnt.
The INON UK Level One Underwater Photography Course is designed to provide you with the knowledge, skills and experience to prepare you to take great underwater photographs, consistently, in clear water. This is an entry – level underwater photography course. We believe it is the most comprehensive beginner's course available and the only one approved by a leading underwater camera equipment manufacturer.
The course was created for divers wanting to take better underwater photographs. It assumes no prior knowledge of land photography. The response to the INON UK Level One underwater photography course has been hugely positive from students and instructors alike. One of the great strengths of this course is because INON UK instructors are highly experienced underwater photographers themselves, so they can often tailor personalised coaching to your needs.
The INON UK Level One underwater photography course covers both theory knowledge and practical skills. To take good underwater photographs that can be shown to friends, posted on your website or hung on your home or office wall, you need to understand some theory. The course was developed to make it easy to understand the reasons that divers have problems taking crisp, colourful underwater images and explain the solutions.

There are six main classroom topics.
Session One This introduces the subject of light, which is the basis for all photography.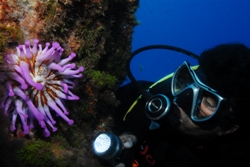 This talk goes on to explain how light is disrupted by water and how reflection, absorption, scatter and diffusion all conspire to create lacklustre underwater photographs. You'll learn why what your eyes see underwater is very different to what your camera records. This presentation helps set the scene for understanding how to overcome these problems and routinely take sharp and vibrant underwater photographs time after time.


Session Two
To take good underwater photographs you need to understand some of the features of your underwater compact camera. Compact cameras are really meant for casual surface shooting and taking them underwater requires them to work in an environment for which they are not designed. It's tempting to just leave cameras set to automatic, but this is one of the main reasons divers return from expensive dive trips with disappointing images. This session explains the way your camera works and which features you need to understand and take control of, such as shutter speed and aperture. You'll also start learning about camera lenses in more detail.

Session Three
Most underwater photographers want strong colours in their underwater photographs. This is one of the key skills divers struggle with. This session explains different methods for creating colourful images when shooting by sunlight. You'll compare the different results that can be achieved using underwater modes, auto and manual white balance settings and the effect of adding special underwater filters. This information will help you select the best option for each situation.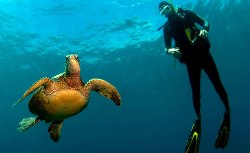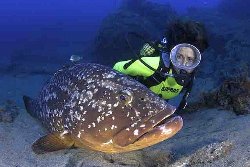 Session Four
Underwater flash units or strobes are essential tools for most underwater photographers. They are used to restore colour, light up dark areas inside wrecks and under over hangs and to fill in shadows. However strobes can be a very confusing and technical subject. This presentation provides must have information about strobes including how to position your strobe to evenly light your images and how to avoid backscatter in your photographs.

Session Five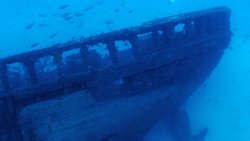 Underwater photography is much more equipment dependent than land photography. The conditions under which underwater photographers must work mean that compact cameras built in lenses are very limiting. For most subjects additional lenses need to be used. This presentation explains the limitations of compact camera lenses and explains how accessory super wide – angle, wide – angle and close up lenses will enable you to successfully portray subjects from tiny nudibranchs to imposing shipwrecks.

Session Six
Successful underwater photographers rely on tried and tested techniques to make underwater pictures with impact. This presentation shares the top compositional ideas photographers rely on and a few of the insider tips that will make diving to take underwater pictures more productive for you. INON Uk's accredited underwater photography instructors have lots of their own images and experience to draw on for this discussion.

Practical Skills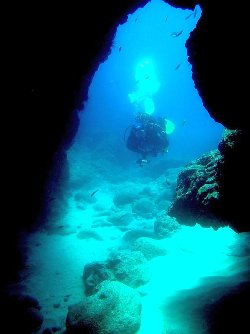 The INON UK Level One digital compact camera underwater photography course includes thorough practical training to provide the skills and experience you'll need to back up what you've learned in the classroom. Your accredited INON UK underwater photography instructor will conduct these sessions in the most effective way possible taking into consideration local logistics such as whether practical sessions will be pool or open water based and number of dives required.

Skills covered as a minimum include practical exercises that let you see for yourself the effects of shutter speed on your underwater pictures. These let you learn how to prevent motion blur and reduce burn out from the sun as well as creative use of shutter speeds to freeze shafts of light.
You'll also learn when and how to use manual white balance control for improved colours when shooting by sunlight. You'll practice aiming underwater flash units to prevent backscatter and to evenly light your subject. You'll also learn how to get the flash exposure correct.
The range of subjects you can encounter on a diving trip means that you need to understand the different uses of underwater camera lenses. Your INON UK underwater photography instructor will provide tips on using your built in lens for fish and basic close up photography. However the scope of built in lenses for underwater photography is very limited. So you'll learn the tips for using close up lenses for taking frame filling pictures of tiny subjects typically encountered on critter dives, like nudibranchs. Wide- angle and super wide-angle lenses are essential tools for photographing reef scapes, shipwrecks, large sharks and mantas. So you'll also learn the special techniques needed to use these properly including shooting creative close focus, wide - angle images.
Throughout your course your instructor will review your images and discuss your progress with you. This feedback and guidance from an experienced underwater photography mentor ensures you are mastering the information and skills taught.

Next Courses
Date: 06 December 2014, 6 & 20 January 2015
Other dates available. Call for details.
Price: from £699pp (depending on flight requirements)
Includes: 7 nights SC accommodation (twin share studio apartment).
return flights from the UK
airport transfer (collect and return) in Lanzarote
INON UK Level 1 Underwater Photography Course
To Book: For further information contact us below.

Tel: +44 (01273) 844919
+44 (01273) 844919
Email dive@sportif.travel