2022 - 2023 Scuba Diving Holidays, Liveaboards and Learn to Dive Courses to the Maldives, Red Sea, Canary Islands, Far East, Caribbean and the Pacific.
GRENADA COMPETITION WINNERS
Article date : May 31, 2011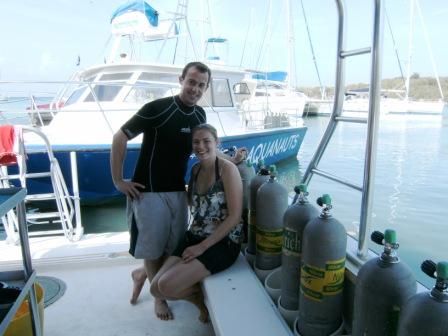 Diver magazine competition winners, James and Kate Tetley, have just returned from a week's diving after their lucky win of a week's holiday for two to Grenada. They flew to Grenada from Gatwick in comfort on 22nd May courtesy of the Grenada Tourist Board in conjunction with British Airways. Once on the island it was a quick 15 minutes transfer to their luxury self catering accommodation at the Blue Horizon Garden Resort just minutes from Grand Anse beach.
Their diving adventure started the following day with Aquanauts dive centre providing a 5 day – 10 dive pack that took in some of the best dive sites within 10 to 30 minutes from the private dock. The couple dived on a variety of reefs and wrecks including the famous Bianca C with a variety of conditions from gentle drift to exciting Atlantic dives with more current. They were able to take some good photographs on the clean, healthy reefs and also spot a turtles, nurse sharks, eels, Caribbean squid morays, many juveniles and rarely seen varieties plus big French Angel fish.

Enjoying the spacious and comfortable aboard the Aquanaut boats, James complimented the diving operation's professional approach. As a PADI 5 Gold Palm Resort, SDI & TDI training facility they are able to accommodation all levels of divers offering in resort training plus free Nitrox for certified divers.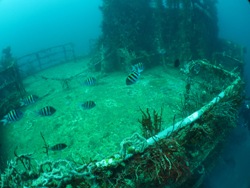 James Tetley said "The holiday was excellent, from the moment we stepped off the plane, we found the islanders to be genuinely warm and friendly people. The self catering units at the Blue Horizon were spacious, clean and comfortable, but what really made it was the restaurant – a superb chef, and all the staff were great value, they made us feel very welcome and the quality was exceptional.
Pic: Shaken Wreck (courtesy of James Tetley)
Aquanauts put on a great 5 days of diving – the staff were experienced and welcoming, the boats were fast and spacious and the dive sites were great. Over the 5 days, we dived wrecks including the Bianca C and Shakem and pristine reefs on the Atlantic side such as Shark and Lighthouse Reef, seeing rays, turtles and nurse sharks, along with a whole host of reef fish and eels. The water was a balmy 29 degrees C, and air temps were 31 degrees C but with a constant cooling south easterly.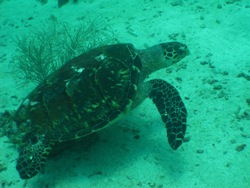 Overall, I would really recommend the island as a diving destination, and the package put on by Blue Horizon and Aquanauts was seamless – hotel pickups every morning by 'King Elvis' (the local taxi firm) dropped us down at True Blue Bay, and returned us to our hotel after a morning's diving at 1.30, ready for an afternoon sleeping on nearby Grande Anse Beach."
Pic: courtesy of James Tetley.
Sportif Dive recommend Grenada for some of the best diving in the Caribbean with a variety of dive sites suit all interests with over 30 sites and 11 wrecks most a short boat ride away. As a holiday destination, Grenada offers a relaxing Caribbean holiday where you can easily explore the historic Colonial town of St George, colourful markets, rainforest walks to waterfall pools and the rum distilleries and chocolate factories. The beautiful sandy beaches, swaying palms and cooling trade winds offer the ultimate in relaxing holidays but with exciting diving including the underwater sculpture park. Call now for details of combined accommodation and diving packs or for more details see here.