2022 - 2023 Scuba Diving Holidays, Liveaboards and Learn to Dive Courses to the Maldives, Red Sea, Canary Islands, Far East, Caribbean and the Pacific.
Mantas & Hammerheads in Tobago
Article date : Apr 1, 2012
April and May Manta Madness!!!!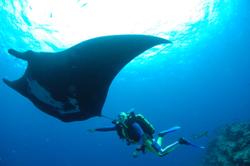 Our partner PADI and BSAC dive centre in Tobago Dive Experience has reported they are seeing Mantas every other day at the famous Sisters Diving site off the north west coast of Tobago in the Caribbean.
Over the last two months the conditions have been perfect, and they've been seeing Manta's virtually every other day.
Not only that, but Hammerheads at Sisters too!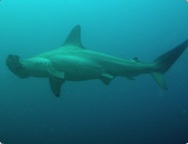 The diving in Tobago is little known by the rest of the world, but recent reviews in Sport Diver and other diving magazines seem to be raising the profile of this small caribbean island. The Speyside area has some of the best diving in the Caribbean for the more adventurous diver, whilst the South-West has much more easy diving for the more casual diver. Add to
this regular visits of the Manta's, what more could you ask for?

For details on Tobago diving holidays see here>