2020 - 2021 Scuba Diving Holidays, Liveaboards and Learn to Dive Courses to the Maldives, Red Sea, Canary Islands, Far East, Caribbean and the Pacific.
Tobago, Caribbean - Hotels
Shepherds Inn

Tobago, Caribbean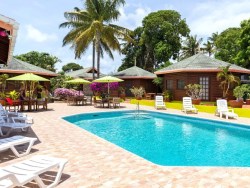 The Shepherds Inn, Tobago Caribbean (formerly the Toucan Inn & Bonkers Bar) is a just 5 minute drive from the dive jetty at Pidgeon Point. Enjoy the relaxed atmosphere with 20 private pool or garden view cabana accommodation a short walk from the public beach.
Price from £995 Including flights
Tropikist Beach Hotel

Tobago, Caribbean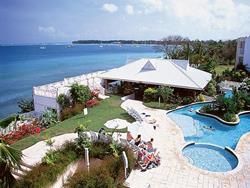 The Tropikist Beach Hotel in Tobago is a small, mid range hotel which offers excellent value overlooking the beach. Set in spacious tropical gardens, overlooking Store Bay on the South West of the island, you can walk out to the local beaches, bars and restaurants.
Price from £1,050 Including flights
Kariwak Village

Tobago, Caribbean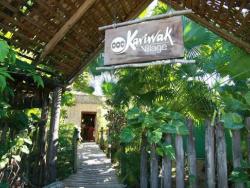 The Kariwak Village is a small family run, boutique style, eco lodge with good quality accommodation. Set amongs tropical gardens with pool and organic gardens which supply fresh produce for award winning restaurant. There is a Yoga buree, jacuzzi pool & hammocks set in the peaceful gardens. If you are looking for something a little different with personal service and high quality restaurant, the Kariwak comes highly recommended.
Price from £1,075 Including flights
Coco Reef Resort & Spa

Tobago, Caribbean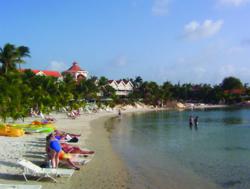 A high quality hotel in Tobago, situated on its own private, white sand beach with onsite first class PADI dive centre, gym and spa services. If you like first class service, yet a relaxed Caribbean resort this is the place for you. Swimming pool, spa, beachside restaurant and fine dining and all a short ride from the markets and shopping in Scarborough.
Price from £1,395 Including flights
Nabucco Resort Speyside Inn

Tobago, Caribbean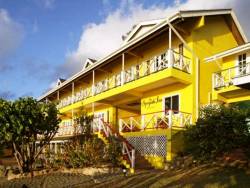 Located in the North of Tobago directly on Speyside Bay. The Nabucco Resort at Speyside Inn offers spectacular views out to the nature reserves of Little Tobago and Goat islands and PADI dive centre onsite. Over 30 dives sites and twin centre offered with south of Tobago.
Price from £925 Including flights
Blue Waters Inn

Tobago, Caribbean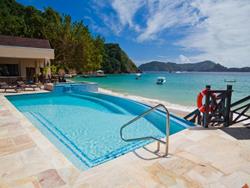 Blue Waters Inn is a beachfront, boutique resort tucked away in its own secluded bay amongst 46 acres of lush tropical grounds. Located in Batteaux Bay, Speyside it's just over 1 hours drive from the airport. The hotel has a secluded, relaxed atmosphere with social bar and restaurant overlooking the beach. Our most luxurious hotel accommodation in Speyside.
Price from £1,395 Including flights
Fact File
Best Time: All year (best Jan- May)

Average Air temps: 26-30°C

Average Water temps: 25-28°C

Visibility: 15-50m (visibility is reduced in rainy season Jul-Nov)

Top Dive Sites:
South MV Maverick, Mt Irvine Wall, Divers Thirst & Diver's Dream. Good sheltered, fast drifts, rare & wrecks. Caribbean coast - The Sisters. In the North East Kelleston Drain, London Bridge, Japenese Gardens, Cathedral. Gentle inshore & advanced Atlantic sites.

Great Reasons to Dive in Tobago



300+ species marine life
Rare angel fish, schooling pelagics, Scalloped Hammersheads (Dec-Apr), Mantas, sharks & rays.
Most dive sites 10-20 mins.
Eco island - nesting Leatherbacks, rare birds
Beautiful unspoilt beaches & protected rainforest.
Carnival, jazz & 'jump ups'.