2020 - 2021 Scuba Diving Holidays, Liveaboards and Learn to Dive Courses to the Maldives, Red Sea, Canary Islands, Far East, Caribbean and the Pacific.
Tropikist Beach Hotel

Tobago, Caribbean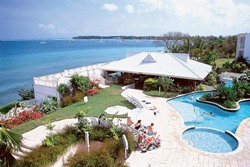 The Tropikist Beach Hotel in Tobago is a small, mid range hotel which offers excellent value overlooking the beach.
Location
Located 5 minutes from the airport, beach and a few shops. Set in 5 acres of tropical landscaped gardens and close to the bars and restaurants in the Crown Point area and a short walk from the public beach at Store Bay.

Accommodation
The hotel has a total of 51 rooms; 23 standard, 7 Superior and 21 Deluxe. All roooms have air conditioning, cable television, small fridge, a radio alarm clock, DD telephone and a balcony or terrace. Standard Rooms have 1 or 2 double beds, small ensuite bathroom with shower, a garden or pool view. Superior Rooms are larger than Standard rooms, have 2 double beds or 1 kingsize bed, have a larger ensuite bathroom with shower and a bath and a sea view. Deluxe Rooms are located in a separate wing overlooking the sea, have 2 double beds or 1 kingsize bed, have an ensuite bathroom with shower and a bath, ceiling fan, mini safe, iron and ironing board and a sea view. All rooms can accommodation 3 adults or 2 adults and 2 children.
Facilities
The hotel has 2 swimming pools, with sunbathing terraces and lounge chairs. The main Sunset Restaurant is where you take breakfast lunch and dinner with an international buffet. Lunch is also available at the Bayside Grill and refreshments from the Poolside bar. A spa facility offers massages for additional charge. B&B or All inclusive board basis is available. Room service and laundy service if available. Wifi is available in common areas. There is regular live entertainment provided. The Store Bay beach next to the hotel is perfect for beach games and early morning walks. Because of the coral and local currents it is safer to swim at the nearby Store Bay public beach just a short 5 minute walk away.
Diving
The PADI Dive centre is just located at the Coco Reef Hotel just a short 5 minute drive. Complimentary pick up and drop off is offered by the dive centre. More >
Gallery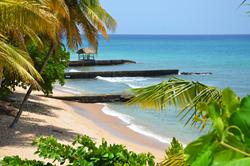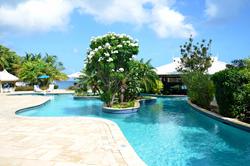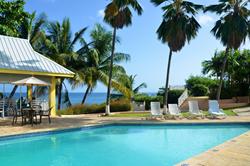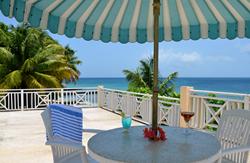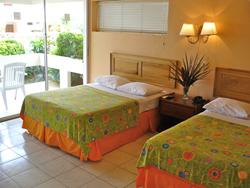 Fact File
Best Time: All year (best Jan- May)

Average Air temps: 26-30°C

Average Water temps: 25-28°C

Visibility: 15-50m (visibility is reduced in rainy season Jul-Nov)

Top Dive Sites:
South MV Maverick, Mt Irvine Wall, Divers Thirst & Diver's Dream. Good sheltered, fast drifts, rare & wrecks. Caribbean coast - The Sisters. In the North East Kelleston Drain, London Bridge, Japenese Gardens, Cathedral. Gentle inshore & advanced Atlantic sites.

Great Reasons to Dive in Tobago



300+ species marine life
Rare angel fish, schooling pelagics, Scalloped Hammersheads (Dec-Apr), Mantas, sharks & rays.
Most dive sites 10-20 mins.
Eco island - nesting Leatherbacks, rare birds
Beautiful unspoilt beaches & protected rainforest.
Carnival, jazz & 'jump ups'.