2022 - 2023 Scuba Diving Holidays, Liveaboards and Learn to Dive Courses to the Maldives, Red Sea, Canary Islands, Far East, Caribbean and the Pacific.
Latin America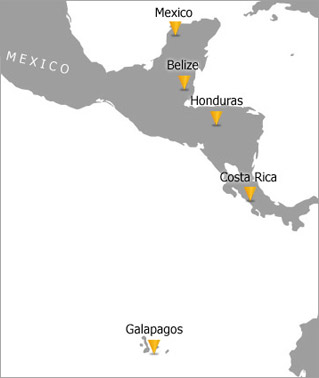 Central and South America offers a wonderful variety of spectacular scuba diving and diving holiday options. Visit the mystical Blue Hole in Belize and the 185 mile long reef second only to the Great Barrier Reef in Austalia. Experience Whale Shark encounters off Utila in the Honduras or dive with the Giant Mantas and Hammerheads off Cocos Islands. The perfect locations for a world class dive holiday.
To get the best out of diving in Latin America we offer a range of luxury liveaboard boats. Providing the highest standards of service, equipment and comfort, you can enjoy carefully planned itineraries. All the yachts are built and powered for comfort, safety and stability with air-conditioned ensuite single and double cabins and luxury facilities including hot tubs, satellite linked media centres and computers. Diving schedules ensure you visit the best diving in each destination with time to explore the cultural sights in the programme.

Belize
Belize is one of the top 10 scuba diving destinations in the world. This central American country has it's own barrier reef at over 185 miles in length in full view as you fly into Belize city stretching along the Caribbean sea. Second only to the Great Barrier reef in Australia and one of the only true atolls in the Western Hemisphere, Belize...
Cocos Island (Costa Rica)
Cocos Island offers scuba diving holidays for the more experienced diver and those particularly looking for big fish and shark action. Located some 375 miles off the western coast of Costa Rica, Cocos Island offers exhilarating diving for the more experienced diver. The island itself is volcanic in origin and covered in dense jungle. Cocos...
Read more about Cocos Island (Costa Rica) >
Honduras
Honduras, located in Central America has Caribbean Sea coastlines to the North and the Pacific Ocean to the South. It is home to the world's second largest reef structure, the Mesoamerican Barrier Reef which stretches down from Mexico and tails off at Honduras. The weather in Honduras averages 29°C, with high humidity and water...
Mexico
Scuba diving holidays in Mexico with Sportif Dive offers diving holidays with great diving conditions. Three thousand years ago, in the fertile, sun-drenched lands of Mexico and Central America, the Maya created a civilization that knew no equal. They built magnificent cities, developed extensive trade tours and fashioned ceremonial centers...