2022 - 2023 Scuba Diving Holidays, Liveaboards and Learn to Dive Courses to the Maldives, Red Sea, Canary Islands, Far East, Caribbean and the Pacific.
Mike Ball Australia Liveaboard Videos
Article date : Jan 31, 2014
Join a Mike Ball Liveaboard expeditions to Australia, diving the Great Barrier Reef, Coral Sea and see the Minke Whales. See the amazing video footage below of previous trips.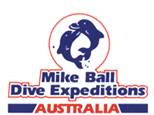 Mike Ball Dive Expedition's liveaboard, Spoilsport is Australia's most awarded liveaboard dive vessel. Her combination of space, stability, and diver conveniences is unmatched. Staying and diving with Mike Ball liveaboards, divers are given an amazing experience diving the best sites north of Cooktown including the Cod Hole and the Coral Sea.

Mike Ball Expedition video with excellent footage of a rarely seen Manta Mating chain, filmed in the Coral Sea, Australia.



7 Night Coral Sea Safari Sept 03 from Mike Ball Dive on Vimeo.


And diving with the Minke Whales!


Weekend Today Whales Story June 24 2012 from Mike Ball Dive on Vimeo.