2022 - 2023 Scuba Diving Holidays, Liveaboards and Learn to Dive Courses to the Maldives, Red Sea, Canary Islands, Far East, Caribbean and the Pacific.
Far East & Australia - Liveaboards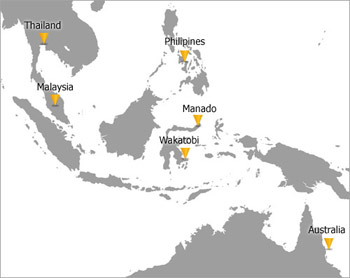 Australia and the Far East is home to some of the world's most exciting and sought after scuba diving and perfect diving holiday locations. Visit sites that haven't changed since the dawn of diving to glide along some of the most picturesque and impressive walls and distant coral seas - dive holidays dreams are made of.
Visit one of the seven wonders of the world – The Great Barrier Reef which runs some 2000 miles along the north western coast of Australia. From here you can explore the Coral Sea, visit the famous Cod Hole and dive with Minke whales. The excellent Mike Ball Liveaboards offer a range of intineraries and you can extend your holiday with a tour of Australia's sites.
Manado and Wakatobi off the north and south east of Sulawesi in Indonesia. Manado's Bunaken Marine park is within 30 minutes of the authentic and unassuming accomodation. Wakatobi offers the best of luxury accommodation & liveaboards. Both are world class diving locations. Photographers will enjoy diving in Lembeh where there are specialist led diving weeks for underwater photographers with excellent quality facilities for your equipment.
Layang, Layang off the coast of Saba is largely unexplored with 50m visibility and famous for hammerheads. This reclaimed 50 acre island offers spectacular wall diving plus giant mantas and morays.
Offering excellent value in the Far East is in the Philippines with some of the best diving in all asia. dive sites. It has the widest choice of dive sites from deep dives, drift dives, wreck sites and many more. Our latest edition to the programme is our choice of liveaboard to Sipadan, Borneo, Raja Ampat and Komodo and the Coral Triangle. See 1000s of schooling pelagics, visit world class muck, reef and wall dive sites - some of the best in the world. Bali and, Thailand ideal for critters, leisurely diving, stunning beaches and perfect for non-divers too.
Raja Ampat Aggressor Liveaboard - Raja Ampat , Far East & Australia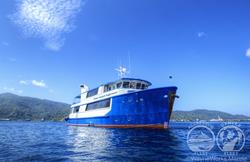 Our recommended Raja Ampat Liveaboard is the Aggressor. The Raja Amat Aggressor luxury liveaboard offers 4 exciting itineraries diving Raja Ampat, Cenderawasih Bay, Banda Sea, Triton Bay the heart of The Coral Triangle, Raja Ampat is known to have the richest coral reef ecosystem in the world. If you haven't experienced the diving in this area before, it is is known for the diversity and abundance of marine life.

Diving
The area of the Four Kings is comprised of over 1500 islands and home to 600 types of corals, 1,500 fish species and over 600 types of mollusks 14 passenger yacht. Each of the four itineraries offer remote pristine diving, each with something a little different. Dive on healthy and vibrant reefs, seamounts, sheer walls, caves, beautiful coral gardens and magnificent critter dives. A 3mm wetsuit and hood is recommended. All diving is from tenders. The yacht offers up to four dives per day (including night dives) and depending on the weather and itinerary.

Location
Raja Ampat is located off the northwest tip of Bird's Head Peninsula on the island of New Guinea, in Indonesia's West Papuaprovince, Raja Ampat, or the Four Kings, is an archipelago comprising of over 1,500 small islands, cays, and shoals surrounding the four main islands of Misool, Salawati, Batanta, Waigeo, and the smaller island of Kofiau.
The Banda Sea is a sea in the Maluku Islands of Indonesia, connected to the Pacific Ocean and surrounded by hundreds of islands, as well as the Halmahera and Ceram Seas.
Cenderawasih Bay is a large bay in the northern Province of Papua and West Papua, New Guinea, Indonesia. The western part of the bay was declared a marine national park in 2002. Triton Bay is the name given to the coastal region east of Kaimana, a small harbor town on the southwest coast of West.

Due to the varied itineraries on offer a variety of arrival airports and locations are offered.

Accommodation
This 100ft steel monohull offers a high levels of comfort and a highly personalised service with 5 Twin Staterooms, 2 Deluxe Staterooms and 1 Master Stateroom.
Twin (lower) and twin bed (upper) L-Shaped. All with private head and shower, port hole in #1 & 2, picture window in #6, 7 & 8. Individual climate control, monitor with media player and hair dryer. Deluxe Staterooms have a Queen bed (lower) and twin bed (upper) bunk-style. Private head and shower, picture windows, individual climate control, monitor with media player and hair dryer. The Master Stateroom has a Queen bed. All with private head and shower, picture window, individual climate control, monitor with media player and hair dryer.

Meal plan 7 nights on board including all meals and beverages. Breakfast (cooked to order), buffet lunch and an elegant chef prepared dinner with tableside service are served in addition to mid-afternoon snacks. Beverages (soft beverages, local beer and wine with dinner) are complimentary while onboard. The yacht is equipped with hairdryers and bathrobes in each stateroom. Linens are changed mid-week and fresh towels are placed in each stateroom as needed.

Diving
Filled tanks, weights and weight belts are included.


Liveaboard (7 nights) Sample Itinerary:

4 Thrilling Itineraries
Raja Ampat • Cenderawasih Bay • Banda Sea • Triton Bay
These itineraries include the best of the Banda Sea and South Raja Ampat (Misool).
The highlights are the amazing macro critters in Ambon Bay, large pelagics in the
Banda Islands, manta cleaning stations near Mansuar and the huge schools of fish near
Farondi. Guests may also see pristine reefs and walls, the rare mandarin fish, sea
snakes, hammerhead sharks and much more.
Cenderawasih Bay National Park is one of the most exciting places to dive in Indonesia
because of the Whale Sharks. In Cenderawasih Bay guests can spend hours diving with
multiple Whale Sharks. The bay is also dotted with hundreds of small islands and atoll's
that are home to some of the most pristine hard coral garden's in Indonesia, and home to
a variety of endemic marine life due to the separation of the bay from open seas for
thousands of years.
Triton Bay lies to the south east of Raja Ampat and is located in the center of the Coral
Triangle. Triton Bay is the name given to the coastal region located east of Kaimana, a
small harbour town on the southwest coast of West Papua. This region offers magnificient
diving that includes beautiful soft coral, giant sea fans, black coral forests, large schools
of fish and much more. The topside scenery is breathtaking with cliffs, beautiful greenery
and ancient cave paintings.


Raja Ampat Itineraries (7, 10, 12 Nights)
Raja Ampat, Raja Ampat/Banda Sea or Raja Ampat/Cenderawasih.
Sample Raja Ampat 10 Night Itinerary
The Raja Ampat itinerary combines the best dive sites of Dampier Strait, Fam, Mansuar
and the awesome dive sites of Misool, the best diving area of Raja Ampat. The great
highlights are the manta cleaning station near Mansuar and the huge schools of fish near
Farondi.
The Dampier straight separates the Birdhead Peninsula from Waigeo and Mansuar. Here
the Pacific Ocean meets the Halmahera Sea, with an explosion of marine life as a
consequence. With regular strong currents, big fish feel especially comfortable. Manta
rays, reef sharks, different schools of mackerel, tuna and barracuda, dolphin and whales.
The night dives under the Arborek or Cape Mansuar jetty is a favorite spot with peculiar
creatures such as wobbegongs, epaulette sharks (walking sharks), nudibranchs, pipefish,
seahorses, frogfish, scorpion fish and the list goes on.
Misool is the southeast of the four big islands of the Raja Ampat archipelago. At the
same time it is one of the most biodiverse regions in the world. The rich variety of reefs
are also not to be overlooked with vertical walls, slopes, dry rocks, caves and lagoons;
some covered with hard corals while the others are covered with brightly colored soft
corals. Also renowned as the center of pygmy seahorses and gorgonians, everywhere
you go you will be amazed by the profusion of marine life that Raja Ampat has to offer
you.

Other itineraries available include:
Banda Sea Itineraries (10 nights)
Banda Sea/Triton Bay or Banda Sea/Raja Ampat.
Cenderawasih Bay Itineraries (7, 9, 10, & 12 nights)
Cenderawasih Bay or Cenderawasih Bay/Raja Ampat
Triton Bay Itineraries (10 nights)
Triton Bay/Raja Ampat or Triton Bay/Banda Sea

Ask for full itineraries available for your preferred dates.
Itinerary may vary due to weather conditions.


Gallery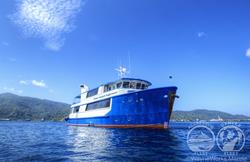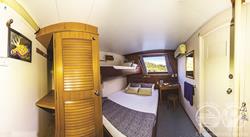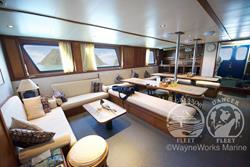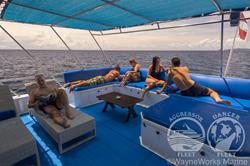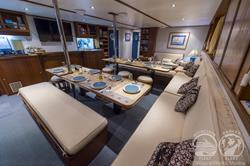 Fact File
Diving Conditions





Suitability:
Beginners

Intermediates

Advanced

Technical

Best Time: All Year.

Average Air temps: 25-17°C

Average Water temps: 28-30°C

Visibility: 5-100m (Jan-June)
Up to 200m (July - December)

Top Dive Sites: Four Kings - Raja Ampat - Cenderawasih Ba - Banda Sea - Triton Bay.

A variety of liveaboad diving itineraries available. More >

Great Reasons to Dive in Raja Ampat

Explore the Coral Triangle
Fantastic biodiversity & Marine Life
Four Kings Area - 1500 islands, 600 types of corals, 1,500 fish species and over 600 types of mollusks
Macro critters in Ambon Bay, rare Mandarin fish.
Large pelagics in the Banda Sea.
Cenderwasih Bay Whale Shark.
Triton Bay black coral, sea fans and pristine reef.
Hammerheads, large schooling fish and more.