2022 - 2023 Scuba Diving Holidays, Liveaboards and Learn to Dive Courses to the Maldives, Red Sea, Canary Islands, Far East, Caribbean and the Pacific.
Komodo, Indonesia, Far East & Australia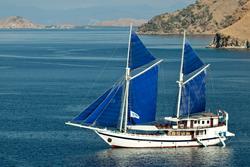 Komodo National Park is located in Indonesia to the east of Bali between Java in the west and Lombok and the other Lesser Sunda Islands to East. The Komodo Nationa Park comprises Banta, Komodo, Pandar, Rinca, Gili islands, the Flores sea to the north, Suva sea to the south and straits around the islands. The National park was declared a World Heritage site in 1980 and also a UNESCO Biosphere reserve in 1986. Initially designed to conserve the unique species - the flesh eating Komodo dragon, it now offers protection to a wide variety of life in the water as well as on land.
Diving
Covering 1,817 square kilometers, the Komodo National Park one of the best ways to visit and dive the islands is by liveaboard. Choose from diving itinearies that including diving whole of Komodo National Park including Banta Island including the Sape Straits (The straits separating Komodo and Rinca Island), Bima Bay and Sangeang Volcano in East Sumbawa also available at certain times. Land based excursions includnig hiking in Gili Lawa Darat and also the walk on Rinca Island to see the Komodo Dragons. Diving highlights inlcuding Manta rays in Makassar Reef and Manta Alley, variety of beautiful soft corals, schooling fishes such as Jacks, fusiliers, Eagle ray, Napoleon and Bumphead wrasse, Oriental Sweet Lips, Black Tip sharks, Nurse sharks, Oceanic White Tip shark, dolphins, good macro life and of course the must do Dragon Walk!

Our selected itineraries offer choices to include land based extensions to Bali, Tulamben, East Sumbawa, Alor Archipelago and East Flores.

Fact File
Diving Conditions




Suitability:
Beginners

Intermediates

Advanced

Technical

Best Time: Year round.

Average Air temps: 30°C

Average Water temps: 22-29°C

Visibility: 10-30m

Top Dive Sites: Komodo National Park, Sape Straits (between Komodo and Rinca Island), Banta Island Makassa Reef, Manta Alley,

Great Reasons to Dive in Komodo National Park

Excellent walls, colourful coral reefs & abundant marine life.
Variety of dive sites.
Komodo dragons
Big fish - Mantas, Napeoleon & Bumphead wrasse & sometimes Molas.
Good macro sites.
Bubbling reef in Sangeang Volcano
Shark - Black tip, Nurse and Oceanic White Tip
Komodo dragons on Rinca Island!