2022 - 2023 Scuba Diving Holidays, Liveaboards and Learn to Dive Courses to the Maldives, Red Sea, Canary Islands, Far East, Caribbean and the Pacific.
Dive Guide to Thailand, Phuket, Phi Phi & Similan
Article date : Mar 20, 2016
Dive Guide to Thailand Phuket Phi Phi & Similan Islands
If you've ever wondered about diving in Thailand here is our guide to the best dive sites with daily boat diving with up to 4 dives per day and mini liveaboard options available. Dive the diverse diving of the Andaman Sea and enjoy a resort based holiday with the comfort of a hotel in Phuket.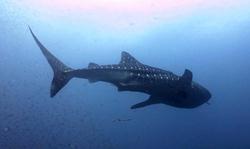 The Andaman Sea and surrounding dive sites offer a huge diversity of marine life and types of diving. Phuket's dive sites are usually between 18 - 30m in depth and offer easy to medium diving levels. There is an amazing variety of dives from coral gardens, amazing underwater topography, drop-offs, caves and wrecks. There are many rare species of tropical fish, sea horses and Ghost Pipefish. Leopard sharks are frequently sited and on occasion Manta Rays and whale shark

Daily Boat Diving
Daily boat dives are offered from the Dive Centre from the comfort of large and spacious dive boats with sun decks and covered saloons with delicious thai dishes. Options included local Phi Phi 2 dive trips, 3 dive trips also to Racha Noi 4 dive day boat trips on sundays.

Phi Phi Islands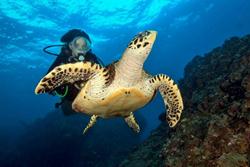 "One of the most beautiful island groups in the world and so easily accessible."These islands have it all: caves, night diving and excellent marine life for you to discover. Phi Phi is a collection of impressive limestone islands. The area is perfect for cave diving as a wealth of underwater life come for shelter and the dive sites offer you a good chance of spotting juvenile sharks as well as turtles. A wonderful opportunity to enjoy the surface and underwater landscapes at their best.


Mini Liveaboards - Similan Islands (3 Days/2 Nights)
Dive the clear bay around the 9 Similan islands and the unique worldwide recognised dive sites that surround them. The Similan Islands offer the chance to dive with the smallest,- incredibly colourful nudibranch to the largest-mantas, shark and stingray and whaleshark. The Similans are characterised by gigantic boulders that stretch above the water line, creating stunning underwater scenery and exciting swim-throughs for divers to explore. The visibility is also some of the best in Thailand.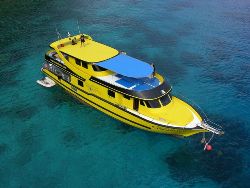 The Similans also boast exquisite sandy beaches and shallow coral reefs in the bays, making them a perfect place for snorkelling. Relax on your mini liveaboard with 5 double and 2 single cabins with AC. You can also book short land stays and 6-7 night Thailand liveaboards. With thriving coral reefs, sea fans impressive sea fans and an incredible variety of marine life. With over 20 unique dive sites, photographers head for West of Eden, with 1000s of schooling Glassfish, Ghost Pipefish and White Tip Reef Sharks plus Christmas Point, good for spotting mantas nurse sharks and barracudas. an impressive variety of hard and soft corals and it's maze of swim-throughs.

Shark Fin Reef has beautiful coral and sponge gardens, making it an excellent opportunity to see reef sharks and huge Napoleon wrasse. Elephant Head Rock has excellent swim-throughs, whilst spotting white tip reef sharks in rock crevices plus Leopard Sharks, Spanish Dancers and Great Barracudas.