2022 - 2023 Scuba Diving Holidays, Liveaboards and Learn to Dive Courses to the Maldives, Red Sea, Canary Islands, Far East, Caribbean and the Pacific.
Far East & Australia - Liveaboards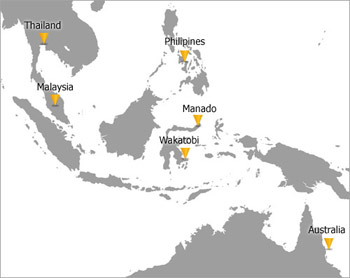 Australia and the Far East is home to some of the world's most exciting and sought after scuba diving and perfect diving holiday locations. Visit sites that haven't changed since the dawn of diving to glide along some of the most picturesque and impressive walls and distant coral seas - dive holidays dreams are made of.
Visit one of the seven wonders of the world – The Great Barrier Reef which runs some 2000 miles along the north western coast of Australia. From here you can explore the Coral Sea, visit the famous Cod Hole and dive with Minke whales. The excellent Mike Ball Liveaboards offer a range of intineraries and you can extend your holiday with a tour of Australia's sites.
Manado and Wakatobi off the north and south east of Sulawesi in Indonesia. Manado's Bunaken Marine park is within 30 minutes of the authentic and unassuming accomodation. Wakatobi offers the best of luxury accommodation & liveaboards. Both are world class diving locations. Photographers will enjoy diving in Lembeh where there are specialist led diving weeks for underwater photographers with excellent quality facilities for your equipment.
Layang, Layang off the coast of Saba is largely unexplored with 50m visibility and famous for hammerheads. This reclaimed 50 acre island offers spectacular wall diving plus giant mantas and morays.
Offering excellent value in the Far East is in the Philippines with some of the best diving in all asia. dive sites. It has the widest choice of dive sites from deep dives, drift dives, wreck sites and many more. Our latest edition to the programme is our choice of liveaboard to Sipadan, Borneo, Raja Ampat and Komodo and the Coral Triangle. See 1000s of schooling pelagics, visit world class muck, reef and wall dive sites - some of the best in the world. Bali and, Thailand ideal for critters, leisurely diving, stunning beaches and perfect for non-divers too.
Indonesia Komodo Aggressor Liveaboard - Komodo, Indonesia, Far East & Australia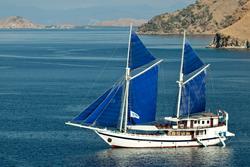 For your scuba diving and liveaboard holiday to Indonesia, Komodo National Park, the luxury Komodo Indo Aggressor liveaboard offers you chance to see a wide variety of dive sites on 7, 10, 11 or 13 night itineraries. Initially designed to conserve the unique species - the flesh eating Komodo dragon, the UNESCO World Heritage Komodo National Park,now offers protection to a wide variety of life in the water as well as on land. Covering 1,817 square kilometers, one of the best ways to visit and dive the islands is by liveaboard. Our recommended itineraries offer choices to include Bali, Tulamben, East Sumbawa, Alor Archipelago and East Flores.
Location
The Komodo Dancer is based on Flores Island park of the Komodo National Park.

Accommodation
A 98' finely crafted wooden sailing yachit, with twin masts, built in the Pinisi style. It offers comfortable cruising with 8 double or twin staterooms for up to 16 passengers. with a choice of deluxe staterooms with queen bed, 2 Owner's staterooms with two single beds or one Asian king bed, and 4 twin staterooms with two twin bunk beds (European style). Each stateroom has ensuite private toilet, shower and sink, extra storage and individual climate control.
Facilities
Spacious air conditioned salon and dining area with separate seating areas. there is a TV, compact disk player, DVD player and stereo in the main salon. The sun deck with shading, table, lounges and deck chairs. Her diving amenities include freshwater rinse showers, camera table and nitrox.

Sample Itineraries

The Indo Aggressor, formerly known as the Komodo Dancer, offers a choice of 4 different itineraries. Choose from 7, 10 and 11 night cruises: the Komodo Deep South (7 nights); Bali, Tulamben, East Sumbawa & Komodo National Park (11 nights); Komodo National Park (10 nights); Alor Archipelago, East Flores and Wakatobi (10 nights).


Tulamben, Bali, East Sumbawa, Komodo National Park
Departing from Bali's Benoa, heading North-East to Tulamben, Bali with first dive - famous USS Liberty Wreck, Seraya and Drop Off. Next head East to Moyo and Satonda Island, Bima Bay, Sangeang Volcano, Banta Island and the best of the Komodo National Park dive sites. The itinerary ends and disembarks in Labuan Bajo, Flores. Enjoy hiking in Gili Lawa Darat and Rinca Island to see the Komodo Dragons. On the way from Satonda Island, thousands of fruit bats can be seen in the evening.

Highlights of the itinerary: USS Liberty Wreck, abundance and diverse in soft corals, schooling jacks, oceanic white tip sharks, underwater bubbles from Sangeang Volcano, excellent macro life, octopus, manta rays, eagle rays, occasional Molas in Manta Alley, the Komodo Dragon Walk, fruit bats from Satonda Island.


Komodo Deep South
The itinerary starts and finishes in Labuan Bajo, Flores and this itinerary focused on diving the best of the South Komodo National Park. Planned dive sites include Padar Island, Langkoi, Horseshoe Bay, South West Flores, Mota Island and the Mola Straits (The channel between Rinca Island and Flores). This is only possible in the 1st quarter of the year during the North West Monsoon). Mota Island and Mola Straits are only available in this itinerary only. Included is a walk on Rinca Island to see the Komodo Dragons.

Highlights of the itinerary: Manta rays and occasional Molas in Langkoi, excellent macro life, schooling fishes such as jacks, bumphead wrasses, excellent soft coral growth, torpedo rays, sea apples in Mota Island, the Dragon Walk.

Komodo National Park
This dive itineary begins and ends in Labuan Bajo. For this itinerary, the whole of Komodo National Park including Banta Island will be covered. Diving activities will primarily be concentrated in Sape Straits (The straits separating Komodo and Rinca Island). Bima Bay and Sangeang Volcano in East Sumbawa will not be covered in this itinerary. There will be hiking in Gili Lawa Darat and also the walk on Rinca Island to see the Komodo Dragons.

Highlights of the itinerary: Manta rays in Makassar Reef & Manta Alley, variety of beautiful soft corals, schooling fishes such as Jacks, fusiliers, Eagle Rays, Napoleon and Bumphead wrasses, Oriental Sweet Lips, black tip sharks, nurse sharks, Oceanic White Tip Sharks, Dolphins, good macro life, The Dragon Walk.

All itineraries subject to local conditions.

Arrival/Transfers: Guests may be required to will fly by domestic flight from Bali to Komodo Airport to join the boat. Please contact us for sailing dates and itineraries offered.



Gallery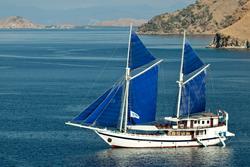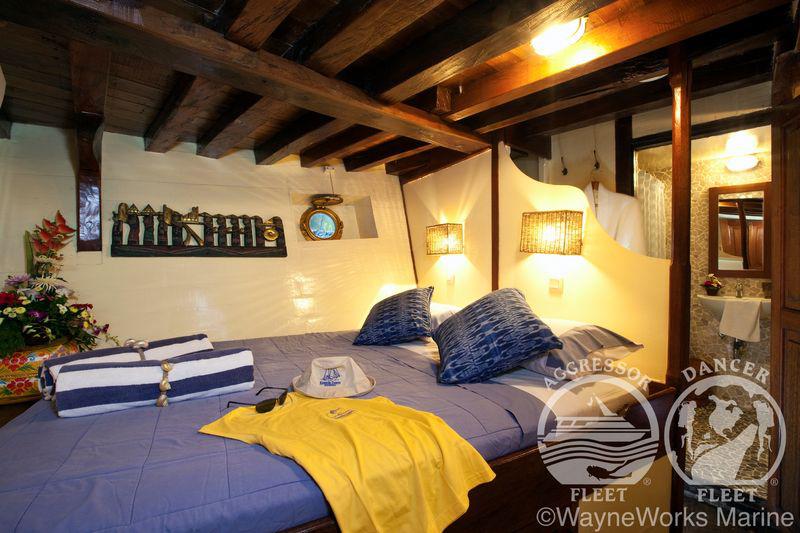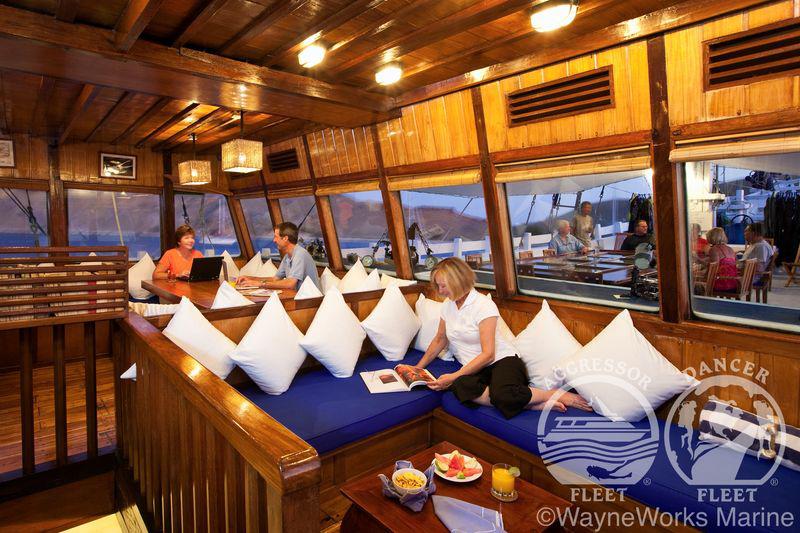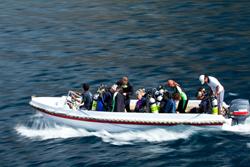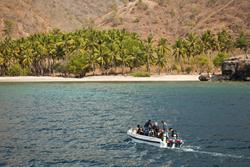 Fact File
Diving Conditions




Suitability:
Beginners

Intermediates

Advanced

Technical

Best Time: Year round.

Average Air temps: 30°C

Average Water temps: 22-29°C

Visibility: 10-30m

Top Dive Sites: Komodo National Park, Sape Straits (between Komodo and Rinca Island), Banta Island Makassa Reef, Manta Alley,

Great Reasons to Dive in Komodo National Park

Excellent walls, colourful coral reefs & abundant marine life.
Variety of dive sites.
Komodo dragons
Big fish - Mantas, Napeoleon & Bumphead wrasse & sometimes Molas.
Good macro sites.
Bubbling reef in Sangeang Volcano
Shark - Black tip, Nurse and Oceanic White Tip
Komodo dragons on Rinca Island!